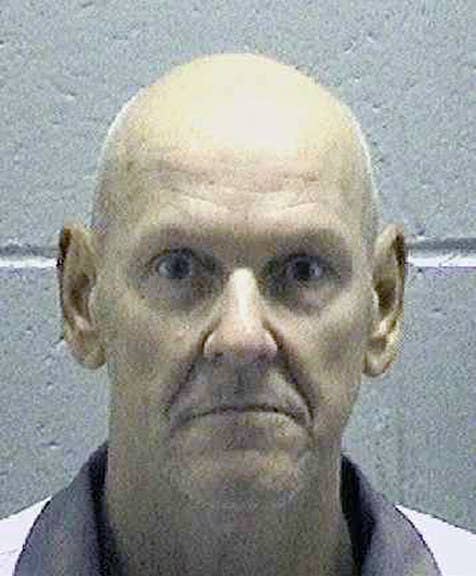 UPDATE
After several hours of delay while last-minute filings were considered — and rejected — by the U.S. Supreme Court, Georgia executed John Conner early Friday morning for a murder committed more than three decades ago.
"The execution of condemned murderer John Wayne Conner scheduled for 7 p.m. on Thursday, July 14, 2016, at Georgia Diagnostic and Classification Prison in Jackson was carried out on Friday, July 15, 2016, at 12:29 a.m. in accordance with state law. Conner refused a final prayer and did not record a final statement," according to a statement from the Department of Corrections.
UPDATE
The U.S. Supreme Court denied a stay of execution for John Conner on Thursday night on claims arising out of state court. Justice Stephen Breyer noted he would have granted the stay, citing the length of time Conner has spent on death row.
Update at 10:30 p.m.: There is still one stay request pending before the court, on a similar issue — but arising out of federal court and raising an additional claim about federal challenges to state sentences.
Update at 11:43 p.m. The Supreme Court denied the second stay request. Justice Stephen Breyer, again, dissented.
Georgia is preparing to execute John Conner on Thursday, ending a two-month death penalty hiatus for the United States. If Conner is put to death, he would be the sixth person executed by Georgia this year, putting the state on equal footing with Texas.

His lawyers on Thursday asked the U.S. Supreme Court to halt his execution — likely Conner's last opportunity to stop the scheduled 7 p.m. execution from going forward. The state has opposed Conner's request.
Conner was sentenced to death 34 years ago. According to court documents, Conner, who was 25 at the time, went to a party with friends, where he drank and smoked pot. After returning home, Conner and another man, J.T. White, went for a walk with a near-empty bottle of bourbon, searching for more alcohol.
Conner claims that while they were walking, White remarked that he would like to have sex with Conner's girlfriend, who they had left behind at the house.
"So I got mad and we got into a fight and fought all the way over to the oak tree and I hit him with a quart bottle," Conner said. "I was down there at him right there in the ditch where he was at, and he was swinging trying to get up or swinging at me to try to hit me one. And there was a stick right there at me, and I grabbed it and went to beating him with it."

Conner left White in the ditch, and returned home to tell his girlfriend they needed to leave town. Conner returned later to make sure White was dead.
Conner was sentenced to death for killing White, and later pled guilty killing another man: Jesse Smyth.
Conner's attorneys asked the Georgia Board of Pardons and Paroles to spare his life, pointing to his horrific childhood and violent father.
"For young John Wayne Conner, normalcy included extraordinary familial violence that frequently involved knives and guns; regular drug and alcohol abuse; and brutal physical, sexual and emotional abuse," the clemency application read. "Having been raised in almost unimaginable circumstances of poverty and violence, Mr. Conner initially fell into the pattern modeled by those in his family."
The Board of Pardons and Paroles denied clemency on Wednesday. Conner's attorneys have also argued in court that he is intellectually disabled.
"After his arrest in 1982, he was evaluated at Central State Hospital following a jailhouse suicide attempt," they wrote. "The evaluation revealed a suicidal man with a 'history of mental illness' exhibiting symptoms of schizophrenia, autism, 'psychomotor retardation' and severe drug and alcohol dependence."
Attorney General Sam Olens' office responded that "there has been no genuine change in the facts or the law since relief was denied in his prior" requests.
On Thursday, the Georgia Supreme Court declined to halt his execution. Two justices wrote that they would grant a stay of execution "solely to decide whether, under the specific facts and circumstances of this case, his execution more than 34 years after being sentenced to death would qualify as cruel and unusual punishment in violation of the Eighth Amendment to the United States Constitution."
Conner's attorneys on Thursday asked the U.S. Supreme Court to stay his execution and to review the Georgia Supreme Court's decision.
If Georgia executes Conner Thursday evening, it will be the most executions in a year for the state since the death penalty was reinstated. Georgia, like other active death penalty states like Missouri and Texas, uses a single drug called pentobarbital. Other states that would like to carry out the death penalty have been unsuccessful getting the drug.
Read the U.S. Supreme Court's order denying John Conner's request for a stay of execution: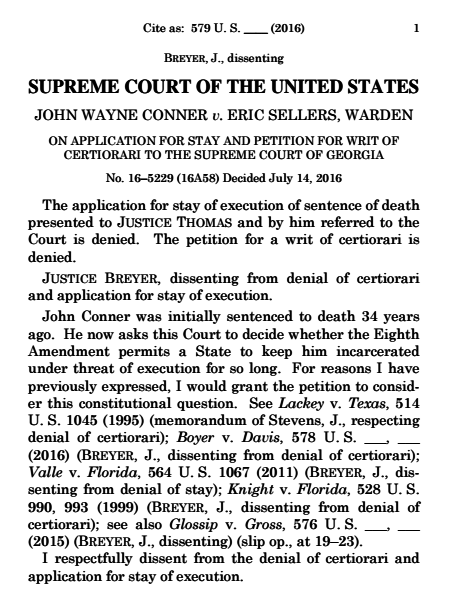 Read the second denial: