Over the past several years, states have become increasingly secretive about the drugs officials use to execute people.
Despite widespread problems with drugs used in executions, states often claim this secrecy is necessary, and the product of intimidation: Officials say lethal drug suppliers face harassment and even physical threats after the suppliers' identities have been revealed.
But there are few concrete examples to justify the secrecy, a BuzzFeed News review found. And the states' marquee example — in which the FBI allegedly investigated a serious bomb threat sent to a drug supplier — is contradicted by internal FBI documents.
The question of who supplies drugs, and which drugs are used, has dominated discussion about the death penalty over the last several years. Inmates argue that information about who is supplying the drugs could reveal questionable practices or even illegal activity, and that without transparency there can be no oversight. States counter that the information is too dangerous to be made public.
But the real danger to drug suppliers appears to be legal and economic risk, not risk of violence.
Two states appear to have premised the need for this kind of secrecy on an FBI investigation of threats made to one drug supplier. But the states' claims don't hold up to scrutiny.
In early 2014, a man sent an email in his own name to a pharmacy that supplied execution drug that alluded to violence the pharmacy could face.
Later, states claimed that FBI agents investigated the man, believing it was a credible threat, and hired an expert who testified to that effect under oath.
But according to documents obtained by BuzzFeed News, the FBI didn't even hear about the threat until months later, when a reporter called. FBI documents show that the threats were characterized as "not specific" in nature, there was no follow up provided by the the pharmacy, and no further action was taken by the FBI.
In the course of fighting lawsuits seeking information about execution drug suppliers, both Texas and Ohio hired the same expert to gauge the risk of threats to those suppliers. The two states turned to Lawrence Cunningham, a former US Secret Service officer who retired in 1994 and now works as a security consultant for a company called Torchstone.
Cunningham admits that he didn't speak to any execution drug suppliers when he was forming his opinions, and based much of his research on social media. Cunningham found evidence of angry emails and protests, but was unable to find any examples of suppliers actually being attacked.
The most damning evidence Cunningham and the two states were able to find was an email sent to a pharmacy in Oklahoma that, at the time, supplied execution drugs to Missouri.
Missouri had been trying to keep the supplier of its execution drugs a secret. But in early 2014, journalists discovered a pharmacy called the Apothecary Shoppe was selling the drugs without a license in Missouri.
A retired college humanities professor living in Ohio read one of the stories, went to the pharmacy's website, clicked on "Contact," and left a comment.
In the comment, Nick Humez wrote:

"Your site says nothing about pentobarbital. Do you compound it for the state of Missouri's department of corrections, as has been publicly alleged in an AP story that ran this morning, and if so, now that the story has gone public, do you think that is prudent? Seems to me that manufacturing a drug expressly to kill people flies in the face of one of those commandments Moses got from Jehovah on Sinai, but maybe I'm just being old-fashioned. Still, were I you I'd at least want to beef up my security now that you've been put in the spotlight as a likely supplier and failed to issue a flat denial. As the folks at the federal building can tell you, it only takes one fanatic with a truckload of fertilizer to make a real dent in business as usual. In your place, I'd either swear to the nation that my company didn't make execution drugs of ANY sort, and then make dang sure that's true, or else openly accept the burden of putting my employees and myself at unacceptable (and possibly uninsurable) risk. Just sayin'."
In a court filing, Texas Attorney General Ken Paxton's office wrote, "Needless to say, the email got the authorities' attention. Federal agents questioned Humez about it and his underlying intentions in connection to the" pharmacy.
"The undisputed content of Humez's email, and the extent to which federal and state law enforcement took the email seriously, exceeds what is required to demonstrate a substantial threat of physical harm, as a matter of law," the state asserted.
Humez has claimed in repeated conversations, including with BuzzFeed News, that he didn't intend the email as a threat — pointing out that he included his real name and phone number in the email. Instead, he says he was trying to warn the supplier to be cautious.
In the Ohio and Texas cases, arguing for secrecy, Cunningham said that the email was a serious threat, testifying under oath that state and FBI agents investigated and interviewed Humez.
The contention that law enforcement considered the email credible enough for an investigation is central to the states' argument that this information is too dangerous to be public.
"The fact that they went to interview him based on this email is significant," Cunningham said in the Texas case. "They felt it was serious. They interviewed him.
"I would offer that the FBI considered that serious enough to interview Humez, so they considered that a threat on its surface," Cunningham testified. "They had to investigate it further. They expended resources to go talk to this individual."
In an October 2014 deposition for the Texas case, Cunningham initially claimed knowledge of why the FBI interviewed Humez — specifically noting his reference to the Oklahoma City bombing — and said that the FBI kept a file on the professor after speaking with him.
But an internal FBI report obtained by BuzzFeed News through a Freedom of Information Act request disputes Cunningham's testimony.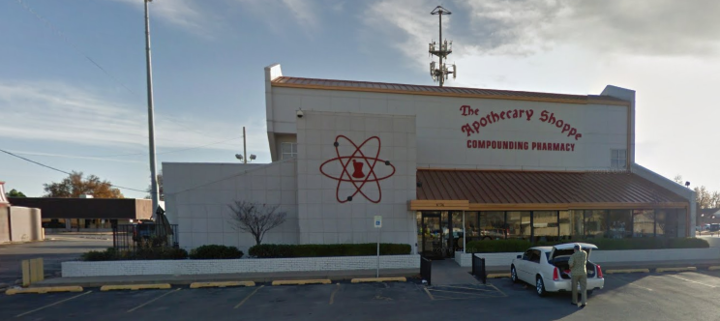 According to a May 2014 report, Tulsa's FBI office did not hear about the threat from the pharmacy when it received the email. Instead, the report shows the office only heard about it months later, when an Associated Press reporter called and asked about threats against the pharmacy.
Both the Tulsa Police Department (TPD) and the FBI's Tulsa office wrote in the report that they weren't aware of any threats against the pharmacy. The FBI and a TPD detective then reached out to the pharmacy's employees.
An Apothecary Shoppe employee "stated that immediately following their name being released to the media they received a couple of threatening phone calls and emails but the threats [were] not specific in nature," according to a TPD report.
The FBI provided contact information so the Apothecary Shoppe could provide any copies of threatening emails. But a month later, the FBI wrote in its report that the pharmacy had not forwarded any threats and that "[w]ithout further cooperation from the Apothecary Shoppe the types of threats remain unspecified."
An FBI spokesperson told BuzzFeed News that it has no other reports about threats against the pharmacy. The only evidence in the court record that Humez was interviewed by the FBI is Humez's claim that he was.
Cunningham declined numerous requests for an interview. "At this juncture, I have no comment," Cunningham said, when asked to explain his testimony. Torchstone did not respond to a request for comment.
The Ohio and Texas departments of correction declined to comment, and their attorneys general did not respond to requests for comment regarding their court filings in the cases.
A year after the Texas testimony, in September 2015 testimony in the Ohio case, Cunningham claimed that the Texas Department of Public Safety interviewed Humez as well.
However, that claim is contradicted by Texas DPS documents and sworn statements of its department head, FBI internal documents, and Cunningham's own testimony in the Texas case.
The head of the Texas DPS, in that earlier case, said his agency "[a]bsolutely [did] not" do any investigation into the matter.
"I did not do any investigations," Colonel Steven McCraw said in a deposition, when asked about the email. "We didn't look at any people. We didn't do anything."
At that time, Cunningham himself also agreed that the Texas law enforcement agency did not interview Humez.
Cunningham's testimony in both cases was based more on conclusions he drew from related — or what he determined to be analogous — threats than on specific, concrete examples relating to execution drugs.
In his testimony in the two cases, Cunningham readily admits that he didn't speak to any execution drug suppliers when he was forming his opinions, and based much of his research on social media.
"In this era, as we all know now, social media has become both a blessing and a curse," Cunningham said.
"In the curse side of it, yes, a lot of recruiting can go on. In fact, ISIS and other terrorist organizations are doing a very effective job recruiting children and others to join the cause. It's a very serious issue. And so a lot of what you find on the internet can be very useful in validating and adding to the leads or the assessment process."
In fact, between the two cases, Cunningham referenced ISIS, al-Qaeda, or the September 11th attacks a total of 28 times in his testimony.

At one point, Cunningham claimed that his company checked Humez out in a database. When asked what database they used, he clarifies that they had Googled him.

Cunningham also testified that he believed that the anti-death penalty movement is similar to the anti-abortion movement, or movements for animal and environmental rights.

"I would consider, for example, the abortion movement relevant," he said. "This is a relatively new focus compared to the history of the abortion issue. If you look at the abortion issue and trace its history, there's an ocean of examples showing violence, bombings, and killings. It's created an outrage and they've acted on it. Animal rights groups have done the same thing."
"So the point is, these things are in a similar vein. They have to do with life and right to life. And they're obviously divisive, they create a lot of angst and in some cases people act on these things and become very obsessed and attack."
The National Abortion Federation keeps data on incidents of violence against abortion providers, detailing more than 7,000 incidents since 1977. Regarding execution drug providers, on the other hand, Cunningham was unable to find any examples.
Cunningham testified that "it would be nice to have a direct threat" that he could point to, but said that "just because I'm not aware of it doesn't mean it doesn't exist."
In what could stand in as a summary of his analysis, Cunningham later said, "In my mind, in my view it's very important to [be proactive] to identify the threat before it finds you."
For example, Cunningham identified threats in many places. At one point, he said Christians boycotting the abortion pill was "an aggressive act" and financial terrorism.
"Your grandmother. Your sister. My mother. My first grade teacher if she was still alive. All these people we're finding have propensity for violence. If they're involved in [boycotts and protests], I don't just offhandedly say, well, that's just one — one little protest, this is America, they're allowed to be protesting, they're allowed to sit down and be arrested. Environmental — environmental protests do it all the time," Cunningham said. "But in the context of what we're talking about here, I feel like it adds more to the argument" that execution drug suppliers should be secret.
At another point, Cunningham pointed to a list of news stories that he believed supported his opinion that the drug supplier information should be kept secret. One of the news stories detailed a love triangle murder that had been featured on Dateline. In that case, a plastic surgeon hired a man to kill another doctor because the doctor was dating his ex-girlfriend.
Cunningham argued the case showed violence in the medical community. The lawyer deposing him — fighting the secrecy — was skeptical.
"This seems far fetched and crazy," attorney Philip Durst said. He then read from Cunningham's notes. "'David Shepard murdered Dr. Joseph Sonnier in Lubbock, Texas. Shepard was hired to commit the crime by a plastic surgeon angry about a love triangle.' You're the paid expert for the state," he continued. Of Cunningham's conclusion that the story is relevant to the question of execution drug secrecy, Durst asked: "Tell me why you think that is not crazy."
"I wouldn't call it crazy, but it speaks to violence," Cunningham responded. "It speaks to violence in the medical arena. This is important."
Cunningham wasn't the first expert that Texas turned to in the case. The state earlier had the head of the Department of Public Safety, Col. McCraw, perform a threat assessment. McCraw said he spent "a couple of hours at the most" looking at emails sent to drug suppliers, and concluded there was the potential for serious threats.
In a deposition, McCraw said that the head of the Texas Department of Criminal Justice requested specific language be used — that he say there was a "substantial threat" of harm to the pharmacies if they were made public.
McCraw testified that the request did not bother him and that he was not asked to conclude anything he did not believe.
As the case progressed, however, Texas also retained Cunningham's services to do his external threat assessment.
A year later, he gave a similar assessment for Ohio, concluding, "I believe it's reasonable to withhold the identities of those people."
Threats "have to be taken seriously," he explained. "When you look at all these factors in total I believe it's very important to protect their identities until this firestorm dies down, if you will, or is reconciled. But right now this is a volatile area and these people are vulnerable based on my experience and my assessment of all the factors I've looked at in this case."
In the two cases where Cunningham testified, state officials received mixed results.
A federal judge in the Ohio case found Cunningham's testimony "perhaps more persuasive" than the expert hired by death row inmates, ultimately deciding that information about execution drug suppliers could be kept secret. The inmates have appealed the ruling.
Much of the Ohio case took place behind closed doors, and most of the filings, including Cunningham's testimony, were originally sealed. Later, at the request of death row inmates, the judge unsealed the testimony — enabling this BuzzFeed News review to proceed.
In the Texas case, the state lost but has has appealed the decision. In a May hearing, Texas' 3rd Court of Appeals appeared skeptical of the state's position.
"Where do we draw the line… without blowing a hole in the (Public Information Act) big enough to drive a truck through anytime the government says, 'Well, gee, this can cause harm?'" asked one of the justices.
"It is not as if there's a known assailant out there who says any compounding pharmacy will be attacked. It's not that specific," another justice remarked.
The appeals court has yet to make a ruling in the case.
It's not just Ohio and Texas arguing that threats necessitate increased secrecy regarding execution drugs. Around the country, other states are arguing the same thing.
Mississippi recently approved a new law, written by Attorney General Jim Hood's office, that made execution drug suppliers confidential.
The state lawmaker who championed the bill said Hood's office warned that there had been threats and harassing phone calls to executioners.
But in a court case, when forced to identify all known threats, harassment, or harm from supplying execution drugs, Hood's office could only identify legal expenses.
"The pharmacy that supplied [the Mississippi Department of Corrections] with pentobarbital in May 2012 and its owners were harmed when they were forced to incur significant legal expenses in order to respond to a document subpoena served on them by [death row inmates'] counsel. Further, they were harmed when the pharmacy was identified as a supplier of lethal injection drugs in court papers and media reports and disparaged as an herbal remedy shop."
Evidence provided by multiple states shows that the biggest threats drug suppliers have faced are legal and economic ones, not violent ones.
In the Ohio case, the judge, U.S. District Court Judge Gregory Frost, ruled that capital attorneys were not allowed to know the name of the supplier — even if the attorneys agreed it was for their eyes only.
"Part of the harassment, harm, or similar undesirable consequences implicitly animating the protective order decision is that disclosure of identities subjects the disclosed persons or entities to suit," Frost wrote. "A reasonable inference ... is that the entities ... do not want to subject themselves to such litigation."
In 2013, a pharmacy that supplied Texas with execution drugs complained to the state about a "firestorm" after its identity was revealed. The pharmacy received calls from media, angry emails, negative reviews on Google, and protests. The pharmacy demanded Texas return the drugs, but the state did not comply.
In February 2014 in Missouri, Attorney General Chris Koster's office complained to a judge that a death row inmate wrote a "threatening letter" to a pharmacy that sold execution drugs to the state.
But the "threatening letter" was a letter that said the attorney would sue the Apothecary Shoppe if it sold drugs to the state.
The pharmacy was sued by that Missouri death row inmate, Michael Taylor, in February 2014. The pharmacy, still trying to keep its identity under wraps, filed some of its arguments under seal. The lawsuit lasted less than a month, and the pharmacy settled out of court, agreeing to not sell execution drugs to the state.
Its troubles didn't end there. The pharmacy faced significant economic troubles since then. When the Apothecary Shoppe was inspected by Oklahoma regulators, more than a thousand pharmaceutical violations were found — leading to its pharmacy license being put on probation.
The company subsequently defaulted on loans in November 2015. Months ago, the pharmacy sold off its assets to another pharmacy business in Oklahoma.