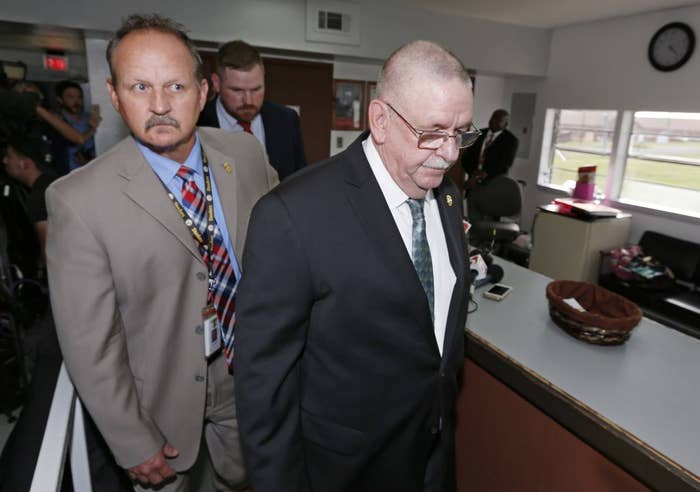 The head of Oklahoma's Department of Corrections has overseen three scheduled executions during his brief time in Oklahoma. Each time, there was a major screw-up.
In Robert Patton's first execution as director, just two months after he started on the job, inmate Clayton Lockett sat up on the gurney after he was declared unconscious and told his executioners, "Shit's fucking with me."
Patton called off the execution after realizing it was going awry. Lockett died 45 minutes after his execution began.
In Patton's second execution as director, which took place this January, Charles Warner's last words included, "My body is on fire."
In what was supposed to have been Patton's third execution in the state, officials called off the scheduled execution of Richard Glossip in late September after the doctor discovered the state had obtained the wrong execution drugs. Oklahoma's protocol calls for potassium chloride, but the state received potassium acetate. State officials "briefly considered" using the wrong drug, but eventually decided to call off the execution.
A few weeks later, it was revealed that Oklahoma had already used the same wrong drug earlier that year, in the Warner execution. Now, a grand jury is investigating what's been going wrong. Warden Anita Trammell, who oversaw the prison where the executions took place, has already resigned. The Department of Corrections insists that she had considered retiring for some time and was not forced out.
And yet, in the state's investigation into the botched Lockett execution Patton disclaimed responsibility, even though he had been on site, watching the execution as it went wrong.
"Understand the current Oklahoma protocol does not require anything from the director," he told investigators, "and I'm not trying to deflect any responsibility, but that's just the way the protocol is written at, at this current time."
The Glossip execution would have been the 20th execution in which Patton participated — and there have been similar problems before. A BuzzFeed News examination of Patton's prior job as the the corrections division director in Arizona shows that the errors of the past two years were also errors made, and criticized, during his time in Arizona.
On April 29, 2014, Oklahoma executioners had trouble finding a vein to carry out Lockett's execution, eventually settling on a femoral vein. They cut Lockett's scrubs and underwear to gain access and decided on placing a sheet over his body to, as Patton said, "protect his dignity."

The Department of Public Safety found that the inability of the executioners to see the IV was a factor in the botched execution, a decision that kept officials from seeing what was going wrong until it was too late.
During the execution, Lockett began to move. When a doctor looked under the sheet, he discovered clear liquid and blood. Lockett had swelling between the size of a golf ball and tennis ball where the IV was inserted. Both the doctor and the warden, who decided to cover Lockett, agreed that the swelling would have been noticed sooner if they had been able to see the IV.
Three years earlier, Patton was involved in several Arizona executions where similar mistakes occurred, even though the protocol in that state specifically required the IV be uncovered during the execution. The incident was detailed in a 2011 deposition of Patton obtained by BuzzFeed News.
As in 2014, Patton gave the same response in Arizona years earlier, testifying that the sheet had been placed over the inmate's groin "to protect his dignity."
During the 2014 investigation into the Lockett execution, Patton admitted he was concerned that no one could see the IV and said he was unsure if anyone could.
"Now, was I 100 percent [sure] that she couldn't see it? No, I was not 100 percent sure," Patton told Oklahoma investigators afterward. "And purposely you shouldn't be able to see it from the witness room, but I was concerned enough to go, 'Oh, I hope she can because I knew [the IV] wasn't in the arms."
Patton said he had those concerns "based on experience" from Arizona, but admits that he did not voice those concerns to anyone at the time, or instruct the warden to make a change.
Warden Anita Trammell, who resigned in October, told investigators after the Lockett execution that she looked toward Patton for guidance when things started going wrong.
"I was kind of panicking," Trammell said. "Thinking, 'Oh my God. He's coming out of this.' It's not working and so he did that, and I wasn't sure where the director was sitting at out there, but I looked up to look for the director, and he was sitting directly in front of me.
"So I looked at the director hard like, 'Gimme some, you know, gimme some pointers,' or, 'Give me some advice,' and he looked up at the clock, the director did," she continued.
State investigators found the Lockett botch was caused by issues with the insertion of the IV; that personnel did not have the medical equipment that they needed; that they could not notice the problems due to the sheet covering the inmate; and that training was inadequate.
After promising changes, the Department of Corrections was allowed to carry out another execution in January. In that execution, the state used the wrong drug.
During his time in Arizona, Patton also admitted to several deviations from the protocol. He allowed an executioner to participate in several executions in 2010 and 2011 even though the person did not have the required qualifications, and he did not do the proper criminal background checks on the executioners. "That was an was oversight on my part," he said in the deposition. And he said that, to his knowledge, no one checked the professional licenses of the executioners.
In the 2011 deposition, Patton said he never checked the forms that would indicate how much and which drugs were actually used during the Arizona executions.
State officials have not said publicly, at this point, who, if anyone, was aware that the wrong drugs were used in the January execution of Charles Warner.
In a statement through a corrections spokesperson, Patton disagreed that there were mistakes under his leadership in Arizona, and said that the judge in the case did not take issue with the selection of the execution team.
When BuzzFeed News provided direct quotes from his deposition, in which he admits to these deviations from the protocol, and the ruling from the federal judge in which he finds that Arizona indeed deviated from the protocol, the Oklahoma Department of Corrections declined to respond.
Gov. Mary Fallin's office did not respond to repeated requests for comment on if she still stood by Patton.
Patton's path to the center of the debate over the implementation of the death penalty began 30 years ago at the State Prison in Fort Grant, Arizona and has involved his participation in 19 executions, with repeated questions raised about oversight and adherence to protocol.
He started out as a corrections officer in 1985 after spending time in the Navy. He worked his way up the corrections-level ranks in the state — sergeant, lieutenant, captain — and then to management-level roles as associate deputy warden, deputy warden, deputy warden of operations, and then warden of the Arizona State Prison Complex in Douglas.
Patton eventually went back to school, obtaining his bachelor's degree in 2004. He then went to Nebraska, where he ran the Douglas County Correctional Center. He came back to the Arizona Department of Corrections and eventually received a Master's of Administration degree from Northern Arizona University in 2007.
Patton was soon promoted to be the director of the Division of Offender Operations. He said he started getting involved in execution planning in 2009.
While Patton oversaw planning of executions while in this role in Arizona, Patton also said he was involved in executions in the state before taking on that role.
During the 2014 investigation into the Lockett execution, Patton told investigators in Oklahoma that he played a role in 17 executions during his time in Arizona. The state, however, only conducted 13 executions after Patton took on a planning role.
Patton said he first started participating in executions in the early '90s, which would have been while he was still in a corrections-level role. From this time through 2000, Patton was involved in at least three executions, although his exact role is unknown. Officials redacted Patton's response when asked what his role was during those executions.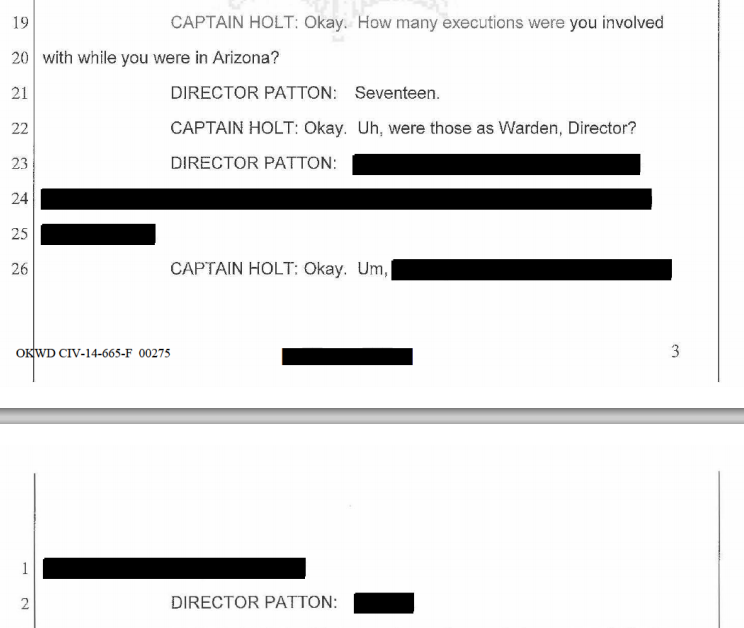 While specific information about his role in those earlier executions is not known, Patton said in his 2011 deposition that he did not begin playing a role in planning executions until 2009.

Investigators also asked Patton if there were any instances in Arizona "where there were issues with an execution." Patton asked to go off the record, which they did for 15 minutes.
Patton, questioned this week about the earlier executions, refused to discuss his involvement.
"Whether I did nor did not participate in any executions prior to becoming Division Director in AZ would be protected under AZ law," Patton wrote in a statement to BuzzFeed News. "I will not confirm, nor deny that I did."
The 2011 deposition stems from a lawsuit brought by Arizona inmates, which alleged the state deviated from its written execution procedures. A federal judge found that the department of corrections, under Patton's leadership in executions, "failed to follow certain components of its execution protocol," but that the deviations did "not suggest cruelty or give rise to a substantial risk of serious harm" for the inmates.
A few years later, in January 2014, Patton was selected by the Oklahoma Board of Corrections to run its prisons.
When he started as the director of the Oklahoma Department of Corrections the next month, in February 2014, he sent an email thanking Arizona's director, and his former boss, Charles Ryan.
"Sitting at my desk and thinking of you," Patton wrote. "The enormity of this task is really starting to sink in. I can only hope to accomplish it with the dignity and honor that you show everyday. I will never forget all you have taught me over the years."
Ryan responded a few hours later.
"The enormity is sometimes mind-boggling! I believe you have the experience and tools to get the task accomplished. Shades of gray will become more visible as you progress in the job."
Talking of his experience in Arizona in 2011, Patton said he would always spend time with the inmates before they were executed, discussing whatever they want to talk about. Patton said it's important to him.
"There's no set structure to it," Patton said in his deposition. "It's whatever we can do to make him as comfortable as possible. Our goal is professional and humane, and I feel discussion with an inmate, whatever he wants to talk about in his last moments of life is very important."
Just a few months after he started in Oklahoma, though, Patton was facing controversy. His first execution as director, the Lockett execution, was one of the worst botches in lethal injection history.
Patton wrote to Ryan and Arizona Deputy Director Jeff Hood a couple days afterward, clearly upset over what had happened. He forwarded an email from an angry member of the public that called him "a cruel and inhumane murderer" and that "Hell awaits."
"My staff didn't get to this one fast enough before I read it," Patton wrote. "I am told this is typical of the hundred or so call, letters and emails that have came through."
Ryan offered support.
"Robert, stand your ground… you asked for an independent review… the facts will become public…" he wrote.

Hood was more blunt.

"Opinions are like assholes - everybody has one," Hood responded. "If people only knew the extraordinary efforts undertaken to treat these vile examples of humanity with respect and dignity in their last hours..."

Just a few months later, Arizona — under Ryan and Hood's supervision — carried out the longest lethal injection in history, taking nearly two hours to kill inmate Joseph Wood.

An Arizona Department of Corrections spokesperson said that Hood's email was "intended as a message of support to his former colleague." As to comparisons between the Wood and Lockett botched executions, the spokesperson said there were "distinct and undeniable differences between the facts of each of those events."
Several weeks before the Wood execution, Patton hired Lance Hetmer, the warden at the prison where the Wood execution took place, making Hetmer his "special assistant," a newly created position that pays $88,000 a year.
The Wood execution was the last Arizona execution in which Hetmer participated. He started in Oklahoma one week later.