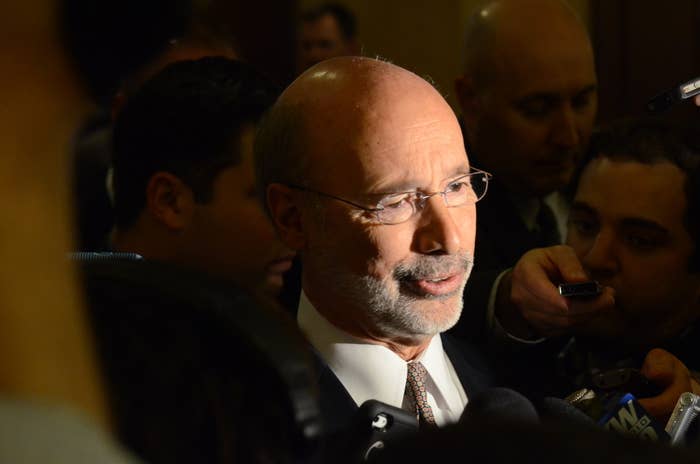 The Pennsylvania Supreme Court sided with Democratic Gov. Tom Wolf on Monday, ruling that he has the power to suspend executions in the state.
Shortly after assuming office in 2015, Wolf issued a reprieve for an upcoming execution, saying "the capital punishment system has significant and widely recognized defects." The governor implied he would grant a reprieve in any future executions, at least until a task force on the death penalty reported back. he also referred to it as the first step in placing a moratorium on the death penalty in the state.
Some Pennsylvania prosecutors disagreed with Wolf's move, arguing it was a power that the governor did not have. But in a unanimous opinion, the Pennsylvania Supreme Court disagreed.
"We find no limitation on the executive reprieve power relating to the duration of the reprieve, so long as it is temporary in nature and operates only for an interval of time," the court wrote, referring to the reprieve power as "broad."
In a short statement, Wolf said he was "pleased" by the ruling.
Philadelphia District Attorney Seth Williams, who challenged Wolf's reprieves, said he was disappointed in the ruling, but respects it.

"And, as always, we extend our condolences to the victims of these horrendous crimes, who will not soon see the justice that was imposed by the jury and upheld by the courts," a spokesperson for Williams said.
The case focused on Wolf's first reprieve, which was issued to Terrance Williams. Williams was previously scheduled to be executed in March 2014. He is convicted of robbing and beating a man to death with a tire iron in 1984.
The court said the ruling was not an endorsement of Wolf's decision, however.
"Finally, we emphasize that it is not our task to address the wisdom of Governor Wolf's issuance of Williams' reprieve, but only its constitutional validity," the court wrote. "Future challenges to reprieves granted by Governor Wolf will have to await independent examination based upon our holdings herein."

Pennsylvania Attorney General Kathleen Kane has also challenged Wolf's reprieve in a separate case. The state has not carried out an execution since 1999.