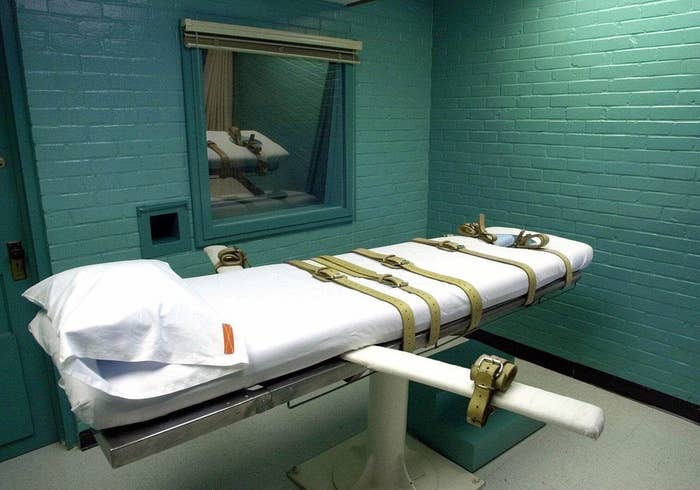 Two states — Arizona and Texas — attempted to illegally import sodium thiopental from India this July for use in executions, but the Food and Drug Administration stopped the shipments in the U.S. before they could leave the airports.
That makes three states this year, along with Nebraska, that have attempted to import the drug illegally in order to help it carry out executions.
Records obtained by BuzzFeed News show shipments of sodium thiopental made their way to airports in Phoenix and Houston in late July, with their intended recipients being the Arizona Department of Corrections and the Texas Department of Criminal Justice, respectively.
Texas Department of Criminal Justice spokesperson Jason Clark told BuzzFeed News on Thursday evening that, yes, it is seeking to import sodium thiopental after having obtained a license from the DEA to import drugs. Asked from whom Texas had ordered the drugs, he responded, "That information is confidential under state law."
Arizona corrections officials did not immediately respond on Thursday evening to BuzzFeed News's requests for comment.
The Arizona Republic first reported the news of Arizona's attempt on Thursday, using records they obtained from an open records lawsuit. Although redacted, the documents they obtained mirror unredacted documents of a sale between Nebraska and Harris Pharma, a sale attempted, unsuccessfully, to be delivered in August and on which BuzzFeed News has reported extensively.
FDA records of imports of sodium thiopental show two shipments of sodium thiopental were submitted on July 27.
An employee with the company handling the shipping, Alpha Brokers Corp., confirmed to BuzzFeed News that the shipments were for the Arizona Department of Corrections and the Texas Department of Criminal Justice. The company was identified in FDA records as having transported the shipments. The employee who spoke with BuzzFeed News added that the shipments are still being detained by the FDA.
Nebraska has been open about its attempts to import the drug, but the two other states use secrecy laws to hide where they get their drugs.
BuzzFeed News spent months investigating Harris Pharma and its owner, Chris Harris — a man without a pharmaceutical background. Although he calls his company a manufacturer and distributor, the facility he recently registered with the FDA is actually a small rented office space. The facility that he lists on Drug Enforcement Administration forms is actually an old apartment building that he has not lived in for years.
Harris attempted to ship Nebraska 1,000 vials of the drug in August, but it never left India due to the drugs not being FDA-approved. The Arizona Republic reported that the Arizona Corrections Department contracted to purchase 1,000 vials of the drug as well.
The FDA has consistently maintained that importing sodium thiopental would be illegal. Nebraska and, it is now known, Arizona and Texas have attempted to move forward regardless.
Sodium thiopental is an anesthetic that is no longer used in the U.S., although it remains in use in the developing world. Its sole FDA-approved manufacturer stopped making the drug to keep it out of the hands of death penalty states.
"It's a drug deal gone bad," Dale Baich, the assistant federal public defender who is one of the attorneys representing Arizona death row inmates in a lawsuit challenging the state's lethal injection procedures, told BuzzFeed News. "The question that remains is did Arizona get ripped off?"
Maurie Levin, a lawyer represent Texas death row inmates in ongoing litigation, noted to BuzzFeed News how the development raised more questions about the state's secrecy laws surrounding the death penalty.
In that ongoing litigation, Texas officials recently claimed that they lacked the ability to provide the "master formulation record," or recipe, used to compound the pentobarbital that state has used in its recent execution. The inmates' lawyers on Oct. 20 questioned Texas officials' secrecy about that record, writing, "Defendants' refusal to provide information to this Court for in camera review reflects a view that they are not accountable to the courts – nor, effectively, the people of Texas – in the manner in which they carry out executions."
Additionally, looking at information gleaned from Virginia's use of pentobarbital provided by Texas in an execution Oct. 1, the lawyers continued in the Oct. 20 filing, "Clearly, there exists information that was not and has not been provided to Plaintiffs or this Court – information that directly contradicts information already provided that is pivotal to issues central to this litigation."
Now, there is more information — that the state was attempting to import sodium thiopental — that adds a new element to that claim, not the least of which is because the use of sodium thiopental would require Texas to use a different execution protocol than the one it uses in conjunction with its executions utilizing pentobarbital.
UPDATE
The story has been updated to include comment from the Texas Department of Criminal Justice.
UPDATE
The story has been updated to include comment from a lawyer of Texas death row inmates.