Alabama Probably Won't Be Trying A Never-Before-Used Single-Drug Lethal Injection
Alabama offered to execute inmate Ronald Bert Smith next month with a sedative that's never before been used as the sole drug in an execution. But the talks fell through this past week.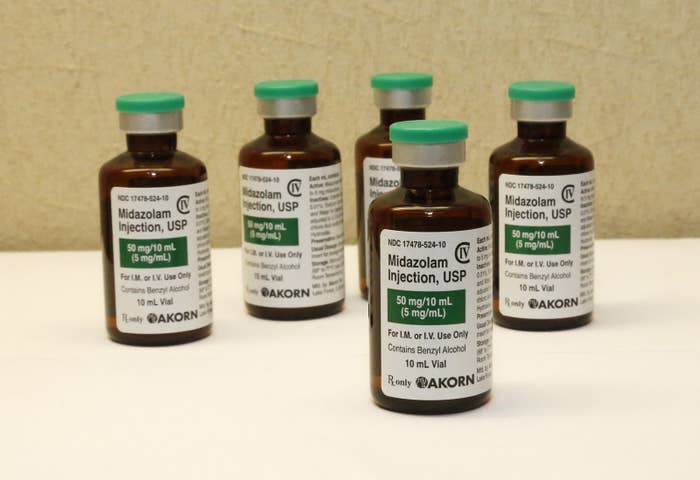 It appears unlikely that Alabama will try out a new single-drug lethal injection method next month, after the attorney general's office and death row inmate Ronald Bert Smith have been unable to reach an agreement.
Smith, along with other Alabama death row inmates, have challenged the state's lethal injection method, which uses a sedative similar to valium followed by a paralytic and then a painful drug that stops the heart. Instead, the inmates requested to be executed only using a single large dose of the sedative, midazolam.
The talks between the state and the inmate fell through over disagreements over how much of the drug to use and what the legal ramifications of doing so would be.
Alabama agreed that the inmates' request was feasible, and this month, U.S. District Court Judge Keith Watkins ordered the state to produce a one-drug execution plan of how it would use only midazolam. Watkins also asked inmate Smith to show cause of why he shouldn't be executed with the single drug as he had requested.
Last week, Smith responded that he would consent to being executed with a large 2,500 milligram injection of midazolam. Smith had requested a 500 milligram dose in his original complaint, but his attorneys say it was a typo. His own expert had said that a 2,500 milligram dose would be preferable.
Although the state said the 500 milligram dose was feasible and agreed to try it out, Attorney General Luther Strange's Office balked at the request for a higher dose.
"The ADOC does not have an unlimited supply of midazolam," Deputy Attorney General Thomas R. Govan, Jr. responded.
"Given the uncertainty in Smith's unspecified protocol, particularly where Smith cannot even state how much midazolam would be needed [if the original dose doesn't kill him], it is uncertain whether the ADOC could carry out Smith's execution based on his current stance."
The state did not disclose how much midazolam it has on hand, and states have closely guarded any information about their execution drugs.
The inmates also said they would only agree to the single-drug execution if their side was held to have won the case — meaning the three-drug protocol would be ruled unconstitutional. Under current US Supreme Court precedent, death row inmates challenging a state's chosen method of execution must propose an alternative method.
On Friday, Judge Watkins dismissed Smith's lawsuit and criticized the conditions the inmate set.

"As Smith well knows, the law does not require, and has never required, these elements in lethal injection cases," Watkins wrote. "The unfortunate outcome of this ... process confirms the court's previous reluctance to sidetrack capital litigation through negotiations."
Smith has already appealed the decision to the 11th Circuit Court of Appeals. He is currently scheduled to be executed Dec. 8.
Earlier this month, the U.S. Supreme Court halted the execution of another Alabama inmate at the last minute. The inmate had challenged the state's three-drug protocol, as well as the state's sentencing law.