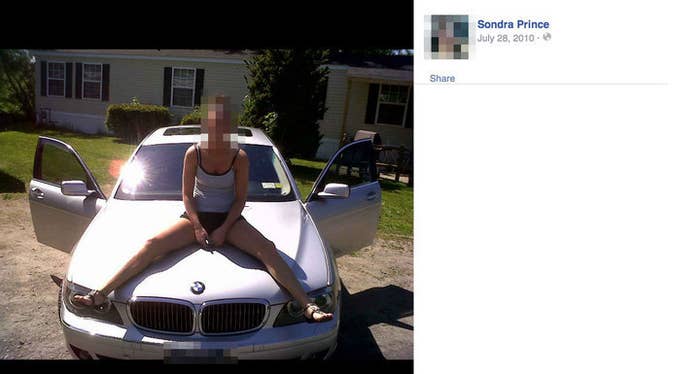 The Justice Department has agreed to pay $134,000 to settle a lawsuit brought by a New York woman who said she was endangered after a Drug Enforcement Administration agent created a fake Facebook profile using her real name and photos.
The settlement, filed in U.S. District Court in Syracuse on Tuesday, resolves a claim by Sondra Arquiett that the DEA violated her privacy and put her at risk when an agent took images from her seized cell phone and used them to create a phony Facebook account in her name to communicate with a wanted fugitive. One of the photos the agent posted showed Arquiett's two young children.
After BuzzFeed News revealed the agent's actions in October, Facebook removed the profile and sent a sharply critical letter to the DEA.
Senate Judiciary Committee Chairman Patrick Leahy wrote a similarly biting letter to Attorney General Eric Holder.
The Justice Department subsequently launched an internal review of agency practices, which is ongoing, said spokesman Patrick Rodenbush.
In the meantime, he said, "department leadership has already met with law enforcement agencies to make clear the necessity of protecting the privacy and safety of third parties in every aspect of our criminal investigations."
The agent, Timothy Sinnigen, is now retired, Rodenbush said. He declined to say when he retired or whether it was related to this case.
U.S. Attorney for the Northern District of New York, Richard Hartunian, who previously had defended the agent's behavior in court filings, issued a statement Tuesday calling the settlement "a fair resolution." He said it "demonstrates that the government is mindful of its obligation to ensure the rights of third parties are not infringed upon in the course of its efforts to bring those who commit federal crimes to justice."
Law enforcement officials arrested Arquiett, who then used the last name Prince, in 2010, alleging she was involved with a drug ring in upstate New York. Ultimately, a judge determined that the single mother was a bit player, caught up largely because she was dating a suspected cocaine trafficker, and that she had accepted responsibility. She received a sentence of probation.
But, when she initially was arrested, authorities seized her cell phone. While her case was pending, Sinnigen created the phony Facebook page, posted images from the phone, including racy photos of her and a picture of her with her young children, and used the account to communicate with at least one wanted fugitive — all without her knowledge.
In an August 2014 court filing, the Justice Department laid out a rationale for Sinnigen's actions: "Defendants admit that Plaintiff did not give express permission for the use of photographs contained on her phone on an undercover Facebook page, but state the Plaintiff implicitly consented by granting access to the information stored in her cell phone and by consenting to the use of that information to aid in an ongoing criminal investigations [sic]."
Facebook, upon learning of the bogus page after the BuzzFeed News story, strongly disagreed. "We regard the DEA's conduct to be a knowing and serious breach of Facebook's terms and policies," the social media site's chief security officer, Joe Sullivan, wrote in a letter to DEA Administrator Michele Leonhart.
Sullivan said the company was "deeply troubled" by the agency's legal position, and he demanded that the DEA stop posing as real people as part of investigations.
Leahy's letter to Holder urged a similar condemnation. Calling Sinnigen's actions "appalling," "unethical," and "potentially dangerous," Leahy wrote: "This extraordinary tactic placed this woman and her family at risk, and I expect the Justice Department to reconsider the use of such techniques."