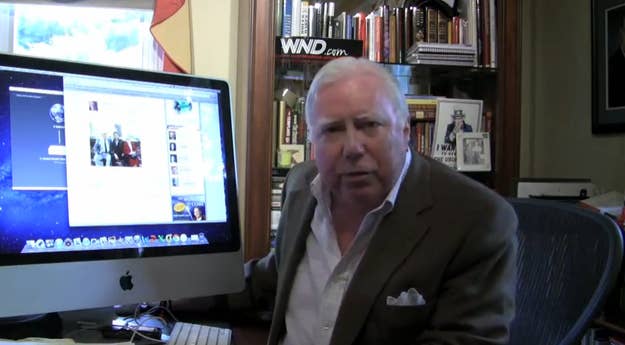 Jerome Corsi, a WorldNetDaily writer and one of the most aggressive figures questioning President Obama's citizenship, has moved on to a new target: Obama's sexual orientation.
In a video released this past week by Corsi, he says "a persistent set of questions" have been raised about Obama's sexual orientation — based almost entirely on what he calls the "wedding ring mystery." Corsi asks, "Was he married before he was married? Was he married to a guy? What's the deal? I think these are legitimate questions."
On Monday, however, Corsi went in a different direction: gay and lesbian appointees to the Obama administration.
In an article at World Nety Daily, Corsi points to a published list from the Gay & Lesbian Victory Fund's Presidential Appointments Project as part of his "exclusive report" on the issue.
Of the project's list, Corsi writes:
In an "outing" move that would have likely drawn criticism if published by someone else, the names were released under the headline, "The Presidential Appointments Project," an effort started in 2008 by the Lesbian & Gay Victory Institute in conjunction with some 20 other LGBT advocacy groups aimed at increasing the number of openly homosexual persons receiving presidential appointments to government posts.
Asked about Corsi's report on the Victory Fund's activities, Dison told BuzzFeed, "It tells you all you need to know that this person thinks he's breaking news about a project that's in its fourth year and has been reported on by national media repeatedly."
Dison added, "He also seemed surprised to learn that presidents get to make what are called 'political appointments' of staff to executive branch positions."
Corsi also pointed to the tweets sent by the vice president for communications at the Victory Fund, Denis Dison, noting that "Dison posted several anti-Romney, anti-Ryan comments on his Twitter account."
Corsi Knows When You've Been Tweeting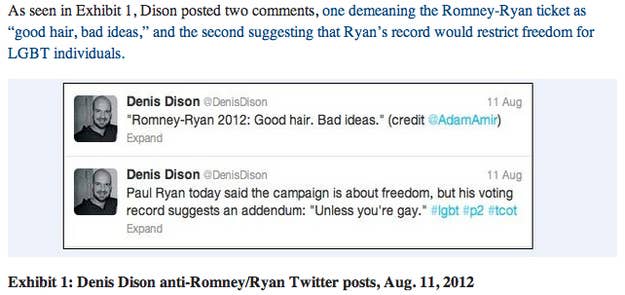 Dison's Twitter account, for its part, notes, "All opinions are mine alone, unless you share them."
And, Dison is not apparently changing his tune. Among today's tweets: