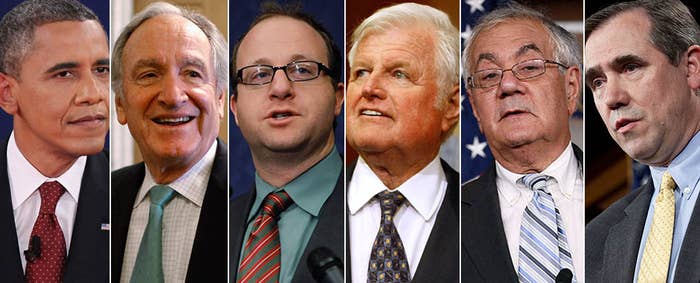 WASHINGTON — In 1996 — the year the United States Senate passed the Defense of Marriage Act — the body also came within one vote of passing a bill to outlaw discrimination against gays and lesbians.
More than 16 years later, the tide has turned on marriage equality and DOMA's federal definition of "marriage" is before the Supreme Court and could be gone by June. Despite widespread popular support, though, the Employment Non-Discrimination Act — a job nondiscrimination bill for LGBT people modeled after Title VII of the Civil Rights Act — remains in a holding pattern, unlikely to move forward in Congress because of House Republican leadership's opposition to the measure.
This year, the bill's new sponsors are pushing for a new vote in the Senate, and simultaneously pressing President Obama to take executive action barring discrimination on federal contacts, both sponsors said in interviews with BuzzFeed.
Throughout much of the 16 years since ENDA failed in that Senate vote, Sen. Edward Kennedy and Rep. Barney Frank, both of Massachusetts, led the fight in Congress for the bill, which would ban most private employers from discrimination against LGBT employees. Come January, neither Kennedy, who died in 2009, nor Frank, who did not run for re-election, will be in Congress. Instead, Sen. Jeff Merkley of Oregon and Rep. Jared Polis, both of whom took federal office in 2009, will be leading the fight for LGBT workplace protections.
Merkley and Polis said they see a Senate vote on the bill — regardless of the House leadership — as an important step. Likewise, both have urged and say they will continue to urge Obama to sign an executive order banning federal contractors from discriminating against LGBT employees. As the 2012 ends, moreover, LGBT advocates appear to be coalescing in agreement on pushing on both of these fronts.
There remains, however, the House. Polis, while optimistic about LGBT progress broadly, quickly pointed to Republicans as the sticking point on getting ENDA passed.
"I hope to continue to increase the number of sponsors of ENDA in the next session. I am confident we will be able to do that," he said. "We still face opposition from Republican leadership, both in the committee and within the wider House, and their opposition makes it very unlikely that we will be able to bring it to the floor even if we're able to get a majority of members to commit to support it."
Merkley said his experience banning sexual orientation and gender identity discrimination while Oregon's House speaker made it natural for him to take on the leadership of ENDA in the U.S. Senate.
"While Sen. Kennedy was still alive, he was working with his team to pass the torch on key issues and he asked me to carry the torch on ENDA," he said in an interview in his Senate office. "I grew up with a passionate, fierce conviction that equality really means equality — whether it's related to issues of color or related to issues of ethnicity or related to issues of sexual identity. This is why, when I became speaker, I carried this battle in Oregon. I think the reason that Kennedy and his team asked me to carry the torch on ENDA is not only because I was on the right committee … but because of my demonstrated advocacy on these issues."
The committee is the Health, Education, Labor and Pensions Committee, led by Sen. Tom Harkin of Iowa. And the bill, despite a Democratic majority and Democratic chairman, hasn't moved out of committee since President Obama took office. (During that time, a bill to repeal DOMA, the Respect for Marriage Act, did move out of the Judiciary Committee, although it has not received a floor vote.) Harkin and Merkley will be joined on the committee in January by another strong ENDA supporter: Sen.-elect Tammy Baldwin, who will be the first out LGBT senator.
Merkley said he understands Harkin's handling of the bill in the 111th and 112th Congresses.
"I understand that chairs of committees wrestle with a complex setting, trying to find the right moment. I don't want to speak for Chairman Harkin, but I think he wrestled with whether to proceed with a mark-up in the committee or try to go directly to the floor, in which case you essentially are in competition with everything else to get it to the floor. Sen. Harkin is a strong advocate for the bill," he said. "He wants to win this battle, and as committee chair, he's working to find the most effective path."
Harkin spokeswoman Liz Donovan expressed Harkin's strong support for the bill and added, "Chairman Harkin is committed to working with Senators Merkley and [Sen. Mark] Kirk [of Illinois] and members on both sides of the aisle to move ENDA through the HELP committee in the 113th Congress."
Merkley said he's not looking for a symbolic victory.
"Success is getting it passed," he said. "It is outrageous that at this point in the path towards equality under the law in America, members of the GLBT community are still denied fundamental, everyday privileges as a part of their daily lives, be it housing, be it in restaurants, be it in employment. None of that is acceptable."
Going a step further than he has previously, Merkley noted the importance of getting a vote of the full Senate on the bill. A version of ENDA containing sexual orientation protections aimed at anti-gay treatment and gender identity protections aimed at anti-transgender treatment has never been voted on by the full Senate.
"I believe there is a time, regardless of what happens in the House, where senators have to declare where they stand. That declaration, via a vote, enables citizens to say, 'I agree or disagree.' And for that community to be able to say, 'Well, this person is our champion or this person is not,' and to go and work to try and persuade more senators that this is an issue of fundamental equality and they should get on board," he said. "If they don't have the vote, all they have is the sponsorships. The sponsorships don't tell the complete story."
Does that mean he wants a vote in the 113th Congress?
"I would like to see there be a vote, yes, I would," Merkley said," adding, "And I say that in this sense, when I worked on these issues in Oregon and when I worked on them here, I think that conversation needs to be held in partnership with the advocacy communities. In terms of wrestling with the pros and cons of different approaches, different strategies, different tactics."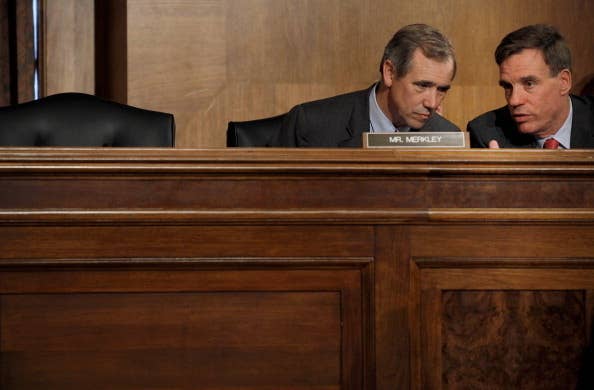 Merkley's push has the backing of the LGBT groups that focus on workplace issues.
Tico Almeida, the founder of Freedom to Work and a former House counsel who focused on ENDA, said he was heartened by the senator's comments.
"We are grateful for Senator Merkley's strong leadership in calling for a long overdue vote of the full Senate on ENDA. We agree 100 percent, and we think that vote can and should happen in 2013," Almeida said. "In the weeks and months to come, we will encourage other Senators to also publicly declare, 'I'm ready to vote on ENDA.'"
The National Center for Transgender Equality's executive director, Mara Keisling, likewise called for a vote, telling BuzzFeed, "[T]hough the House of Representatives currently looks really tough for us, the Senate can and should pass ENDA in 2013." Although the Equal Opportunity Opportunity Commission found earlier this year that the prohibition against sex discrimination in employment in Title VII of the Civil Rights Act includes discrimination on the basis of gender identity — which includes discrimination against transgender people — most LGBT advocates have resisted relying too heavily upon the decision because, without further court action, it is not binding on courts hearing Title VII cases. (The decision is, however, binding on federal agencies.)
Human Rights Campaign spokesman Michael Cole-Schwartz took a similar — though slightly more nuanced — position.
"Achieving a Senate vote is a critical goal we share and we will continue collaborating with our Senate allies and coalition partners on the smartest and most strategic path forward," he said. At a recent event, HRC president Chad Griffin would not commit to his organization supporting a Senate ENDA floor vote in the 113th Congress.
Polis, from the perspective of the House, pointed to the importance of a Senate vote for the difficulties in the House. "Clearly, momentum on ENDA from the Senate, including if it passes the Senate in a bipartisan fashion, would put the pressure even more squarely on House leadership and committee leadership in the House to move on this bill to end workplace discrimination," he said. "If the Senate can pass ENDA, that squarely puts pressure on House leadership to do something that has broad, widespread, overwhelming support across our country. Most Americans agree that, regardless of their own personal opinions about sexual orientation, people should not be fired from their job just because of their sexual orientation or gender identity."
On that front, both Merkley and Polis pushed at the White House and Obama to take action on the executive order that he declined to sign in April. The order, which is modeled after an existing executive order signed by President Lyndon Baines Johnson, bars federal contractors doing more than $10,000 in business with the federal government from discriminating on the basis of race, color, religion, sex or national origin.
LGBT advocates have been seeking an order to add sexual orientation and gender identity, and this journalist reported at Metro Weekly that then-Sen. Obama had answered "Yes" to the Houston GLBT Political Caucus's question of whether he would support a "formal written policy of non-discrimination that includes sexual orientation and gender identity or expression ... for all Federal contractors."
White House officials said in April, however, that Obama would not be signing such an order "at this time." White House press secretary Jay Carney expressed the White House view that their focus was on "a legislative solution to LGBT employment discrimination." After the election, advocates had hoped that the White House tune on the issue might change, but White House press secretary Jay Carney said earlier this month, "Our position on that hasn't changed. We point to, as you and I have discussed, the process that led to the effective repeal of 'Don't Ask, Don't Tell' as a model for the way to approach these issues. I don't have any updates for you on our approach."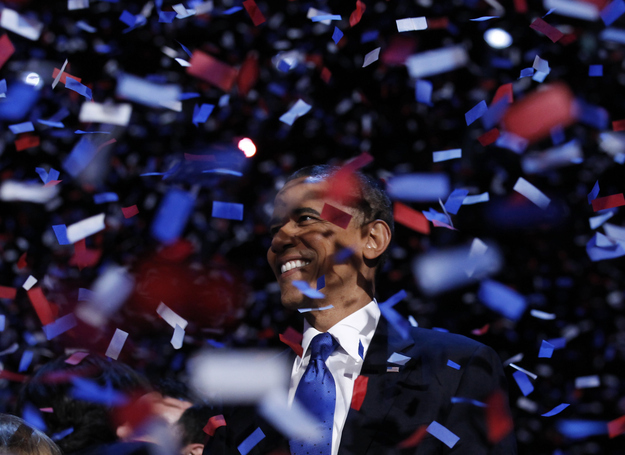 Merkley, who strongly criticized Obama's decision in April, reiterated those views this past week, saying, "I am going to encourage him, and hopefully in partnership with an advocacy community that will focus this issue, to seize the powers of his office to rectify the gross inequality that exists in the realm that he can, which is through federal employment and contractors with the government."
Polis agreed, saying, "We continue to pressure the administration, the White House to take every action they can to support equality, including preventing contractors from discriminating." Asked if he had a reason why the president had not acted on the order, Polis said, "Hopefully, they will move on that in the president's second term, and we will continue to encourage them in every way possible to take that action."
Asked about the issue and Merkley and Polis's comments, White House spokesman Shin Inouye told BuzzFeed only, "I have no updates for you from the numerous previous statements we've made on this issue."
Liberal advocates, however, do not appear poised to accept that answer — which could cause difficulties for a White House seeking to maintain progressive momentum and support out of the elections.
"The Center for American Progress would like to see ENDA passed and for the President to sign an executive order requiring federal contractors to offer explicit workplace protections to their LGBT workers," Jeff Krehely CAP's vice president of LGBT Research and Communications Project, said. "As we've detailed in previous analysis, there is a need for both policies to be in place – it's not a matter of either-or." National Center for Transgender Equality, HRC and Freedom to Work have all taken a similar position.
Advocates have noted that the existing executive order, which grants authority to the Labor Department to investigate potential violations, provides additional protections that those advocates would continue to seek even if ENDA were to be passed and signed into law. White House officials have repeatedly declined to respond directly to any questions on that issue.
For his part, Merkley said that both the future and the past come together to keep his aims clear. "I can tell you when I was trying to explain employment nondiscrimination to my daughter, she couldn't believe that just a few years ago in Oregon you could be denied a job because you were a part of the GLBT community. That is beyond her conception of what America is about," he said.
"It goes back to my disbelief when I was a kid, when my father would describe the laws that he saw growing up," hes said. "He described going across the border from Arizona into Texas and a bus driver stopping the bus and requiring the members of the African-American community to move to the back of the bus before it could proceed. I couldn't believe that that was really possible in the America I knew growing up."