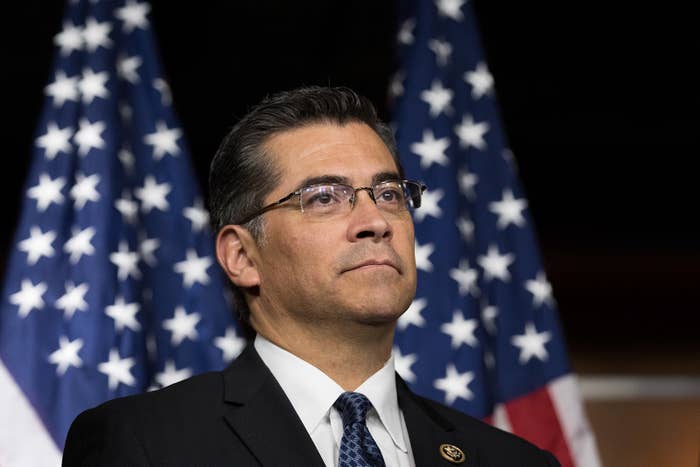 WASHINGTON — Thursday's decision by California Gov. Jerry Brown to nominate Rep. Xavier Becerra to serve as the state's next attorney general might prove to be the most important tactical move by Democrats since the election in regards to how they will proceed under a Trump administration.
The news of Becerra's nomination — which Brown is making to replace Kamala Harris, who was elected to the Senate — was met in Washington with some dismay, as Becerra had until recently served as the chair of the Democratic caucus. While he was term-limited out of that position, he was still seen as a leader in a caucus left stinging and struggling to find a way forward after the election of Donald Trump.

But as attorney general of California, Becerra is poised to play an outsized — and adversarial, if necessary — role during the Trump administration and could wield far more influence in how Democrats fight the new president than he ever would have in Congress.
State attorneys general — often with authority that is independent from the state's governor and with significant statutory authority for investigations and to file lawsuits — play a significant role in national policy discussions. The California, New York, and Texas attorneys general are particularly powerful national policymakers for a handful of reasons: They have large population bases, a relatively safe liberal or conservative constituency, and an expectation among those voters that they will be active in their job. Other attorneys general — with tenure in office or a mandate for change within their state — can and often do make strong marks as well, but the default goes to the big three.
The Texas Attorney General's Office has, in the Obama administration, been one of the federal government's prime adversaries. The office began the successful multi-state effort to stop Obama's 2014 immigration executive actions and is now behind the national injunction against the Obama administration's pro-transgender policies. In September, Texas led a group of states in a lawsuit opposing the Labor Department's new overtime rule — a move that led to an injunction of the rule before it was set to go into effect on Thursday.
Former Texas Attorney General Greg Abbott — now the governor — and current Attorney General Ken Paxton have made a point of serving as the aggressive counter-punch to liberal policies that they believe most people in their reliably conservative state oppose.
They haven't always been successful in their efforts — but that hasn't really mattered.
Late this past year, when state officials across the country were expressing opposition to the Obama administration's Syrian refugee policy, Paxton went a step further — filing a lawsuit against the administration and a nonprofit organization in Texas that helped with resettlement efforts. Paxton's effort was a complete failure, legally-speaking; it was rejected by conservative judges and later abandoned by Paxton — but it made waves. It also forced the administration to spend time in court defending a policy — refugee resettlement — that had always been left to the complete control of the federal government.
Come Jan. 20, however, the tables will have turned. Trump has been elected, and his cabinet picks thus far suggest an ideological bent likely is to be expected from many of the domestic cabinet officers.
The attorneys general of California and New York will now take the place of Texas. New York Attorney General Eric Schneiderman, who took on the Trump Foundation's fundraising practices during the campaign, is sure to be front and center. The New York legislature does not have the Democratic supermajorities that the California legislature has, however, putting Becerra in a position to have strong legislative support for whatever path he might take — even increasing his authority, if needed — where Schneiderman might not. Others, including Massachusetts Attorney General Maura Healey and longtime Iowa Attorney General Tom Miller, likely will play important roles, too. Democratic attorneys general in Virginia, Washington, and Maryland already have spoken out as well.
In addition to the Texas tactic of challenging federal actions in court, attorneys general — through state consumer protection laws, civil rights laws, and other similar statutes — have the ability to launch investigations. Back during the Bush administration, this was a key way progressive attorneys general used to fight back against federal deregulatory efforts. Expect Becerra and others to pick up those efforts again if the new administration goes down a deregulatory path.
Becerra's knowledge of the federal government and its many systems will be another advantage that he has going into his role to the extent he is opposing actions of the federal government. He has spent the past two decades in Congress, and he knows the ins and outs of the bureaucracy and the politics of Washington in a way that many state officials would not.
In addition to all of that, Brown's nominating of Becerra is notable because it also gives Democrats a prominent Latino voice in one of the key offices with the standing to push back against Trump policies that they oppose. Immigration was front and center throughout Trump's campaign, and aggressive anti-immigration conservatives like Jeff Sessions and Kris Kobach are being considered for and given important roles in Trump's administration.
As Trump takes office, though, the son of an immigrant family — Becerra's mother grew up in Guadalajara and his father, though born in Sacramento, grew up in Tijuana — will be given the authority to lead important aspects of the Democrats' fight against Trump. (Healey, for her part, is the only out lesbian attorney general — with experience arguing cases on behalf of the LGBT community — and will be in a position to take action where possible against any rollback of LGBT rights.)
"We know the true value of diversity, and we fight for what we believe in," Becerra said of his aims on Thursday. "If you want to take on a forward-leaning state that is prepared to defend its rights and interests, come at us."