Vice President Biden To Give Keynote Address At LGBT Group's Dinner
After the staff, board, and volunteer leaders of the Human Rights Campaign hear Hillary Clinton speak on Saturday morning, Oct. 3, Biden will address the group's annual dinner that night.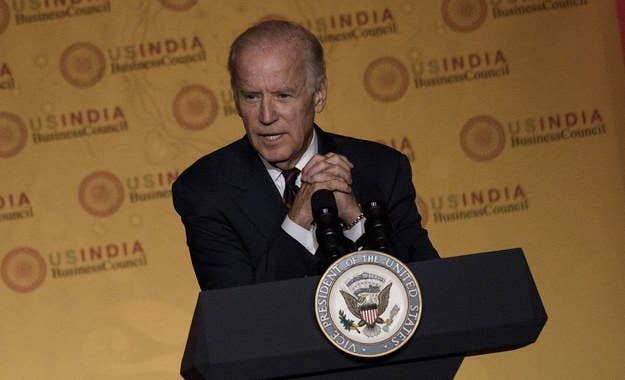 WASHINGTON — Vice President Joe Biden will give the keynote address at the Human Rights Campaign's national dinner on the evening of Oct. 3, the group announced Friday morning.
The vice president's address will come hours after Hillary Clinton, the former secretary of state who is running for president, speaks to the group's staff, board, and volunteer leaders that morning.
Calling Biden "a true champion of LGBT equality," HRC President Chad Griffin said in a statement, "From his historic announcement in support of marriage equality to his ongoing commitment to achieving full federal equality for LGBT Americans, the Vice President has proven time and again that he's a stalwart ally to our community ...."
On May 6, 2012, appearing on Meet the Press, Biden was asked by then-host David Gregory if he was "comfortable with same-sex marriage." In response, Biden first noted that the administration's policy was set by President Obama, but then said, "I am absolutely comfortable with the fact that men marrying men, women marrying women and heterosexual men and women marrying one another are entitled to the same exact rights."
Three days later, Obama — sitting down for an interview with ABC's Robin Roberts that was, in large part, forced by the fallout from Biden's comments — announced his own personal support for marriage equality. Advisers have since said that Obama had planned to endorse marriage equality before the Democratic convention that year, but that the timing had not yet been decided when Biden gave his comments.
Nonetheless, Biden was given significant credit within the LGBT community for his role in pushing Obama — at least in his timing — on the issue.
In recent weeks, significant coverage has focused on whether Biden will enter the presidential race. He has repeatedly said he hasn't made a decision yet.
No other announced presidential candidates are scheduled to speak to the group at its fall board and volunteer leaders meeting or at the national dinner.