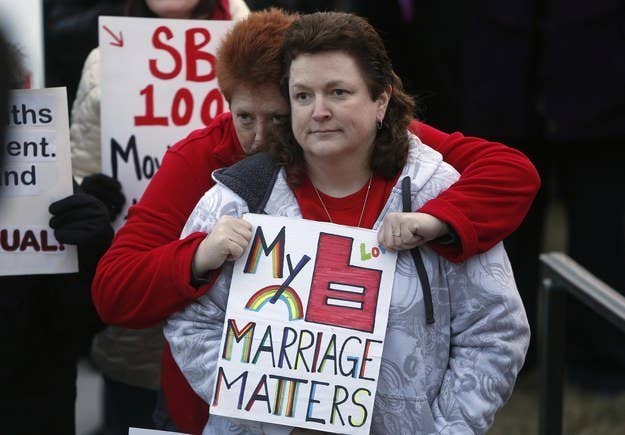 WASHINGTON — The Utah Supreme Court has stopped the recognition of adoptions by same-sex parents in several cases while it considers arguments on whether adoptions can be granted and birth certificates can be issued to same-sex parents at the current time.
The order came from the court late Friday and followed several cases where judges granted adoptions to married same-sex couples and, in some cases, ordered that birth certificates be issued or amended to reflect those adoptions.
The Utah Department of Health asked the state's Supreme Court to stop those adoptions and the issuance of those birth certificates because, the state argues, same-sex couples' marriages cannot be recognized under the state's marriage amendment. The state argues that the amendment, though struck down in December 2013, was put back into effect in January when the U.S. Supreme Court issued a stay of the December ruling during the state's appeal of that case.
"The stay prevents further confusion as the district court order required the Department to list same-sex parents as the legal parents of an adoptive child. The Department sought clarification because the court orders appear to conflict with Utah law currently in effect, which prohibits the state and any state entities from recognizing same-sex marriages," according to a statement from Utah Attorney General Sean Reyes's office.
In Friday's order, the state Supreme Court states that there will be a full briefing and arguments on the state's request to stop the adoptions. No timeline was given.
Read the Utah Supreme Court's order:
Update at 12:25 a.m.: Revised statement from Utah Attorney General's Office: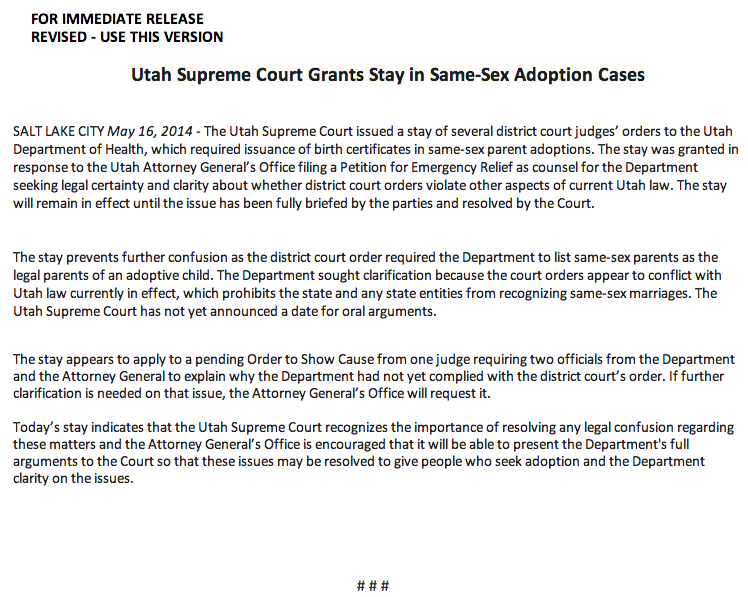 Original statement from Utah Attorney General's office: