WASHINGTON — Utah officials are asking the 10th Circuit Court of Appeals to stop same-sex couples from marrying in the state immediately.
The overnight request came following a Friday afternoon ruling from U.S. District Court Judge Robert J. Shelby that the state's ban on same-sex couples marrying is unconstitutional. In Salt Lake City, dozens of same-sex couples married on Friday following the ruling.
State lawyers are arguing that the trial court judge isn't moving quickly enough on a similar request and that same-sex couples' marriages conducted in Utah during this time, if the decision is later reversed, "may be void."
In the late Friday night filing, Acting Attorney General Brian Tarbet argued that an emergency stay was needed from the 10th Circuit because Shelby already told lawyers for the state that he would not issue a stay of his ruling before receiving a written request for a stay — which the state has now filed — as well as receiving a response from the plaintiff same-sex couples in the case.
The state requested an emergency, temporary stay from the 10th Circuit until Shelby can resolve the request — technically asking "for stay pending the district court's consideration of a motion to stay."
The state argued to the 10th Circuit that the emergency stay is needed "in order to preserve the status quo" because "[i]n the event that the district court's decision is reversed, the licenses issued and the marriages performed in the absence of a stay may be void."
Whether given the emergency stay from the 10th Circuit or not, Tarbet wrote that his office would seek a stay from the 10th Circuit to last throughout its appeal of Shelby's decision should Shelby deny the state's request for such a stay.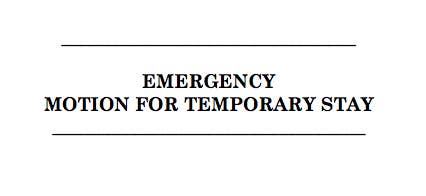 What happened Friday, according to the state?
What is the harm to the state, according to the state?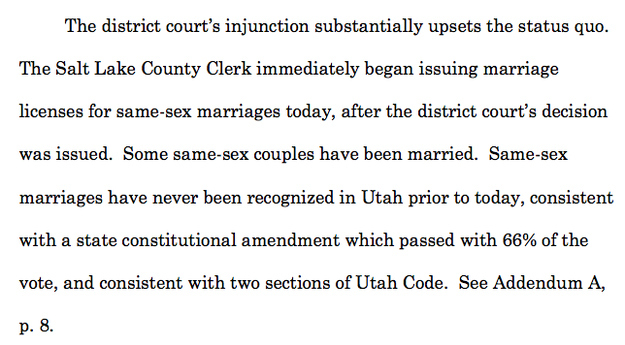 Why go to the 10th Circuit now, according to the state?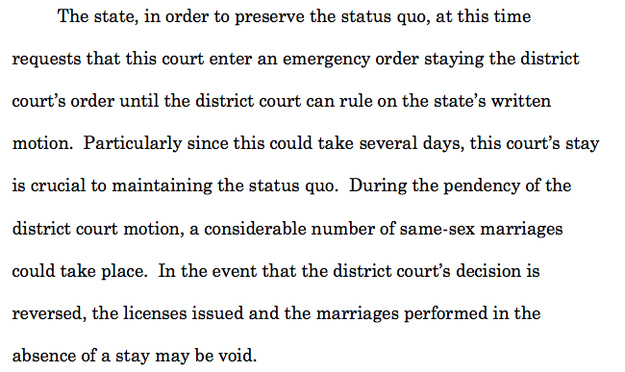 Read the state's request to the trial court for a stay of Friday's marriage equality ruling pending its appeal:
Download PDF