Trump's Lawyers Want To See What The FBI Seized From Michael Cohen's Offices
The president's lawyers argued Sunday that the government should not be allowed to conduct the initial review of materials seized from Trump's longtime personal attorney.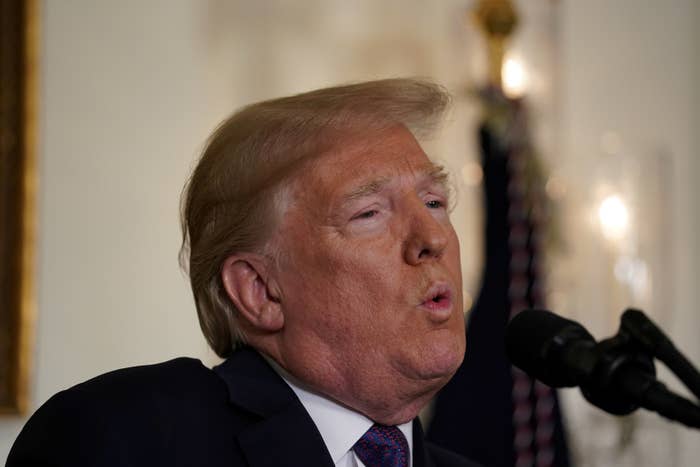 Lawyers for President Donald Trump want a copy of any material related to the president that was seized from the properties of his longtime personal attorney Michael Cohen — part of an effort to block the Justice Department from reviewing material seized last week in an FBI raid.
Like Cohen's lawyers, Trump's attorneys do not believe federal prosecutors should be allowed to conduct the initial review of the materials taken in the April 9 searches, according to a court filing Sunday night.
Prosecutors with the US Attorney's Office for the Southern District of New York (SDNY), which has been conducting a criminal investigation of Cohen for months, have said they would use a so-called "taint team" — made up of federal lawyers uninvolved in the case — to review the materials and determine what they believe could be covered by attorney-client privilege.

Cohen's lawyers went to court last week seeking a court order that would allow them to get a first crack at reviewing the evidence to see whether any of it is privileged and should therefore be protected from disclosure. As an alternative, Cohen's lawyers argued the court could appoint a special master to determine what is off limits due to attorney-client privilege.
At a series of hearings on that request this past Friday, a new lawyer for Trump — Joanna Hendon, a partner at the New York-based firm Spears & Imes — showed up to argue that the president should have a say in who gets to review the materials as well, due to his having been a client of Cohen's. Trump later was allowed to intervene in the case to assert those claims.
In the Sunday filing, Hendon and two of her colleagues asked the court to allow Cohen's lawyers to review the materials first, and provide a copy of any "that relate to [Trump] in any way," so the president's attorneys can then make their own assessment of what is privileged. If the SDNY taint team lawyers disagree with any of those assertions, they could then go to the court to make the ultimate determination.
The main argument between the sides is who would get the initial review — and that, under Cohen and Trump's position, they would get copies of all materials seized. SDNY prosecutors have already said that the investigators on the Cohen investigation would not get access to any material the taint team decides could be privileged unless Cohen (and/or Trump) or a court approves of the sharing of the materials.
The lawyers for Trump criticize the proposed use of a taint team, however, because it would consist of "colleagues of the prosecutors assigned to this investigation." They assert that the government's claim that a taint team is a "common procedure" does not apply to cases where "documents to be reviewed were obtained by the government pursuant to a search of a lawyer's office and the privilege-holder objects to a taint team procedure."
Cohen's lawyers will provide any additional arguments Monday morning to US District Judge Kimba Wood, in advance of a Monday afternoon hearing.