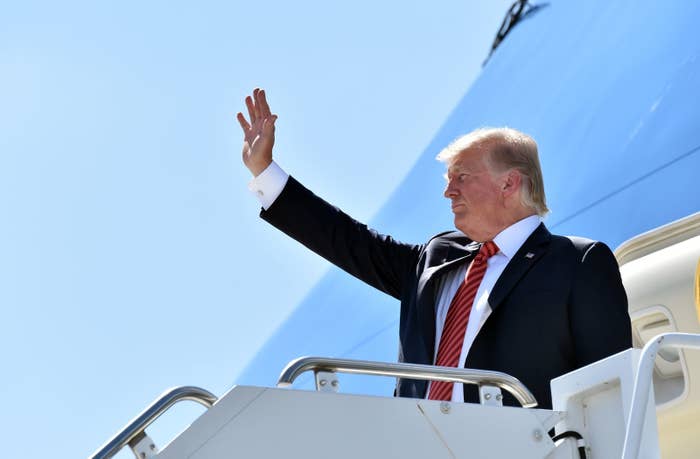 President Trump did not announce a pardon for former sheriff Joe Arpaio on Tuesday night — but he may as well have.
The president teased the crowd with his support for the anti-immigration crusader, who is facing jail time on a criminal contempt conviction, saying "he should feel fine."
Introducing the topic after a long rant against the media, Trump asked the amped-up audience, "Do the people in this room like Sheriff Joe?"
Trump didn't say the word "pardon," but left little doubt about his plans.
After the applause subsided, he continued: "Was Sheriff Joe convicted for doing his job? He should have had a jury, but I'll make a prediction: I think he's going to be just fine. I'm not going to do it tonight because I don't want to cause any controversy … but he should feel fine."
In the days leading up to the rally in Phoenix on Tuesday night, there was talk of whether the president might use it to announce the issuance of the first pardon of his presidency.

Arpaio, who was defeated in his reelection bid in 2016, was one of the most outspoken officials opposing former President Obama's immigration policies in favor of harsh immigration enforcement.
He is awaiting sentencing, scheduled for Oct. 5, after being found guilty of criminal contempt in July. The contempt conviction followed what US District Judge Susan Bolton called a "flagrant disregard" for an earlier court order barring Arpaio from enforcing immigration detention policies that the court had found were not legal.
Arpaio rose to national prominence for harsh treatment of prisoners and an overwhelming focus on undocumented immigrants. That approach on immigration put him squarely in line with Trump's campaign promises of strict crackdowns on immigration — the now-president often refers to Arpaio simply as "Sheriff Joe" — and made Arpaio an important symbolic figure among immigration advocates and Democrats in Arizona.
In a story published on Aug. 14, Fox News reported that Trump said he is "seriously considering a pardon" for Arpaio.
That report, linked with Trump's scheduled visit and his administration's aggressive posture on immigration enforcement policies — including Attorney General Jeff Sessions' recent speech in Miami criticizing Chicago's sanctuary city policies — led to talk that Trump might use the Phoenix rally to announce a pardon for Arpaio.
On Tuesday, however, Sarah Huckabee Sanders said Trump would not be announcing any pardon for Arpaio at the Tuesday event or during the surrounding trip, telling reporters aboard Air Force One, "There will be no discussion of that today at any point, and no action will be taken on that front at any point today."
Trump, however, has certainly shown a proclivity to act unilaterally when he feels that staff are holding him back or when he plays to a crowd, as he did on Tuesday night in Arizona.
In Sanders' earlier statement, she clearly did not rule out the possibility of a future Trump pardon for Arpaio, which, functionally, the former sheriff wouldn't need until sentencing.
As detailed by BuzzFeed News previously, the president's pardon power is virtually unlimited when it comes to federal crimes — including criminal contempt.
In fact, it's been nearly 100 years since Chief Justice William Howard Taft wrote definitively, "Nothing in the ordinary meaning of the words 'offenses against the United States'" — the Constitution's grant of the pardon power to the president — "excludes criminal contempts."
To the extent such pardons continued to the point of — or with the aim of — preventing courts from enforcing laws, Taft was blunt: "Exceptional cases like this if to be imagined at all would suggest a resort to impeachment rather than to a narrow and strained construction of the general powers of the President."
Wednesday, speaking on Cavuto Coast to Coast on Fox Business, Arpaio said his "gut told [him] not to show up" to Tuesday's rally because of "possible danger."
"I didn't want to be the cause of any demonstrations, riots, and that type of thing," he said. "I've been to all of his rallies, but safety was more important to me right now, public safety."
The former sheriff said that he "really appreciate[s] the President's nice comments and support" and that his conviction was "strictly a political hit."
"My guys were doing their job," he said, claiming that they had legal authority before saying he didn't "want to get too much into this legal situation now."
Asked about the American Civil Liberties Union's criticism of President Trump for considering pardoning him, Arpaio called the legal advocacy group "part of the abuse of the process."
Asked whether the white supremacist violence in Charlottesville was a factor in his pardon being delayed, Arpaio said that Trump "wasn't ashamed."
"He really went out there and talked about it," Arpaio said. "That's him. He's still in charge. He's the President. And I have a great deal of respect for him. I always will have, pardon or no pardon. I'm with him till the end. As long as he's the President, I will support him."
Arpaio said that he is "a little discouraged" over his conviction, but that his sore feelings were not just for himself.

"It's for everybody," he said. "Because what they did they can do to everybody — and they can do to the President, which they're trying to do anyway. So it's a bigger picture."