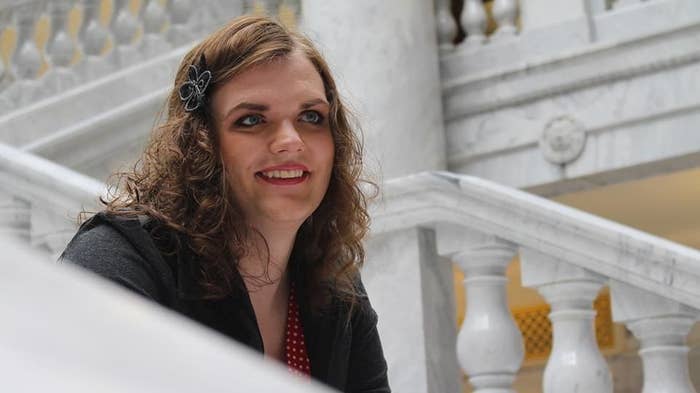 WASHINGTON — Utah Democrats on Tuesday voted for Misty Snow as their party's nominee for Senate, the first out transgender nominee for Congress from a major party.
On Tuesday, Snow defeated Jonathan Swinton, described by the Salt Lake Tribune as a conservative Democrat and a 35-year-old Mormon marriage therapist.
Snow, the more liberal challenger to Swinton, is described as a cashier at a grocery store currently.
By early Wednesday, she had defeated Swinton 59.4%-40.6% in the returns, with all counties completed.

The 30-year-old Snow will face an uphill battle in the conservative state to unseat Sen. Mike Lee — one of the most conservative members of the Senate — in the fall.
On her website, she addresses her rare status as an out transgender person seeking office.
"There are some that claim that Utah is not ready for a candidate like me, but I strongly disagree. Utah is not only ready but in desperate need of a Senator exactly like me," Snow writes. "We cannot wait for others to give us equality. We have to claim equality for ourselves."
Derek Kitchen, a member of the Salt Lake City Council, told BuzzFeed News that he's met Snow previously a few times and was looking forward to her campaign.
"Her Republican opponent has a tight grasp on the senate seat, but Misty will hopefully bring a new kind of conversation to the table," he wrote. "I'm so thrilled that gender and sexuality are an afterthought in Utah politics, and I look forward to watching this race unfold. This is a dynamic time in political history, that's for sure, and I'm so proud to bear witness to the changes."

Kitchen would know. An out gay man, he was one of the plaintiffs in the successful challenge to Utah's marriage ban before running for and winning his council bid.