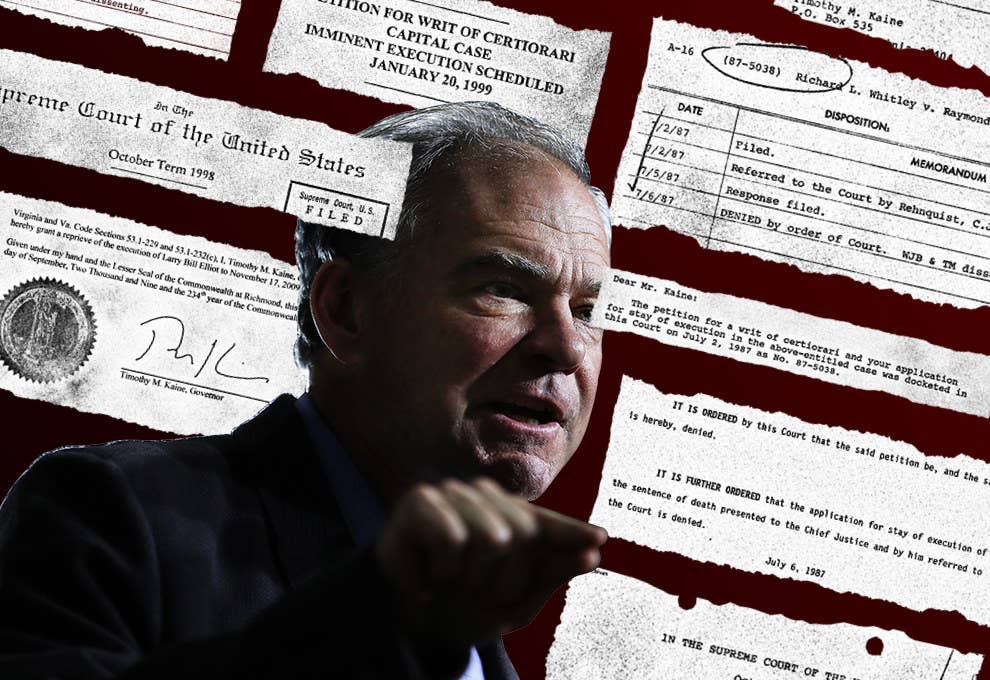 WASHINGTON — In 2005, Tim Kaine faced a tight race for governor. He was running against Jerry Kilgore, then the state's attorney general, and Kilgore was hitting him hard on the death penalty.
Two decades earlier, Kaine had arrived in Virginia a new lawyer who immediately called up the ACLU and asked how he could help. When he was asked to take over a death penalty appeal, he initially turned it down — but then changed his mind, believing that he had to put his principles to work.
"The essence of human life is probably suffering and pain," he would tell the Richmond Times-Dispatch, discussing the death penalty and his Catholicism. "The thing that redeems that is the presence of God in every person."
Kaine took on representation of Richard Whitley — sentenced to death for a brutal murder in 1980 — and spent more than two years trying, ultimately unsuccessfully, to stop his execution. For Kaine, it wasn't just about making sure an adversarial system worked properly — he called the death penalty in America "outrageous" in the extensive interview with the Times-Dispatch.
Whitley was just the first of a handful of death row inmates that Kaine would try to keep from execution over the course of 15 years, working on behalf of the kind of convicted murderers whose stories do not make for sympathetic coverage.
And, in 2005, Kilgore reminded voters of just that. His campaign produced television ads that featured the family members of people killed in Virginia.
In one, the wife of a police officer killed by "a drug dealer illegally in this country" who was on death row, expressed a concern that Kaine would put in place a death penalty moratorium. In another, the father of the man killed by one of the death row inmates who Kaine had represented said that Kaine's death penalty opposition was so extreme that the would-be governor wouldn't support the death penalty for Adolf Hitler.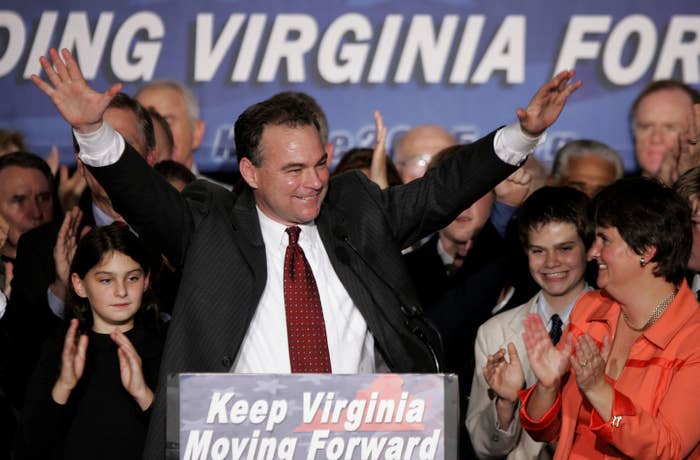 Kaine had made a decision early on in his campaign that the response would be to reiterate his personal opposition to the death penalty, to explain that the position was informed by his Catholic faith, and then to say that he would follow the law and enforce the death penalty as governor.
When the attack ads ran, the response ad had already been prepared. The attack didn't appear to do any damage in the long run, and it may even have turned some voters against Kilgore because the ads were seen as unfair — or even as attacking Kaine's faith. Kaine ultimately won the race on Election Day, 52%-46%, and took office on Jan. 14, 2006.
Less than three months later, Kaine would be faced with the convergence of two threads in his life — his work as a capital defense lawyer and his promise to enforce the death penalty — when he received a petition seeking executive clemency for Dexter Lee Vinson on April 13, 2006.
Vinson was scheduled to be executed two weeks later, and his lawyers, including those from the Virginia Capital Representation Resource Center, held out hope that the new governor would take action to halt the scheduled execution.
In the clemency petition, obtained by BuzzFeed News, the lawyers wrote, "If this execution is carried out as scheduled, troubling questions about whether Vinson is innocent of the crimes for which he will be put to death will remain unresolved." Specifically, the lawyers wrote, "The unique combination of newly discovered evidence, undeveloped evidence, and singular circumstances of Vinson's case rattle the confidence the Commonwealth must have before taking an irremediable action like execution."
"The hardest thing in public life I've had to do was that." —Tim Kaine, on making decisions as Virginia governor about whether to grant clemency to death-row inmates
Kaine denied clemency to Vinson and his execution took place on April 27, 2006, the first of 11 executions that took place under Kaine's governorship.
In that time, Kaine only commuted one death sentence, that of Percy Walton, who faced the death penalty for three murders. In 2008, Kaine concluded Walton was not mentally competent to face execution and commuted his sentence to life in prison.
"What I told Virginians was, 'I'm against the death penalty, but I'll uphold the law,' and I did that," Kaine said this June in a C-SPAN interview about his life and career. Of considering, and ultimately rejecting, most of the clemency petitions that came before him, he said, "Very, very difficult — the hardest thing in public life I've had to do was that. … I grappled with the cases, but only gave relief to people who I felt had made a case that they were entitled to clemency."
Over the course of the past three decades, Tim Kaine's experience with the death penalty is far more complex and nuanced than that of any other major party candidate for the presidency or vice presidency in the modern era of the death penalty. Kaine has represented multiple people on death row, seeking to highlight what he has described as a "shockingly unequal" system, and he also has governed one of the few states that has continued to carry out executions regularly over the past decade.
The questions Kaine raised as a defense lawyer were mostly related to process — from the time given for federal court review of cases and the rules that Virginia state courts had for review of capital cases to the quality of the lawyers provided to criminal defendants in those cases and the way those lawyers carried out that defense — but that process, as Kaine said at the time, is sometimes the difference between life and death.
"If you had enough money to pay" for a top-tier criminal defense attorney at trial, he said at the time of Whitley's execution, "you're not going to get the death penalty."
And yet, a decade later, in his four years as governor, Kaine found himself in the position of denying clemency requests in cases where those and other similar issues were being raised by people facing execution under his watch.
In January 1999, Kaine — then a senior lawyer in private practice — was working on the death penalty case that would later form the basis of Kilgore's "Hitler" ad.

The case concerned Mark Sheppard, who was on death row for murdering Richard and Rebecca Rosenbluth in 1993. Richard Rosenbluth's father, Stan, was so upset by the effort to stop the execution of his son's killer that he would later appear in the ad.
After years trying, ultimately unsuccessfully, to stop another execution, Kaine encouraged an associate lawyer at his firm, Dana Finberg, to serve as Sheppard's lead lawyer in the death row inmate's attempt to get the federal courts to step into his case. Kaine served as Finberg's co-counsel for the appeals, serving mainly as the younger lawyer's mentor on the case.
"He obviously was very supportive of my wanting to take it," Finberg told BuzzFeed News, noting that Kaine detailed for Finberg the uphill battle that federal habeas cases present, factually and procedurally. "They're tough cases to take, and he just wanted to make sure, as a good mentor would, that I was aware of that before I jumped into it."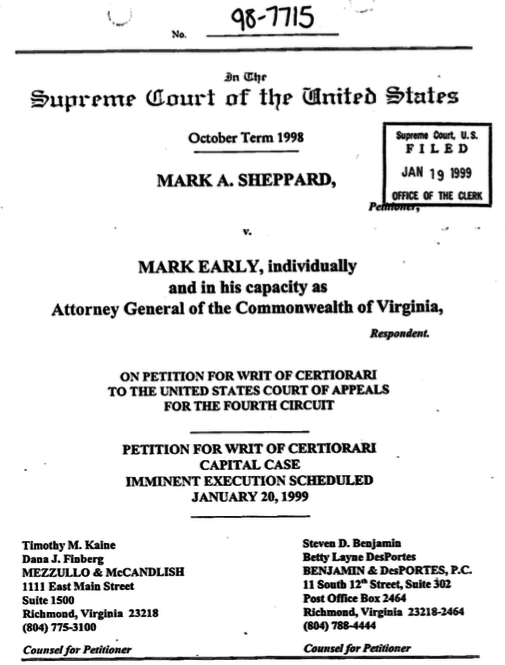 Finberg took the case, and with Kaine's support, they made the case all the way to the U.S. Supreme Court that Virginia's system for condensing the time between death sentence challenges and executions was unconstitutional. Supreme Court justices themselves already had themselves expressed concerns with a new Virginia law.
Under the law, Virginia's attorney general could ask the state courts to set an execution date for a person as soon as the federal appeals court rejected a death-row inmate's federal habeas corpus petition appeal. The state court had to hold the hearing on setting an execution date within 10 days of the request and then set the execution date within 60 days of that.
The effect of the law, Finberg said, was that a habeas petition "probably wasn't going to get the attention that it hopefully deserved when you were trying to get review by the Supreme Court."
"At the time, the practice at the Attorney General's Office was to move as quickly as possible to get the execution scheduled," he said.
Finberg and Kaine argued that the law violated the constitutional guarantee of equal protection of the laws because the law affected one exclusive group of people: those with death sentences. They also noted that it prevented the Supreme Court from being able to give the same attention to Virginia's death row inmates as they have in other cases.
In arguing for Sheppard and against the Virginia law, they wrote that other limits placed on appeals by death-row inmates make it "all the more imperative that death sentenced inmates pursuing their first federal petitions" have the opportunity to pursue those appeals to the Supreme Court. Virginia "essentially emasculates this opportunity," they wrote.
The Supreme Court rejected the case, and Sheppard was executed on Jan. 20, 1999.
A few months before Sheppard's execution, Kevin Green and his nephew robbed a convenience store, shooting the owners, Patricia and Lawrence Vaughan. Patricia died from the wounds, and Green eventually was sentenced to death for the murder. Green's lawyers later argued that Green should be barred from execution altogether in light of the Supreme Court's 2002 decision that intellectually disabled people cannot be executed.
By time the 4th Circuit Court of Appeals issued its judgment denying Green's habeas appeal on March 11, 2008, Kaine had become governor. Virginia's attorney general at the time, Bob McDonnell, moved forward under state law to set an execution date quickly.
Green's lawyers rushed to the Supreme Court, unsuccessfully seeking review of the 4th Circuit's decision and a stay of execution.
Justice John Paul Stevens, joined by Justice Ruth Bader Ginsburg, dissented from the court's decision denying Green a stay of execution.
"Although the deadline for filing a petition for certiorari will not pass until next month, Virginia plans to execute petitioner this evening," he wrote. "This execution date requires us either to enter a stay or to give petitioner's claim less thorough consideration than we give claims routinely filed by defendants in noncapital cases. In order to ensure petitioner the same procedural safeguards available to noncapital defendants, I would grant his application for a stay of execution."
It was the very argument Finberg and Kaine had made to the court themselves.
Kaine, now in the governor's chair, denied Green's clemency request, and Green was executed on May 27, 2008.
Eighteen months and five Virginia executions later, Kaine was about to oversee his 10th execution — that of John Allen Muhammad, one of the two men responsible for the 2002 sniper attacks in the Washington, D.C., metro area. This time, Justice Stevens, joined by Justices Ginsburg and Sonia Sotomayor, went even further, criticizing Virginia for what he called the "perversity of executing inmates before their appeals process has been fully concluded."
As with Green's case, Kaine also denied Muhammad's clemency request, and he was executed on Nov. 10, 2009. The law allowing this expedited process remains on the books today in Virginia.
When Kaine took Whitley's case to the Supreme Court in 1987, one of the key issues he raised was how Virginia procedural rules were being used to prevent federal courts from examining Whitley's underlying constitutional challenges to his death sentence.
Of Whitley's original lawyer in his state habeas corpus proceedings, Kaine wrote that the lawyer "erroneously believed that claims denied by the Circuit Court did not have to be raised on appeal to be preserved [in future litigation]." When Kaine took over as Whitley's lawyer and raised several of those issues in a federal court habeas corpus petition, the court ruled that the prior lawyer's decision not to preserve all possible issues on appeal to the Virginia Supreme Court meant that Whitley could not raise them now in federal court.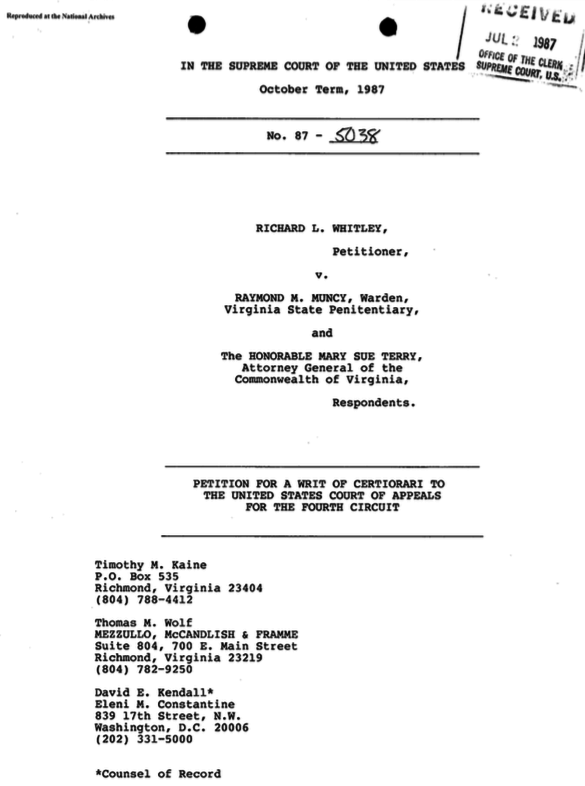 "Thus, as a result of [the prior lawyer]'s misunderstanding of the technicalities of Virginia law and her unreasonable decision not to guarantee preservation of constitutional claims of a death-sentenced petitioner," Kaine wrote to the justices, "many of Whitley's constitutional claims have never been heard by any court."
Talking with the Richmond Times-Dispatch at the time, Kaine said that "one of the real frustrating things about doing these cases" is "trying to get courts to consider claims that had never been considered." With only one exception in Whitley's case, he told the paper, "I've never gotten a court . . . to look at the substance of his constitutional claims."
That did not change at the Supreme Court, as the justices denied Whitley's cert petition and request for a stay of execution. Justices William Brennan and Thurgood Marshall dissented, "[a]dhering to [their] views that the death penalty is in all circumstances cruel and unusual punishment prohibited by the Eighth and Fourteenth Amendments."
Gov. Gerald L. Baliles also had denied a clemency request for Whitley, and Whitley was executed by Virginia on July 6, 1987.
Later, as governor, though, Kaine allowed executions to proceed even when defense lawyers presented similar stories of constitutional claims never being heard by courts.
In Brandon Hedrick's case, for example, the 4th Circuit Court of Appeals reviewed his conviction for the murder, rape, and robbery of Lisa Yvonne Crider. The appeals court held that it could not consider his constitutional claim that the prosecution had not turned over information about statements of his accomplice that could have been used to his benefit because of a state rule that had required Hedrick not just to raise the claim in his state habeas petition but specifically to include it in his opening brief before the state supreme court as well. His lawyer had not done so, and so the claim was defaulted.
The U.S. Supreme Court's 2002 decision barring execution of intellectually disabled people was handed down while Hedrick's state habeas petition was pending before the Virginia Supreme Court. Because Hedrick did not amend that petition, and only raised the issue in a petition for rehearing after his initial habeas petition was denied, the state courts did not consider the claim. The claim, the federal courts found, was therefore barred from federal review as well.
Notably, one of the judges hearing Hedrick's federal habeas appeal noted the "troubling" implications of "the manifest unfairness" of state procedural rules preventing the federal courts' consideration of the matter.
"Hedrick seeks only to develop and be heard on what is … a demonstrably colorable claim," 4th Circuit Judge Roger Gregory wrote in March 2006. "The potential exists for great and irreversible harm in denying him that opportunity, for in death penalty cases, the results of such decisions are final."
"I do think these [clemency] decisions probably weighed very heavily on him, given his belief about the death penalty, but I also knew, obviously, that Tim [Kaine] was going to do what he believed the law required him to do." —Dana Finberg, an attorney who has represented Virginia death-row inmates
Nonetheless, Kaine — like Baliles nearly 20 years earlier with Kaine's client — denied Hedrick's clemency request, stating, "Having carefully reviewed the Petition for Clemency and judicial opinions regarding this case, I find no reason to doubt Mr. Hedrick's guilt or to set aside the sentence that was recommended by the jury and then imposed and affirmed by the courts."
On July 20, 2006, the U.S. Supreme Court denied Hedrick a stay of execution — again over the objection of Justices Stevens and Ginsburg — and Virginia executed Hedrick later that day.
Finberg, the lawyer who Kaine had advised to take his first death penalty case, continued in his defense of death row inmates even once Kaine was in the governor's office. He submitted a clemency petition to Kaine for one client even and told BuzzFeed News that he was hopeful about the request: "I thought that was a pretty compelling clemency argument," noting that it involved the prosecutor in the case having withheld evidence at trial.
Kaine rejected the request, however, and John Yancey Schmitt was executed on Nov. 9, 2006.
"I do think these decisions probably weighed very heavily on him, given his belief about the death penalty, but I also knew, obviously, that Tim was going to do what he believed the law required him to do," Finberg said of the process for his client other other death row inmates. "I did always feel that the clemency petition was going to get more than a fair shake."
"Having carefully reviewed the Petition for Clemency and judicial opinions regarding this case, I find no reason to doubt Mr. [Brandon] Hedrick's guilt or to set aside the sentence that was recommended by the jury and then imposed and affirmed by the courts." —Tim Kaine, denying clemency as Virginia governor before a 2006 execution
The cases and files reviewed by BuzzFeed News — in which Kaine was a defense lawyer and then those cases underlying the pending executions that he oversaw — also feature a number of concerns about the quality of legal representation that capital case defendants received at trial and whether that meant the death sentences were appropriate in those cases.
When Kaine was serving as Whitley's lawyer, one of the first issues he pointed to in his petition to the Supreme Court was the quality of the lawyers representing Whitley at his trial. Whitley's primary lawyer, "had never been involved in a murder trial." The "more experienced" lawyer assigned to assist in Whitley's case had been the lawyer for another capital client who had been ordered by a federal appeals court to be re-sentenced "due to constitutionally ineffective representation."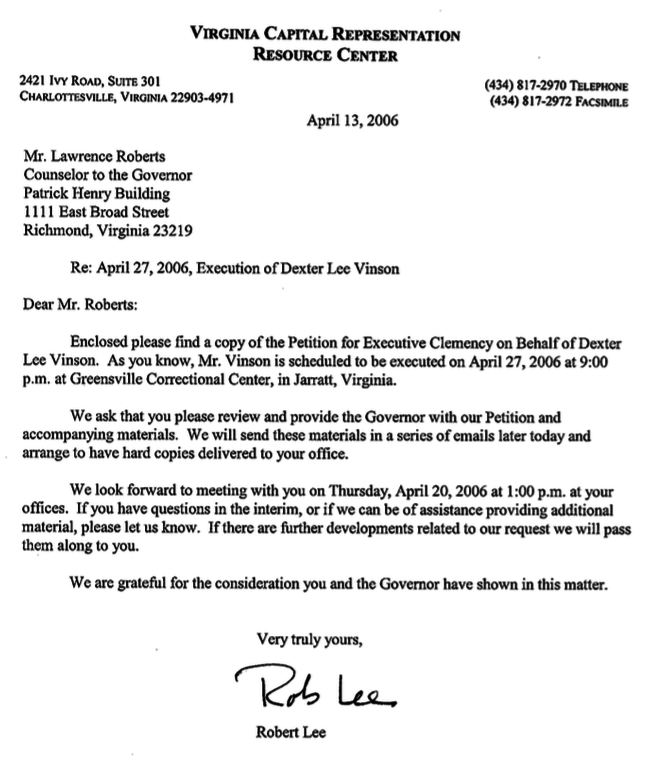 Years later, when Kaine received his first clemency petition as governor, the lawyers for Vinson presented evidence that the trial counsel in his case were similarly insufficient. "The sub-text to Vinson's trial was a singular, extraordinary circumstance: one of Vinson's defense counsel was suing the other, and accusing him of racism in his employment practices." The second lawyer in Vinson's case was alleging in her lawsuit that she had been passed over for promotion in the public defender's office by the person serving as lead counsel in the case.
According to the clemency petition, the lawyers worked completely separately on different parts of the case due to their ongoing dispute, such that the lead counsel never even spoke to the psychologist who was appointed to help in Vinson's defense.
Kaine, however, denied Vinson's clemency request and the execution proceeded as planned.
Throughout the cases that came before Kaine as governor, claims of ineffective assistance of counsel were raised repeatedly. They were the types of claims that Kaine knew well from his prior work as appellate defense counsel.
In Whitley's case, for example, Kaine's petition at the Supreme Court detailed significant problems with his initial trial counsel at every step of the process, from their examination of Whitley's mental health and personal background issues, decisions regarding discovery and jury selection, and failure to handle sentencing appropriately by presenting available mitigating evidence.
At the time, Kaine explained the importance of bringing in that background information at sentencing, telling a reporter "All of that stuff, in my mind, is critically relevant to a jury in terms of what they might want to do . . . the difference between life and death frequently weighs on exactly those factors."
In January 2009, as governor, Kaine was presented with a petition seeking clemency for Edward Bell, convicted for the murder of a police officer, Ricky Lee Timbrook, and sentenced to death.
"Bell's jurors did not have the information to make a life or death decision about Bell because of his lawyers' deficient performance," the clemency petition stated, highlighting comments from the judge who reviewed Bell's federal habeas application. "Judge [James P.] Jones summarized the situation: defense counsel 'present[ed] no mitigating evidence, zero mitigating evidence. The prosecutor said it, you agree, I agree. The defense counsel presented zero.'"
The petition continued for another 10 pages detailing how defense counsel had not used resources available to it to find mitigating evidence and then giving examples of potential mitigating evidence that could have been presented at the sentencing phase of Bell's trial.
Kaine denied the clemency request, however, and Bell was executed for Timbrook's murder on Feb. 19, 2009.
Timbrook's wife, Kelly, had appeared in one of Kilgore's ads against Kaine back in 2005.
"When Tim Kaine calls the death penalty murder, I find it offensive," she said looking into the camera, "and I don't trust Tim Kaine to uphold that law."
Finberg, the lawyer who worked as a defense lawyer in death row appeals with Kaine and then as a lawyer seeking clemency from Kaine, summed up the experience as sending a clear message of the type of leader Kaine is.
"People try to trip things up with his stated view that he doesn't believe in the death penalty," he said, "but I think he's shown that, despite the fact that he may have personal feelings against it, he always was true to his word that he would uphold the law — and I think that says a lot for what Tim is and what kind of person he is."