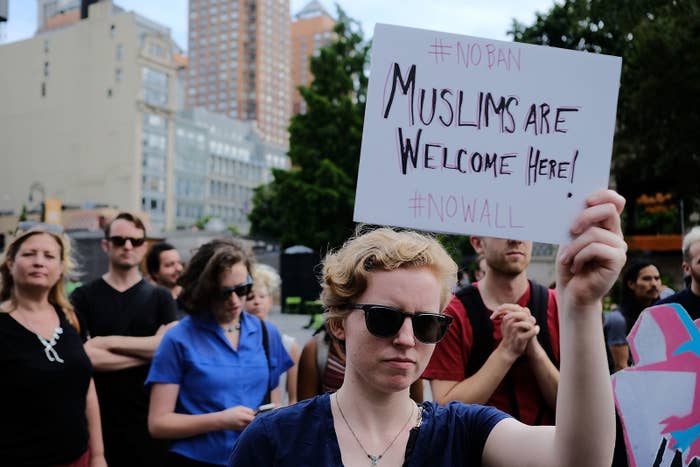 The Supreme Court won't stop a lower court order that exempted grandparents and other family members from President Trump's travel and refugee bans.
On Wednesday, the Supreme Court denied the Justice Department's request that the high court clarify its own June 26 order on the president's executive order. That ruling allowed the bans to go into effect in part.
After the June 26 ruling, a lower court ruled on the implementation of the order. The Justice Department, practically speaking, was seeking to reverse that lower court's ruling in the case in its request before the justices.

The Supreme Court did, however, put another part of the lower court order on hold for now. That portion provided protection for those would-be refugees who have received assurances of support from a refugee resettlement agency but don't otherwise have connections to the US.
Last week, US District Judge Derrick Watson had issued an order limiting the Trump administration from using the travel or refugee bans to "exclude grandparents, grandchildren, brothers-in-law, sisters-in-law, aunts, uncles, nieces, nephews, and cousins of persons in the United States."

The debate surrounds the interpretation of the Supreme Court's order, which stated that the executive order could not be enforced against those with a "bona fide relationship" with people or entities in the US. The ruling applied both to the 90-day ban on travel from six Muslim-majority countries and the 120-day halt to the refugee program.
The Trump administration enforced a definition that included "a parent (including parent-in-law), spouse, child, adult son or daughter, son-in-law, daughter-in-law, sibling, whether whole or half" and eventually a "fiancé" — but not those other familial relationships. Hawaii, challenging the ban, went back to Watson's court to ask that his injunction against the ban be amended to exempt those other family relationships, which he did this past week.
The Justice Department, in turn, went to the Supreme Court, asking it to clarify the June 26 order.
The court, on Wednesday, denied that request. It did, however, issue one limit on Watson's order.
In addition to the family provision, Watson's order also provided new protections for would-be refugees — ruling that a potential refugee's "assurance from a United States refugee resettlement agency" constitutes the sort of "bona fide relationship" that bars enforcement of the executive order against that would-be refugee.
The Supreme Court put that portion of Watson's ruling on hold, issuing a stay of that refugee provision pending the appeal of Watson's order by the Justice Department to the US Court of Appeals for the Ninth Circuit.
Justices Clarence Thomas, Samuel Alito, and Neil Gorsuch would have stayed Watson's entire order — putting back in effect the administration's initial family travel rules.