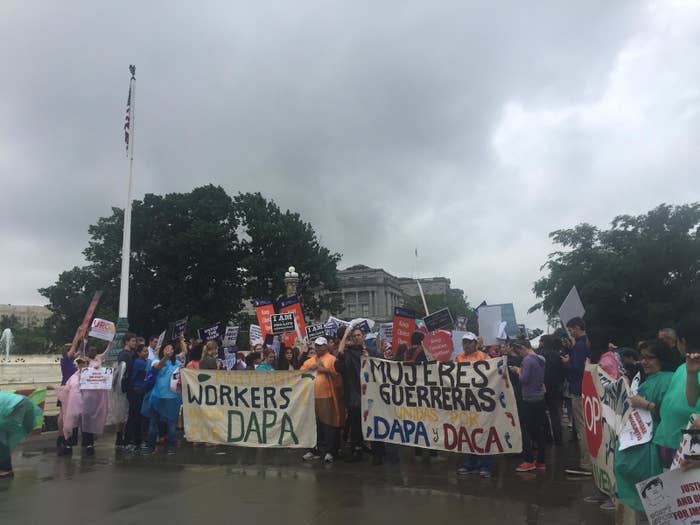 WASHINGTON — President Obama's 2014 immigration order — the Deferred Action for Parents of Americans (DAPA) program — will not be allowed to go into effect, the result of a 4-4 split decision of the Supreme Court on Thursday.
The ruling also prevents an expansion of Obama's other program, the Deferred Action For Childhood Arrivals (DACA), from going into effect.
The Fifth Circuit Court of Appeals, in November 2015, had upheld a district court's order stopping the DAPA program from going into effect. The Obama administration had appealed.
The justices heard the case in April and had appeared closely divided on the matter.
Thursday's ruling — a one-sentence order announcing that the eight justices were split 4-4 — leaves the lower court decision in place, keeping the administration from implementing the DAPA program.
In June 2012, Obama announced the DACA program to shield undocumented immigrants who entered the U.S. before the age of 16 and resided in the country since 2010 from deportation for two years, allowing them to apply for a work permit.
In a 2014 order, Obama expanded the DACA program to included more people and expand the time length of the deferral from two years to three years. At the same time, Obama also rolled out DAPA.
Texas, joined by more than two dozen other states, sued to stop the 2014 guidance from going into effect. U.S. District Court Judge Andrew Hanen issued an injunction before immigrants could apply for DAPA and the expanded DACA program. The appeals court upheld that injunction, leading to the Obama administration's appeal to the Supreme Court.
Addressing the ruling on Thursday, Obama said the decision takes "takes us further from the country that we aspire to be," adding that the tie could have been broken if Republicans had held a fair hearing for Judge Merrick Garland, his nominee to replace the late Antonin Scalia on the Supreme Court.
"Republicans in Congress currently are willfully preventing the Supreme Court from being fully staffed and functioning as our Founders intended, and today's situation underscores the degree to which the court is not able to function the way its supposed to," Obama said.

UPDATE
The story was expanded to include comments from President Obama about the ruling, as well as information about the effect of the ruling on the Deferred Action for Childhood Arrivals program.