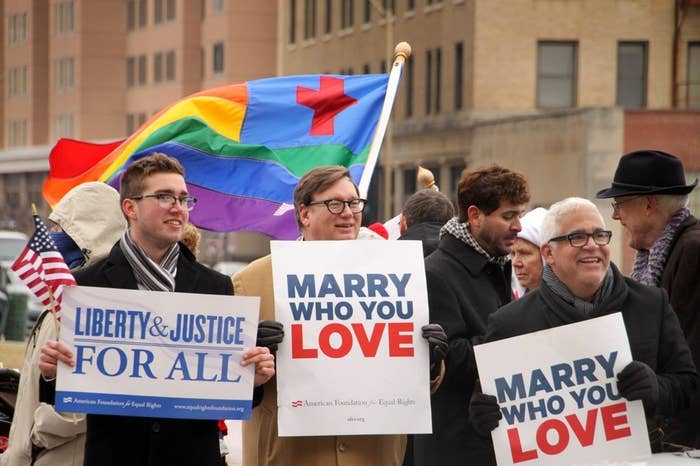 WASHINGTON — The Supreme Court on Wednesday issued an order that will stop same-sex couples in Virginia from being able to marry starting Thursday morning.
The Supreme Court, responding to an application filed with Chief Justice John Roberts that he referred to the whole court, issued a brief of that puts the lower court ruling striking down the ban on hold until the Supreme Court decides whether it will hear an appeal of the case.
The court's order stated that the mandate putting the 4th Circuit Court of Appeals' ruling in effect, which was scheduled to be issued Thursday morning, is "stayed pending the timely filing and disposition of a petition for a writ of certiorari."
Notably, the court stated that the stay will "terminate automatically" if it does not take and denies certiorari in the case — which is the process by which the court formally takes cases. If it grants certiorari, then its stay ends when it "send[s] down ... the judgment of this Court."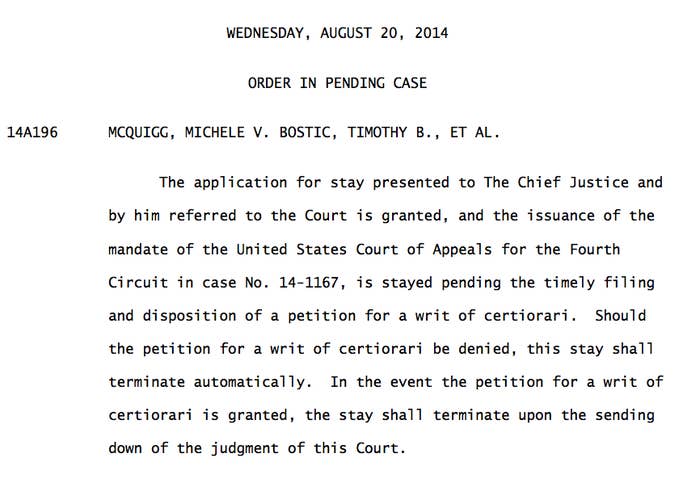 Notably, the last line in the order could be a sign that the justices did not approve of the way the 9th Circuit Court of Appeals dissolved its stay of the California marriage case, Hollingsworth v. Perry, just two days after the Supreme Court dismissed the case on standing grounds. The appeals court did so long before the time had passed by which parties could have requested for the Supreme Court to reconsider their case.
By issuing a stay that, if it takes the case, only terminates "upon the sending down of the judgment of this Court," the court will maintain some control over when same-sex couples are allowed to marry in Virginia should it issue a decision striking down the ban.
[This breaking news story was updated to add more information, with the final update at 3:45 p.m.]