Supreme Court Orders Recusal Of Judges With "Significant" Involvement In Cases As Prosecutors
A 5-3 decision from the high court in favor of a man who was sentenced to death in Pennsylvania in the 1980s.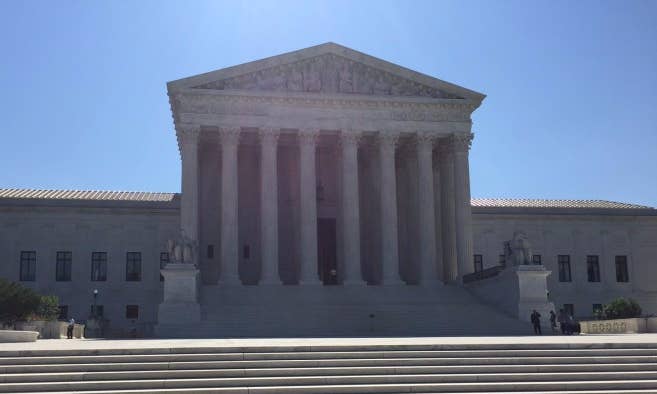 WASHINGTON — The U.S. Supreme Court on Thursday held that the Constitution requires a Pennsylvania Supreme Court justice to recuse himself from a death row post-conviction appeal because the state judge's prior involvement as a prosecutor overseeing the case amounted to "significant, personal involvement" that created "an unconstitutional risk of bias."
The case centers around Pennsylvania Supreme Court Chief Justice Ronald Castille, who had been the district attorney whose office prosecuted Terrance Williams in the 1980s. Decades later, Castille refused to recuse himself from a post-conviction appeal at the Pennsylvania Supreme Court relating to Williams' death sentence.

The U.S. Supreme Court, with Justice Anthony Kennedy writing for the court's 5-3 majority, vacated the Pennsylvania Supreme Court's decision upholding Williams' death sentence. The state high court had overturned a trial court's ruling that had ordered a new sentencing hearing for Williams, who had been convicted of the murder of Amos Norwood in 1984.

"The Court now holds that under the Due Process Clause there is an impermissible risk of actual bias when a judge earlier had significant, personal involvement as a prosecutor in a critical decision regarding the defendant's case," Kennedy wrote for the U.S. Supreme Court on Thursday.
Williams had successfully convinced a trial court that allegations of prosecutorial misconduct at his trial required courts to stay his execution and order him to be re-sentenced.
Pennsylvania officials, though, sought to proceed with his execution and asked the Pennsylvania Supreme Court to vacate the stay of execution. Castille refused to recuse himself from consideration of the request, despite having been the district attorney who had personally approved the decision to seek the death penalty in Williams' case. The Pennsylvania Supreme Court, with Castille concurring in the majority's decision, subsequently reinstated Williams' death sentence.
Williams sought review on the recusal question from the U.S. Supreme Court, which heard his case in February.
"When a judge has served as an advocate for the State in the very case the court is now asked to adjudicate, a serious question arises as to whether the judge, even with the most diligent effort, could set aside any personal interest in the outcome," Kennedy wrote for the court in Thursday's decision.
Chief Justice John Roberts, joined by Justice Samuel Alito, and Justice Clarence Thomas wrote opinions dissenting from the decision tossing out the Pennsylvania Supreme Court's decision.

The case now goes back to the Pennsylvania Supreme Court, from which Castille retired in 2014.