Supreme Court Justices Appear Cautious On Same-Sex Marriage Rights
In the landmark case, justices appear unsure whether it should even have reached the Supreme Court.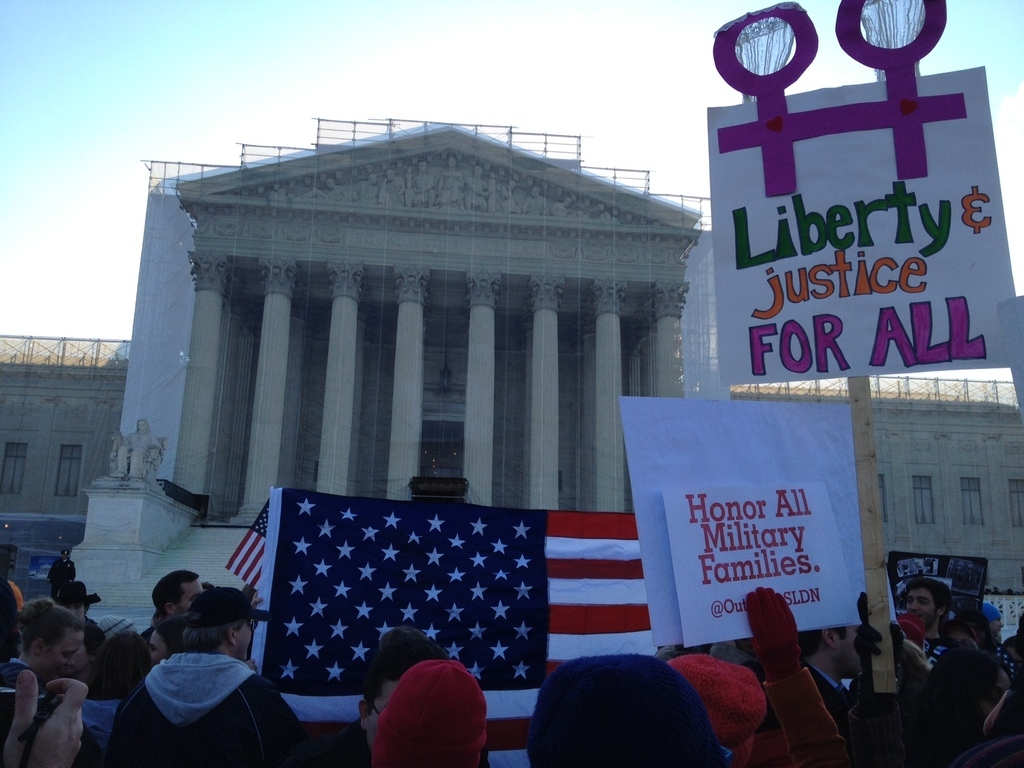 WASHINGTON — Several justices of the Supreme Court appeared unlikely Tuesday to be prepared to rule now on the broad issue of whether same-sex couples have a constitutional right to marry, although their reasoning was varied in the nearly 90 minutes of arguments that took place.
The court is considering whether the voters of California had the right, under the U.S. Constitution, to vote in 2008 to amend their state's constitution to ban same-sex couples from marrying. The case was brought by two same-sex couples who wish to marry in California.
The lawyer for the proponents of Proposition 8, Charles Cooper, argued that the question before the justices is "whether the court should stop this democratic debate" taking place throughout the country about same-sex couples' marriage rights. He also argued repeatedly that allowing same-sex couples to marry would "sever" marriage from its purpose of encouraging what he terms "responsible procreation."
Theodore Olson, representing the two same-sex couples, argued in response that the court has repeatedly held that marriage is an "individual right" that is constitutionally protected and, accordingly, Proposition 8's effect to "wall[ ] off gays and lesbians from marriage" is unconstitutional.
Justice Elena Kagan directly posed that question to Cooper, saying of Cooper's procreation rationale for marriage, "You have sort of a reason for not including same-sex couples. Is there any reason that you have for excluding them?"
Cooper responded that it is "impossible to see the future to know what the consequences" would be, but that allowing same-sex couples to marry could diminish the purpose for marriage, as the proponents see it.
Several justices were skeptical of Cooper's arguments. Justice Elena Kagan asked whether it would be constitutional to ban marriage for couples over the age of 55, and Ginsburg noted that the court had ruled in Turner v. Safely that someone in prison still maintains the right to marry.
Justice Antonin Scalia, however, appeared at times to support Cooper's argument, noting at one point that there was "considerable disagreement among sociologists" about the "possible deleterious effect" on children of same-sex couples being allowed to marry. Justice Samuel Alito chimed in at one point noting that same-sex couples being allowed to marry is "newer than cell phones or the internet."
Justice Anthony Kennedy, however, shot back by asking Cooper whether the "voice of the[ ] children" of same-sex couples "is important in this case," to which Cooper responded that there is "no data" on whether children of same-sex domestic partners face disadvantages from those of married same-sex couples.
Roberts also questioned Olson's characterization of the situation as being one in which gay couples were excluded from marriage, noting that the advent of same-sex couples seeking marriage rights came second and that the institution wasn't "developed" to exclude gay couples.
More than the question of Proposition 8's constitutionality, however, several justices — including Kennedy, often considered a key swing vote on the court — questioned the lawyers at length about whether the initiative's proponents even had the legal right to bring the appeal, called standing.
Because the state's governor and attorney general declined to defend the law when the lawsuit was brought in 2009, the initiative's proponents sought and were given permission to defend it at the trial-court level. When they lost, they appealed the decision to the Ninth Circuit Court of Appeals. At that level, they lost again — although on more narrow grounds — and sought review by the Supreme Court, which was granted in Dec. 2012.
Beyond the standing question, which drew skeptical questions from almost all of the justices, Kennedy at a later point went further and asked Olson whether the court was even correct to have accepted the case for review in the first place. When Justice Sonia Sotomayor raised the question to Cooper, Scalia shot back that the court had already accepted the case: "We crossed that river."
Scalia took strong aim at the merits of Olson's arguments, asking when it became unconstitutional to exclude same-sex couples from marriage. When Olson responded that there's "no specific date," Scalia shot back, "That's the problem." The two continued an exchange that went back and forth several times, with Olson maintaining that the court had never made such a requirement in prior cases.
When Solicitor General Donald Verrilli Jr., the Obama administration's top lawyer before the Supreme Court, took to the podium, he faced a skeptical bench of justices. The administration's argument, that a state like California that extends almost all the benefits of marriage to same-sex couples has no constitutional reasoning for excluding them from marriage, prompted probing questions from Ginsburg, who characterized the argument as "a state that has made considerable progress must go all the way," while a state that has done nothing might receive more constitutional protection.
Justice Stephen Breyer joined in, noting that "a state that does nothing hurts gay people more."
Verrilli responded that the administration is "not prepared to close the door" on the arguments to be made in those states, but — noting their argument that laws like Proposition 8 that classify people based on sexual orientation should be subjected to additional scrutiny by the courts — added, "I don't want to kid about this: That would be a very high burden to meet."
Earlier in the arguments, in response to a question from Sotomayor, Cooper had conceded that, outside of marriage, he could not think of any rational basis for treating homosexuals differently under the law.
The justices will be hearing a challenge to the Defense of Marriage Act, which bars the federal government from recognizing same-sex couples' marriages, on Wednesday and are expected to issue a decision in both cases by late June.
Correction: A question from Justice Elena Kagan — "You have sort of a reason for not including same-sex couples. Is there any reason that you have for excluding them?" — initially was attributed to Justice Anthony Kennedy.