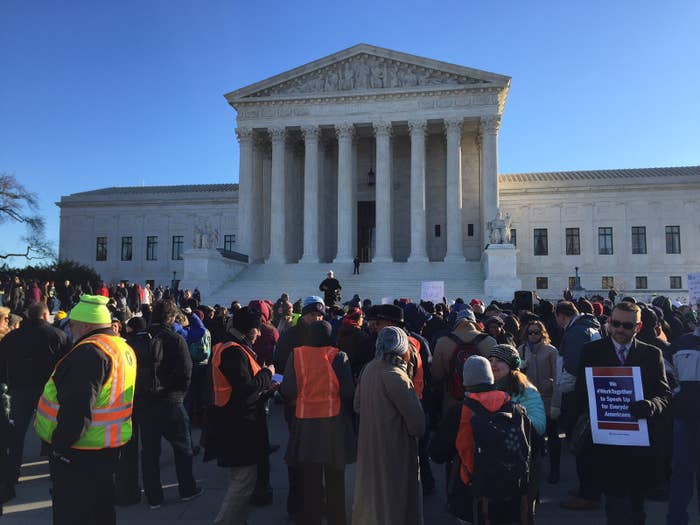 WASHINGTON — A majority of the Supreme Court appears poised to overrule a 1977 case allowing public sector union "agency fees" — a ruling that would end the fees, which are paid by non-members to support public sector unions' collective bargaining work.
The 1977 case, Abood v. Detroit Board of Education, allows public sector unions to require non-union members to pay a fee for the services provided to all employees regarding contract negotiations and administration.

Monday's case, Friedrichs v. California Teachers Association, was presented by Jones Day partner Michael Carvin as a free speech and association case about the First Amendment. Representing teacher Rebecca Friedrichs, Carvin argued that the First Amendment bars California from forcing Friedrichs to pay money to a union with which she disagrees and has chosen not to join.
California, Justice Department, and union lawyers countered that the 1977 case "converged" — as Solicitor General Donald Verrilli Jr. put it — with other Supreme Court cases about the more lenient speech rules that apply to the government when it acts as an employer.
Such agency fees are permitted in private workplaces under federal law, but it took the Abood case to allow for such fees to be assessed in public sector unions since public employees aren't covered under the federal law.
While states could, and many have, limited the use of public sector unions, the Abood case allows states with public sector unions — where a union serves as the exclusive bargaining unit with a public employer — to require non-union members to pay the so-called "agency" or "fair-share" fee to the union to support its contract negotiation and administration work.
The Supreme Court, in a 2014 decision, hinted at the majority's dissatisfaction with the Abood ruling. Although Justice Clarence Thomas said nothing Monday, as is his usual practice, it does appear that the same five justices are prepare to overrule Abood with Friedrichs.
Justice Stephen Breyer pressed Carvin heavily on the role of stare decisis — the court's practice of following its past precedents — and several of the four more liberal justices questioned what special reason there was to overrule Abood.

"It was 40 years ago," Breyer said of the Abood decision. "It was 40 years ago," he repeated, questioning the effect on other related decisions — ranging from bar association fees to student activity fees.
When California Solicitor General Edward DuMont got up, however, the more conservative justices took the lead in questioning — with Justice Anthony Kennedy calling it "almost axiomatic" that public sector union matters are "matters of public concern" because, among other reasons, public money is involved.
As such, Kennedy continued, shouldn't forcing people to pay the fees be seen not as a "free-rider" problem — a reason the court in Abood allowed the agency fees — but instead as a "compelled-rider" problem — which would, under Carvin's argument, be a constitutional problem with requiring the fees.