Social Security Payments Limited To Same-Sex Married Couples Living In States That Recognize Marriage Equality
For a same-sex couple legally married in Massachusetts, who live in Texas and "meet all other factors of entitlement," the Social Security Administration told employees Friday, "Hold the claim."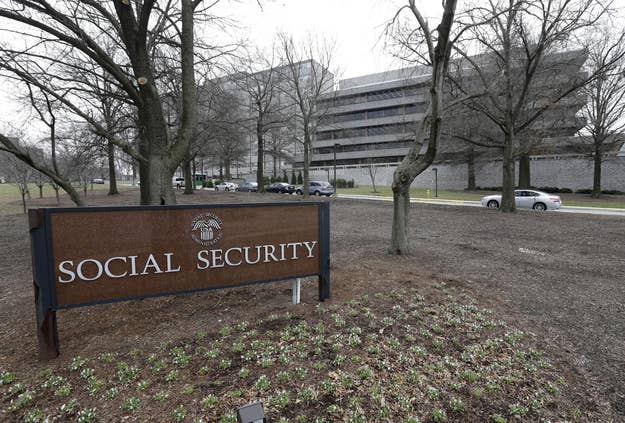 WASHINGTON — The Social Security Administration is limiting payment of claims for same-sex married couples currently to those couples who were married in a state the allows same-sex couples to marry and are "domiciled," or live, in a state that recognizes same-sex couples' marriages.
The decision means claims from same-sex couples married where such couples can legally marry but who live in a state that does not recognize such marriages are having their applications put on hold for the time being.
As of Friday, a new section for "Windsor Same-Sex Marriage Claims" — named after the Supreme Court case of United States v. Windsor, which resulted in a part of the Defense of Marriage Act being struck down — was added to the Social Security Administration's Program Operations Manual System (POMS), which the agency describes as the primary source of information used by Social Security employees to process claims for Social Security benefits.
The claims processing instructions "allow for payment of claims" when the claimant "was married in a state that permits same-sex marriage" and "is domiciled at the time of application, or while the claim is pending a final determination, in a state that recognizes same-sex marriage."
The agency had been far less specific in a news release Friday afternoon seeking publicity for the news that it is making "some" payments to same-sex married couples. In the release, Acting Commissioner Carolyn Colvin said that the recent Supreme Court decision overturning the federal definition in the Defense of Marriage Act "helps to ensure that all Americans are treated fairly and equally, with the dignity and respect they deserve."
BuzzFeed sought follow-up information about the specifics of the changes on Friday afternoon when the news release was issued, but spokespersons at the agency provided no information on the phone or in response to an email request.
The decision is the first major implementation by the federal government after the ruling in United States v. Windsor in which marriage benefits recognition is tied to the place of domicile, or where couples live, and not solely the place of celebration, or where the couple married.
[Update at 2:05 a.m.: Will Baude at The Volokh Conspiracy writes that he "assume[s]" that the agency relied on "a special statute dealing with choice of marital law for social security claims," which states that the marriage is valid for Social Security purposes "if the courts of the State in which such insured individual is domiciled ... would find that such applicant and such insured individual were validly married." At the same time, Baude points to an alternative provision that would provide additional coverage beyond that — a provision that did not appear to be applied in Friday's instructions.]
The Department of Homeland Security, for example, has stated that "as a general matter, [U.S. Citizenship and Immigration Services] looks to the law of the place where the marriage took place when determining whether it is valid for immigration law purposes." Secretary of State John Kerry made similar commitments last week as to the issuance of visas.
When the Office of Personnel Management announced its plans to extend federal employee health insurance program and other key programs to same-sex married couples a spokesman told BuzzFeed, "[T]hese benefits will be available to any Federal employee or annuitant who has a valid marriage license, regardless of their State of residency."
[Update at 10:35 a.m.: Human RIghts Campaign spokesman Michael Cole-Schwartz pushed the agency to do more, telling BuzzFeed, "We are glad to see some couples getting benefits and that the door is still open for those couples living in non-marriage equality states. We urge them to take the broadest interpretation to ensure the maximum numbers of same sex couples have access to benefits."]
The instructions: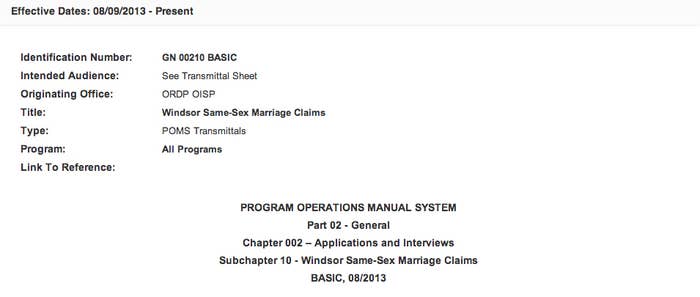 The introduction:

The explanation of the limitation:
Here's the list of "states that permit or recognize same-sex marriage," per the Social Security Administration: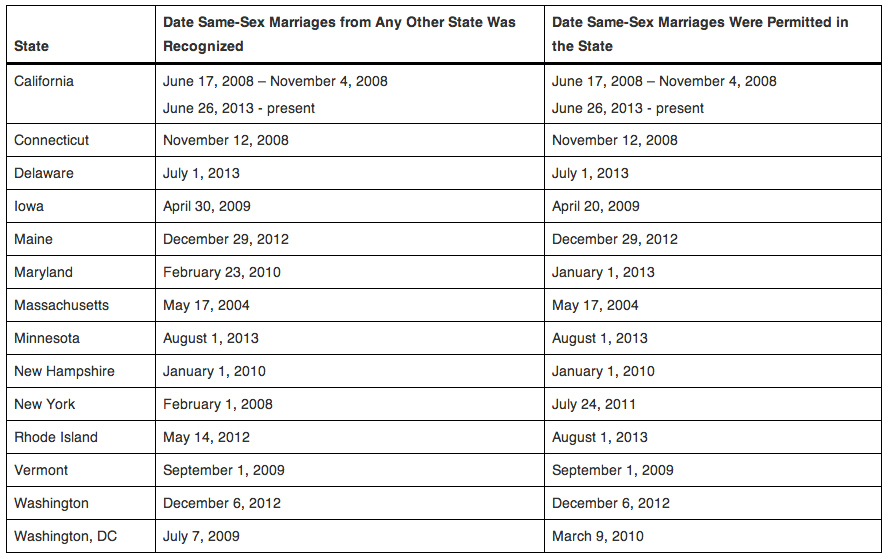 Here are the couples the Social Security Administration will be paying out for currently: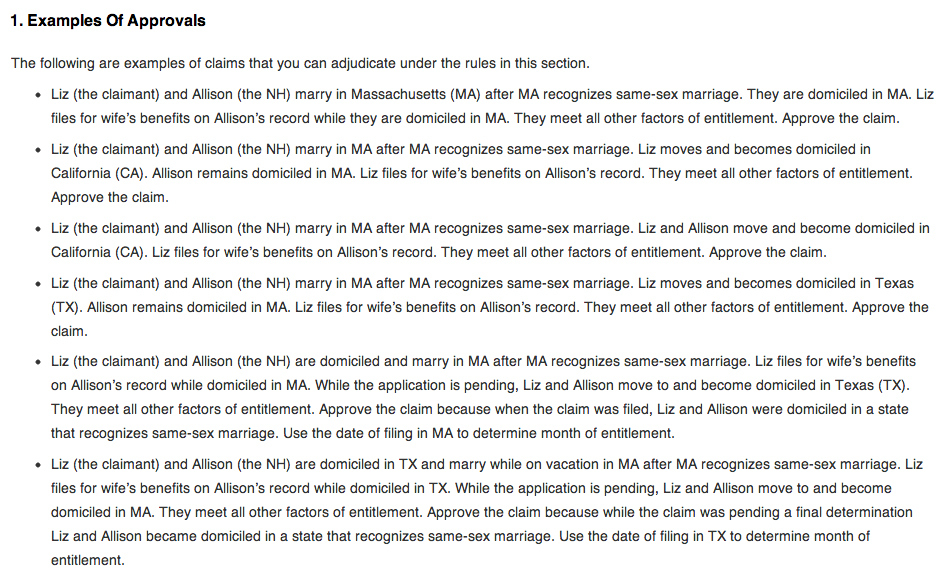 Here's who they will not be paying out for currently, instead placing the claims on hold: