Scott Brown's "Model" Justice Is Scalia. And Kennedy. And Roberts. And Sotomayor.
His first answer of conservative firebrand Justice Antonin Scalia was booed by the crowd, and Sen. Scott Brown named three other justices — including one on the left. Elizabeth Warren went a simpler route.
When asked his "model Supreme Court justice" tonight, Sen. Scott Brown of Massachusetts at first named conservative Justice Antonin Scalia. As the audience at tonight's Massachusetts Senate debate moderated by Meet the Press's David Gregory began booing, Brown named Justice Anthony Kennedy. Then, he named Chief Justice John Roberts — although he only called him a justice. Finally, he went to the left, naming President Obama's first nominee, Justice Sonia Sotomayor.
When Gregory noted that Sotomayor and Scalia have very different ways of looking at the world and asked Brown to pick just one, Brown said, "That's the beauty of being an independent, David. ... I don't need to pick one. We have plenty of justices up there, and I'm proud of the ones we have."
Knowing that Brown's answer did all the work on that question, Elizabeth Warren simply named her former Harvard Law School colleague, Justice Elena Kagan.
The reaction from the left and right was amusement.
First, Liz Mair, a Republican consultant who has worked for Govs. Scott Walker and Rick Perry: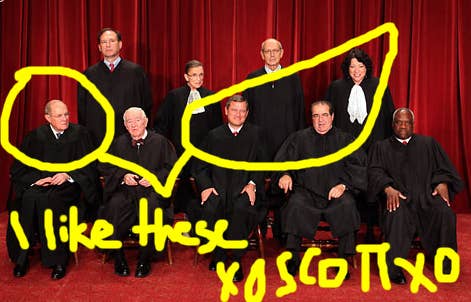 Then, from the left, Jamison Foser helpfully diagrammed the answer as such: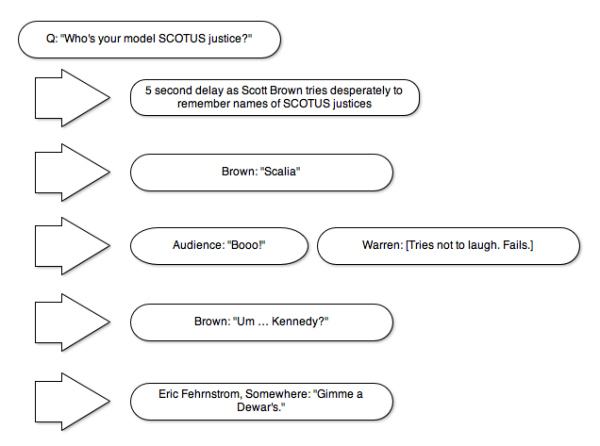 But, perhaps, as noted by Foser, Elizabeth Warren's response was the most direct: