Same-Sex Couples Sue For Marriage Rights In West Virginia
"We need the protection that marriage affords," Nancy Michael, suing the state, says.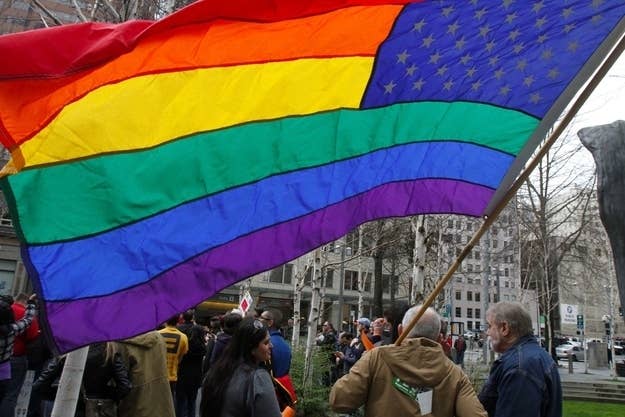 WASHINGTON — Three same-sex couples who want to marry are suing the state of West Virginia, seeking to have the state's law banning recognition of same-sex couples' marriages struck down as unconstitutional.
Lambda Legal, with support from Fairness West Virginia, announced the federal lawsuit challenging the state's ban on same-sex couples' marriages on Tuesday morning in West Virginia.
As in other challenges, the lawyers claim the ban violates the couples' fundamental right to marry and discriminates against them in violation of the constitutional guarantee of equal protection of the law.
"West Virginia is home for us. Our family is here, our jobs are here, and our community here is a great support for us," Nancy Michael, one of the plaintiffs, said about her and her partner, Jane Fenton, and their 6-year-old son, Drew, in a statement.
"Jane and I have been together for 16 years. We live and work together, and we are raising our son, Drew, together. We have done everything we can to protect and take responsibility for our family but we worry all the time that it isn't enough. We need the protection that marriage affords."
Unlike many other states without marriage equality, West Virginia does not have a constitutional amendment banning same-sex couples from marrying. Instead, it has a statute, passed in 2000, that bans such recognition. The lawsuit asks the court to strike down the ban and to require state officials to issue marriage licenses to otherwise qualified same-sex couples.
"West Virginia has enacted statutes that exclude same-sex couples from marriage. ... [T]he history of these enactments and their own text demonstrate that interference with the equal dignity of same-sex couples was more than a mere side effect of the various enactments — it was their essence," the lawsuit alleges.
In addition to Lambda Legal lawyers, The Tinney Law Firm in West Virginia is working on the case, as is Jenner & Block, a national firm that has partnered with Lambda Legal and other LGBT legal organizations on other cases.
Lawsuits are now pending in more than half of the remaining 37 states without statewide marriage equality, the result of both lawsuits already pending and a flurry of new lawsuits filed since the Supreme Court court struck down the federal marriage definition banning recognition of same-sex couples as unconstitutional.
"Every day that same-sex couples in West Virginia are denied the freedom to marry, the government sends a message that they are second class citizens and their families are not worthy of equal dignity and respect. West Virginia's state motto 'Mountaineers are Always Free' is hollow until all West Virginians — no matter who they love — have the freedom to marry," said Beth Littrell, a staff attorney with Lambda Legal, said in a statement.
Casey Willits, the executive director of Fairness West Virginia, said his organization backs the lawsuit.
"Today, Fairness West Virginia stands with Lambda Legal, the plaintiffs, and with thousands of same-sex couples in West Virginia as we take a critical step toward ending marriage discrimination," he said in a statement.
Read the lawsuit:
Download PDF