Kentucky Clerk To Ask Supreme Court To Keep Same-Sex Marriages On Hold
A federal appeals court on Wednesday offered little hope to the Rowan County clerk seeking to avoid issuing marriage licenses to same-sex couples, but, on Thursday, nothing had changed on the ground. Update: The clerk plans to ask the Supreme Court on Friday to step in and keep same-sex couples waiting.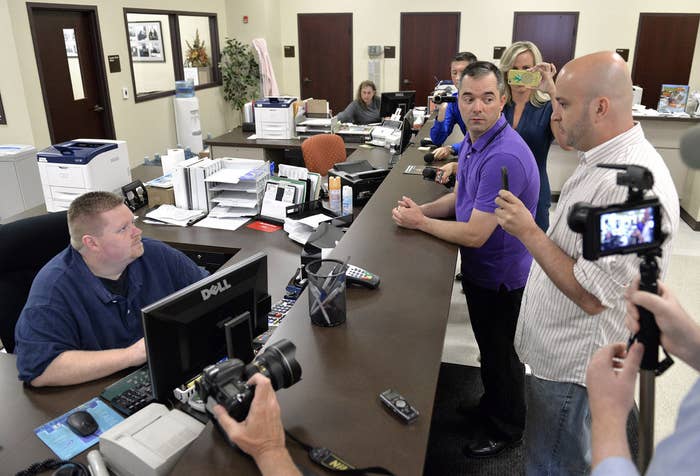 WASHINGTON — Despite a ruling from a federal appeals court on Wednesday, Thursday morning brought little clarity for same-sex couples seeking to marry in Rowan County, Kentucky.
On Wednesday, the 6th Circuit Court of Appeals told Rowan County Clerk Kimberly Davis that she had "little or no likelihood" of succeeding in her effort to refuse marriage licenses to same-sex couples.
The ruling, however, was potentially just another step in what could be a very lengthy process — with Davis planning to ask the Supreme Court on Friday to step in and help her.
In the wake of June's Supreme Court ruling in favor of marriage equality, Davis has argued that she has a religious objection to same-sex couples' marriages such that she should be exempted from having to put her name on those couples' licenses. She ordered her office to stop issuing licenses altogether, beginning a "no marriage licenses" policy that led to the lawsuit at issue in Wednesday's ruling.
On Thursday morning, the Courier-Journal reported, with accompanying video, that the Rowan County Clerk's Office again denied a marriage license to a same-sex couple, James Yates and William Smith Jr.
While the denial sparked an incredulous response online, the official from the clerk's office refusing the couple gave a simple response, telling the couple, "There's a stay until the 31st."
A stay is an order putting a court decision on hold and, here, was a reference to an order issued in the ongoing lawsuit, which was brought by four couples seeking to marry in Rowan County. Although Judge David Bunning ordered Davis to stop enforcing her "no marriage licenses" policy against those couples, he also put that order on hold until Aug. 31 to give Davis a chance to seek a more lengthy stay from the 6th Circuit. Bunning added, however, that his temporary stay could end earlier if the 6th Circuit issued an order doing ending it.
After Wednesday's ruling, Yates and Smith, who are not plaintiffs in the ongoing litigation, went to get a license — apparently taking Wednesday's ruling against issuing a stay to be such a "contrary" order. The clerk's office, however, appears to be taking the view that, while the 6th Circuit denied Davis's request for a more lengthy stay, its Wednesday order did nothing to end the stay Bunning put in place until Monday. In the meantime, Davis appears to be ready to wait it out — reportedly closing the office for "computer upgrades."
Davis's lawyer, Liberty Counsel attorney Mat Staver, told BuzzFeed News that he is planning to ask the Supreme Court on Friday for a stay during the appeal of the case.
Even if nothing changes before Monday, however, it is not clear whether Rowan County officials will grant a license to Yates and Smith. In the lawsuit challenging Davis, the plaintiffs are still attempting to get a class certified — meaning that Bunning's ruling would apply to all same-sex couples seeking marriage licenses from Davis's office. There is no decision yet on that class certification, however, so Bunning's preliminary order in the case only relates to the named plaintiffs in the case — not all same-sex couples.
As such, even though the logic of Bunning's order clearly would apply to Yates and Smith's request for a marriage license, Davis — should she still refuse them come Monday — would not technically be violating Bunning's order. Of course, Davis would still be acting in a way that Bunning has already ruled is not likely allowed, so, ultimately — either through class certification or if Yates and Smith sought to have their names added to the lawsuit — the couple likely will prevail. But, refusal to give them a marriage license on Monday — as opposed to refusal to grant a marriage license to any of the couples named as plaintiffs in the case — is unlikely to lead to Davis being held in contempt of court.
If, however, Davis refuses to grant a marriage license to any of the named plaintiff couples on Monday, expect the plaintiffs' lawyers to go to Bunning seeking a contempt order.