Same-Sex Couples Oppose Utah Officials' Request To Put Marriages On Hold
"[Utah officials'] Emergency Motion for Temporary Stay poses no emergency."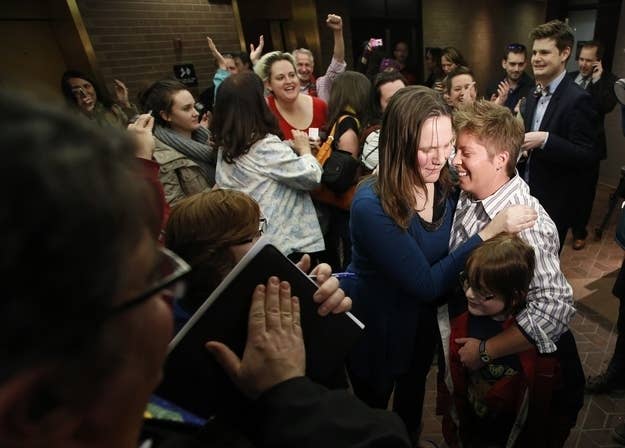 Opponents of Utah's ban on same-sex couples' marriages told an appeals court Saturday that there is no reason for the court to grant state officials' request to immediately stop same-sex marriages there.
Following a Friday ruling from U.S. District Court Judge Robert J. Shelby striking down the state's 2004 amendment banning same-sex couples' marriages, couples in Salt Lake City began marrying. Before the day was out, though, Utah Acting Attorney General Brian Tarbet had filed requests with Shelby and with the 10th Circuit Court of Appeals, asking for the marriages to be stopped.
Lawyers for the plaintiff same-sex couples suing the state, though, told the 10th Circuit on Saturday that the emergency request should be denied.
"There is no need for this Court to step in given that the District Court is expeditiously moving forward to give Appellants a hearing on their request for a stay of the District Court's summary judgment order this coming Monday morning," the lawyers wrote.
Shelby's court scheduled a hearing for Monday on the state's request that his ruling be put on hold while the state appeals. Shelby ordered the plaintiffs to file their response to the state's request by 5 p.m. Sunday.
The request before the 10th Circuit is for an emergency stay to be put in place temporarily, until the request before Shelby can be resolved.
In Saturday's filing, the lawyers for the same-sex couples argued that the state's "failure to address the factors that this Court ordinarily considers in deciding whether to issue a stay of a district court order" should be "fatal" to the request.
Additionally, they wrote, the 10th Circuit previously has said that "the infringement of an important constitutional right 'for even minimal periods of time'" — which they argue would happen by putting in place a stay and stopping same-sex couples from marrying — "'unquestionably constitutes irreparable injury.'"
Although marriages were expected to be allowed in Weber County, Utah, on Saturday, and though a line formed outside the county building where same-sex couples were expecting to be issued marriage licenses, the county's clerk, Ricky Hatch, announced about 4 p.m. that the marriages would not be going forward until the county's normal hours of operations on Monday.

No other county offices were open to issue marriage licenses on Saturday.
Read the plaintiff same-sex couples' opposition to the emergency stay request:
Download PDF