LGBT Rights Groups Say Same-Sex Couples "Must" Be A Part Of Immigration Reform
"The LGBT community will not stand for Congress placing the blame of their own dysfunction on our shoulders," Human Rights Campaign president Chad Griffin says.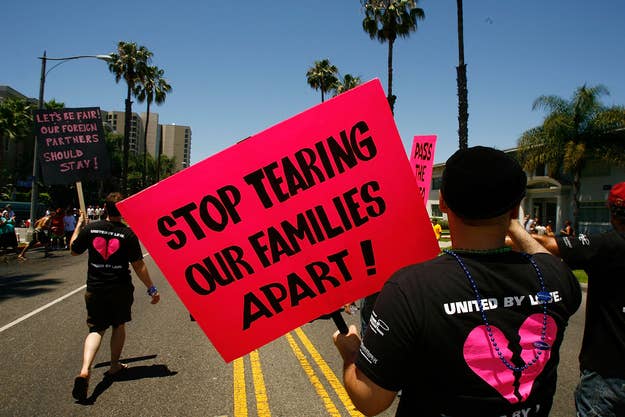 WASHINGTON — After a day of debate over whether to include protections for same-sex couples in immigration reform efforts, the nation's largest LGBT rights group issued a blistering statement Wednesday afternoon — likely aimed at putting Democrats on notice about the group's expectations in the weeks ahead.
Under the headline, "HRC: Congress MUST Pass Inclusive and Comprehensive Immigration Reform," HRC president Chad Griffin said in the statement:
The idea that lesbian and gay couples are the barrier to a bipartisan immigration reform agreement is an offensive ruse designed to distract attention away from the failings of Congress – a body that refuses to come together on popular and common-sense solutions to a host of our country's problems.

When examining the facts, it is clear that LGBT equality is not the controversial, hot-button issue that a handful of legislators portray it to be. Marriage equality continues to advance in the states and polls show super-majority support for everything from workplace non-discrimination laws to anti-bullying protections. Moreover, a broad coalition of religious groups, labor organizations, businesses and civil rights groups support the inclusion of same-sex bi-national couples in a comprehensive reform bill.

This bluster is nothing more than a political maneuver designed to divide the pro-reform coalition and at the same time appease a small but vocal group of social conservatives that will do anything to stop progress for lesbian and gay couples. The LGBT community will not stand for Congress placing the blame of their own dysfunction on our shoulders.
Earlier in the day, several other LGBT groups issued a similar statement. The National Center for Lesbian Rights, GLAAD, National Gay and Lesbian Task Force, United We Dream, and Queer Undocumented Immigrant Project stated:
Our primary goal is to pass a commonsense, compassionate immigration reform bill that puts our nation's undocumented men, women and children on a pathway to citizenship. That pathway would provide at least 267,000 LGBT undocumented people the opportunity to become full participants in our economy and our democracy.

We do not believe that our friends in the evangelical faith community or conservative Republicans would allow the entire immigration reform bill to fail simply because it affords 28,500 same-sex couples equal immigration rights. This take-it-or-leave-it stance with regard to same-sex binational couples is not helpful when we all share the same goal of passing comprehensive immigration reform that provides a path to citizenship.