No Rush to Put Romney's "Traditional Values" Speech Online
In a video address to the political social conservatives' summit, Mitt Romney hit on the red-button issues of abortion and same-sex couples' relationships. [Updated: Video sent at 10:47 p.m.]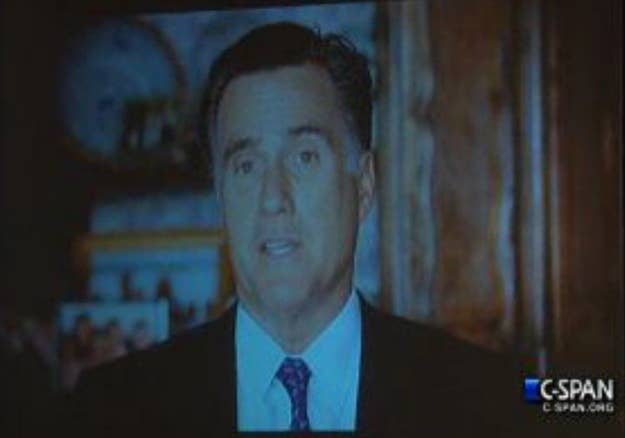 You won't find Mitt Romney's heartfelt video address to the Values Voter Summit this afternoon on his YouTube channel — or almost anywhere else.
Both Romney's campaign and the Family Research Council — which organized this weekend's Values Voters Summit — have declined to make available a copy of Romney's video address to the group, despite an FRC spokesman telling reporters before 5 p.m. Friday they would do so "shortly."
The lack of urgency in distributing a video focused intensely at social issues offers a glimpse at the Republicans' message calibrations, and at an apparent decision not to seek a broader audience for an address focused largely on abortion. Republicans put women front and center at their own convention last month in Tampa, and resisted engaging Democrats' attacks on them on issues of abortion and birth control from the podium in Charlotte.
Although covered by several media organizations, the only video of the address — in which the Republican presidential candidate reaffirmed his ticket's support for "the sanctity of life" and opposition to "redfin[ing]" marriage — is from cameras focused on the video screen at the conference.
Saying that "commitments on the campaign trail prevent me from being with you," Romney gave a three-and-a-half minute, pre-recorded video address to the annual gathering of political social conservatives, beginning with his desire to "thank Tony Perkins and the Family Research Council for their leadership." Perkins has faced opposition from organizations on the left, including the Southern Poverty Law Center.
"We need a president who shares our commitment to conservative principles and our respect for traditional values. We will uphold the sanctity of life, not abandon or ignore it. And we will defend marriage, not try to redefine it," Romney said in the video. He went on to ask for the summit attendees' support and help in the dwindling days until the November 6 election.
His running mate, Wisconsin Rep. Paul Ryan, addressed the summit earlier today, talking at length about abortion but barely mentioning marriage. The remarks were posted on Romney's campaign website this afternoon.
The Family Research Council Friday evening released all of the videos from the day's event — except Romney's. A spokesman said he was checking on when Romney's speech would be made available. A Romney campaign spokeswoman likewise said she would look into the request for the video.
UPDATE 10:53 p.m.: A Family Research Council spokesman sent out the video at 10:47 p.m. Embedded below: