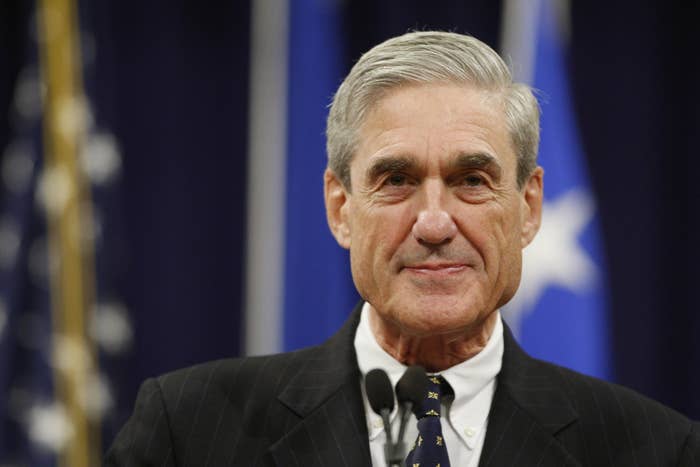 The special counsel's office on Tuesday announced that it has referred allegations that a woman was offered money to falsely accuse Robert Mueller of sexual harassment to the FBI for investigation, in a rare public acknowledgment.
"When we learned last week of allegations that women were offered money to make false claims about the Special Counsel, we immediately referred the matter to the FBI for investigation," Peter Carr, the spokesperson for the special counsel's office, told BuzzFeed News on Tuesday.
The statement, made to several outlets on Tuesday, followed an apparent effort by a person who identified themselves as a woman to connect with journalists — including BuzzFeed News — about the financial offer.
The story became public on Twitter overnight Tuesday after Jacob Wohl — a far-right Trump supporter who is most recognizable as being in President Donald Trump's replies — tweeted that he expected "scandalous" news about Mueller to be forthcoming.
That prompted Scott Stedman, an investigative journalist who has been active on Twitter tracking the Mueller investigation and related Russia topics, to respond to Wohl and detail on Twitter that he believed "false accusations" were forthcoming against Mueller.
He cited contact from "a woman who claimed to be a former associate of Mueller" who said that she was offered money "to come forward to make up sexual assault allegations." He continued that further efforts to investigate the matter raised questions about the reliability of the woman as a source.
On Oct. 18, BuzzFeed News received the same email from a person who identified themselves as a woman with the subject line "Urgent News Tip." The woman, who did not request confidentiality, said she'd been contacted by a man who offered her money to accuse Mueller of sexual harassment when she and the now–special counsel worked at the same law firm. The man told her he was working on behalf of Jack Burkman, an attorney who is best known for promoting conspiracy theories about the death of former DNC staffer Seth Rich and offering tens of thousands of dollars in reward money for information on the case.
The person who emailed BuzzFeed News said the man knew details about where she lived and the exact amount of her family's credit card debt. The man offered to help her pay it off in exchange for signing an affidavit that Mueller had sexually harassed her. She wrote in the email to BuzzFeed News that she had not interacted with Mueller much when they worked together, but he "was never inappropriate."
BuzzFeed News asked to speak with the woman, but she did not respond. Four days later, she emailed that she was "working with someone at the New Yorker to expose these hucksters." She identified the reporter as "Jane." The New Yorker's Jane Mayer did not immediately respond to a request for comment, but tweeted Tuesday that she was approached with the same allegations and that "there was zero evidence the person emailing was who 'she' claimed to be. 'She' wouldn't speak on the phone."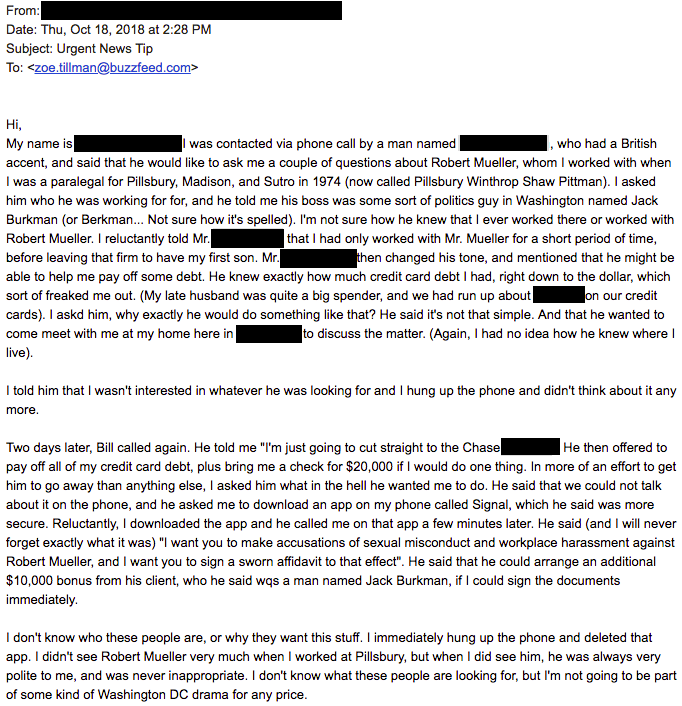 On Oct. 29, the woman emailed BuzzFeed News to say that earlier in the day, "a man with a Russian or Eastern European (not sure) called me up from a blocked number, saying that it was my final chance, to take the offer and make the accusations." The woman did not return a request to speak further about this.

In a phone interview Tuesday afternoon, Burkman said he had never offered any women money in exchange for making claims against Mueller, had never directed anyone to do that on his behalf, and wasn't aware of anyone he was working with doing that. He said he first learned that someone was accusing him of offering money in exchange for allegations against Mueller when the news broke on Tuesday.
"It's all made up," he said. "It's a hoax."
Natasha Bertrand from the Atlantic responded to Stedman's initial tweet on Tuesday morning, writing, "Can confirm." Mayer then responded that the whole thing is a "stupid hoax."
Shortly after the first report from Hill Reporter of the statement from the special counsel's office, Burkman announced plans to provide more information about the allegations on Thursday, claiming to have a client who would reveal sexual assault allegations at a news conference.
Burkman confirmed that documents posted on Tuesday afternoon on the hyperpartisan website Gateway Pundit — which is known for publishing conspiracy theories without facts — purporting to contain sexual assault allegations against Mueller were related to the woman Burkman is working with and plans to introduce later this week. The alleged assault took place on Aug. 2, 2010, in New York City. The Washington Post reported at the time that Mueller was in court in DC for jury duty that day.

A little before 7 p.m. Tuesday, however, Gateway Pundit's Jim Hoft tweeted, "We took the documents down and we are currently investigating these accusations." The documents were removed from the story, and the story was replaced by similar text to Hoft's tweet.
When Burkman was asked about the original tweet from Wohl suggesting a "scandalous" story about Mueller was coming and whether he had spoken to Wohl about there being women with allegations against Mueller, Burkman said he doesn't comment on who his investigators may or may not be — and then added not to read anything into that response.

Wohl is a contributor to Gateway Pundit. The early report from Hill Reporter linked Wohl to Burkman's effort through a company called Surefire Intelligence. Later reports included further information linked Wohl to the company — including connections to the website and, as NBC News reported, the fact that "Surefire's official phone number redirects to a voicemail box registered to Jacob's mom." Wohl did not immediately respond to a request for comment.
Later in the afternoon, a law professor, Jennifer Taub, told the Atlantic that she had received an inquiry from a supposed "employee" of Surefire asking her if she would be able to provide the employee, Simon Frick, with information about her "encounters" with Robert Mueller. She did not respond and forwarded the information to the special counsel's office.
The LinkedIn profile for "Simon Frick," as of earlier Tuesday, included as "his" photograph a picture of actor Christoph Waltz.
UPDATE
This story was updated with comment from Burkman.
UPDATE
This story was updated with further developments, including the fact that Gateway Pundit removed the posted documents from its site.