Same-Sex Spousal Benefits To Be Extended In Military
The extent of the benefits is not yet clear, but LGBT advocates call for all "benefits available under current law."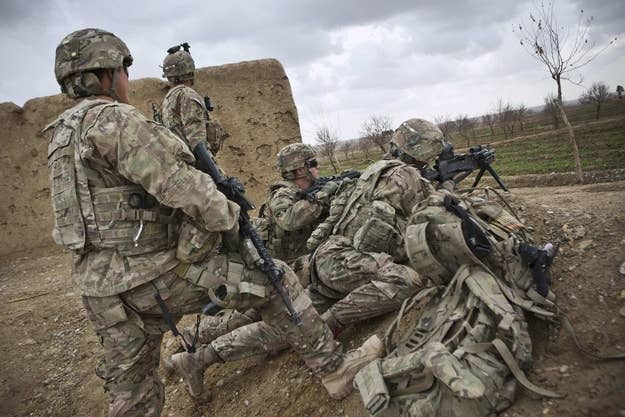 WASHINGTON — Defense Secretary Leon Panetta is expected to take action this week to extend certain benefits to same-sex spouses previously being witheld from them, The Washington Post reported and BuzzFeed confirmed from a Defense Department official on Tuesday afternoon.
Although the specifics of the move were not yet clear, LGBT advocates have been highlighting the issue since before repeal of "don't ask, don't tell" was finalized in September 2011.
OutServe-SLDN, the leading LGBT military organization, had sent a memo to the Pentagon in August 2011 detailing the benefits that could be granted, notwithstanding limitations required because of the Defense of Marriage Act.
Tuesday's news was not in and of itself enough for OutServe-SLDN, which is pushing for the full panoply of benefits to be extended.
"Secretary Panetta established a strong civil rights record long before taking office at the Pentagon, so his unwillingness to extend support and recognition to gay and lesbian service members and their families where it is clearly within his authority to do so has baffled many of us. We are hopeful that he will not take half-measures here; for him to grant anything less than the full extent of benefits available under current law would be an anticlimactic end to an otherwise exemplary record on civil rights," OutServe-SLDN executive director Allyson Robinson said in a statement.
Rep. Adam Schiff, who has pushed the Pentagon to act on this front, was optimistic about the news, but, like Robinson, was cautious until specifics are known.
"I'm encouraged to hear that the Department of Defense will be taking action to end discrimination against same-sex partners and their families," Schiff said in a statement. "We need to make sure that all military families — including those with same-sex partners serving at home or abroad — have access to the very best care, facilities, and services possible. In his last days before leaving office, Secretary Panetta can add to his already long list of accomplishments, take up this cause, and make sure that the administration acts."
Human Rights Campaign President Chad Griffin noted the time this planned action has taken, saying Tuesday, "The military leadership have dragged their feet long enough. Two years after 'don't ask, don't tell' was relegated to the dustbin of history, it's time for our heroes in arms to finally receive the justice they deserve."
The case of Ashley Broadway, married to Lt Col. Heather Mack, recently highlighted the issue of the military's treatment of same-sex couples when a spouses group that meets on military property initially had denied Broadway membership in the group. Although she was later offered full membership, the initial denial led to substantial media coverage of her story.
Pentagon spokeswoman Leslie Hull-Ryde said Tuesday that she had no additional information to report beyond a statement provided to BuzzFeed on Jan. 24 that "the Department [of Defense] is conducting a deliberative and comprehensive review of the possibility of extending eligibility for benefits, when legally permitted, to same-sex domestic partners."