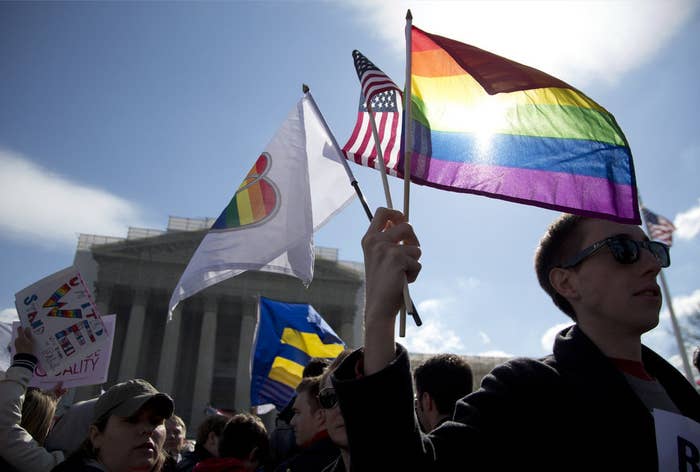 WASHINGTON — A federal judge in Puerto Rico has dismissed a challenge to the territory's ban on same-sex couples' marriages on Tuesday — concluding that a one-sentence 1972 Supreme Court decision dismissing a same-sex couple's marriage claim remains the law of the land.
"Baker, which necessarily decided that a state law defining marriage as a union between a man and woman does not violate the Fourteenth Amendment, remains good law," U.S. District Court Judge Juan Pérez-Giménez wrote, referencing the Baker v. Nelson case.
Only the Supreme Court itself, by specifically overruling Baker, could open the path for same-sex couples to marry, he ruled.
Many other courts, including four federal appeals courts, have held that other "doctrinal developments" since 1972 — particularly the Supreme Court's 2013 decision in United States v. Windsor to strike down part of the Defense of Marriage Act — have made Baker no longer a case that they need to rely upon in reaching decisions in new cases.
Pérez-Giménez, however, wrote in Tuesday's decision in a case challenging the territory's ban on same-sex couples' marriages that the 1st Circuit Court of Appeals — where federal appeals from Puerto Rico are heard — ruled in 2012, when hearing a DOMA challenge, that Baker is still good law. Even if the 1st Circuit opinion didn't do so, he wrote, he independently concluded that he "cannot see how any 'doctrinal developments' at the Supreme Court change the outcome of Baker or permit a lower court to ignore it."
Specifically, he noted, "Windsor does not – cannot – change things," adding that the case, in his view, "reaffirms the States' authority over marriage, buttressing Baker's conclusion that marriage is simply not a federal question."
In acknowledging the reality that most courts over the past year have reached a different conclusion than him, he fought back.
"Recent affirmances of same-gender marriage seem to suffer from a peculiar inability to recall the principles embodied in existing marriage law. ... Traditional marriage is 'exclusively [an] opposite-sex institution . . . inextricably linked to procreation and biological kinship,'" he wrote, quoting from Justice Samuel Alito's dissenting opinion in the Windsor case.
"Because no right to same-gender marriage emanates from the Constitution, the Commonwealth of Puerto Rico should not be compelled to recognize such unions," Pérez-Giménez concluded.
Despite the fact that every state in the 1st Circuit has had marriage equality since 2013, the appeals court based in Boston could now play a key role in the future of same-sex couples' marriage rights.
Lambda Legal, which brought the Puerto Rico challenge, already has said lawyers will appeal the case to the 1st Circuit.
Puerto Rico is a territory; an incorrect reference to it as a state was removed.