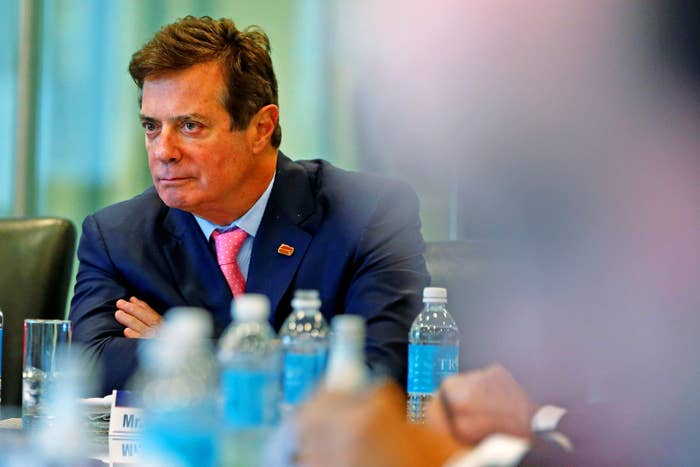 Paul Manafort, President Trump's one-time campaign chairman, changed up his legal team on Thursday — a result of the fact that the Russia investigation, once primarily a congressional task, now is being steered by a high-powered special counsel who could be examining potential crimes.
"Mr. Manafort is in the process of retaining his former counsel, Miller & Chevalier, to represent him in the office of special counsel investigation," Manafort's spokesperson told BuzzFeed News in a statement. "As of today, WilmerHale no longer represents Mr. Manafort."
The news came a day after it became public, first reported by the Washington Post, that a search warrant was executed on Manafort's home on July 26 by more than a dozen armed agents.
Although the shake-up is sure to draw attention, a source familiar with Manafort's plans told BuzzFeed News that Miller & Chevalier has been Manafort's longtime counsel and that one of the firm's longtime lawyers, Richard Hibey, sat in on Manafort's meeting with Senate Intelligence Committee investigators on July 25, alongside counsel from WilmerHale.

Kevin Downing, a former Justice Department lawyer whose law firm biography notes that his "practice concentrates on criminal and civil tax matters but also includes money laundering, white collar matters and the Foreign Corrupt Practices Act (FCPA)," will be leading the team representing Manafort, the source explained. Hibey will be assisting Downing in the representation, the source added. (Although Hibey retired in July, he is expected to continue representing Manafort.)

Manafort had retained Reginald Brown, a partner at WilmerHale with expertise in financial institutions but also congressional investigations, earlier this year to represent him in the Russia investigation — when the issue, at least publicly, was primarily a matter of congressional investigations.
In May, however, Deputy Attorney General Rod Rosenstein appointed the special counsel to oversee the Justice Department's investigation into Russian influence in the 2016 election and any coordination with the Trump campaign in that effort. Rosenstein appointed former FBI director Robert Mueller to the role, and Mueller left his partnership at WilmerHale to take on the job. (The Justice Department found no legal conflict with Mueller taking on the role.)
The New York Times reported this week that the warrant executed at Manafort's home in July was a part of the special counsel's investigation and was seeking "tax documents and foreign banking records."

Asked Thursday about the warrant's execution — described by the Post as a "raid" — Trump distanced himself from Manafort slightly, saying initially that the former campaign chairman was "with the campaign ... for a very short period of time" — but then also saying he was "very, very surprised to see" the news of the raid.
"I've always found Paul Manafort to be a very decent man," Trump said. "And he's like a lot of other people — probably makes consultant fees from all over the place. Who knows. I don't know."