Order From Obama Would Make Senate Passage Of LGBT Bill "More Challenging," Advocate Says
An executive order banning contractors from discriminating against LGBT people could be seen as "one party sort of taking action prematurely before the Senate has had a chance to vote," the head of a new campaign to pass the Employment Non-Discrimination Act says. A break from other LGBT advocates' public comments.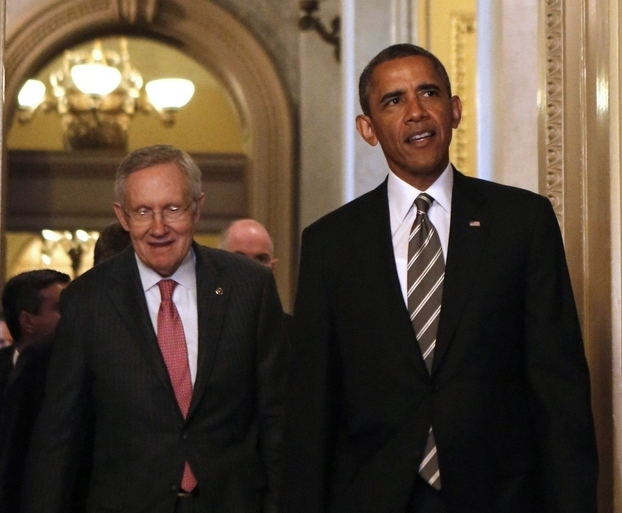 WASHINGTON — The campaign manager for the new $2 million effort to get LGBT workplace protections passed by the Senate said Thursday that it would make passage of the bill "more challenging" if President Obama signed an executive order to ban federal contractors from anti-LGBT job discrimination.
The position Americans for Workplace Opportunity campaign manager Matt McTighe expressed first in an interview with The Washington Blade and then clarified with BuzzFeed is a break from public comments made by other LGBT advocates, who have pressed for Obama to sign the executive order even as they have pushed for legislative action on the Employment Non-Discrimination Act in the Senate.
Saying he wanted to "embrace the legislative process here instead" of the executive order proposal because of his role in the legislative campaign, McTighe told the Blade, "The minute an executive order is invoked, now you're going to make it a lot harder for people from whatever party the current administration is not in, so in this case Republicans coming on board, it makes it harder for them because now this is much more of a partisan issue."
Asked about those comments, McTighe told BuzzFeed, "When I said the phrase 'a lot harder,' I was talking in the abstract. That's why I even used the equivocation of 'both parties.' ... I would say, as far as this process goes, it does make it more challenging." Such an executive order would cause increased partisanship because, he said, it "makes it seem like this is one party sort of taking action prematurely before the Senate has had a chance to vote."
On the specific question of whether such an executive order would make it more difficult to get Senate Republican votes on ENDA, however, McTighe pulled back.
"It's hard to say," he told BuzzFeed. "I don't really know. I haven't been able to ask senators that specific question, so I wouldn't know if they'd be more — if they would weigh that in to their final decision about whether to vote ultimately or not."
Appearing to step back from the comments further, he added, "I've never taken a position for or against the executive order. I never said I was opposed to it, I never said I was for it. It's not my position as the campaign manager of this effort to speculate or to take a position on it in an official capacity."
This, McTighe said, is because Americans for Workplace Opportunity "is a campaign, it is a short-term, finite effort that in no way precludes the organizations that are a part of that campaign from continuing to advocate as they will and absolutely should for other policies that are related to, or separate from, the focus of this campaign. The focus of this campaign is to pass ENDA through the legislature, starting with the Senate."
The Human Rights Campaign, which was the key player in organizing the ENDA campaign effort, continued Thursday to advocate for a dual-track approach of advancing both efforts.
HRC vice president for communications Fred Sainz told BuzzFeed in an email, "We believe we need both. The EO is essential and even if ENDA passed tomorrow, we would still want the EO. The EO can and should be done immediately. It's long overdue as is ENDA."
Mara Keisling, the executive director of the National Center for Transgender Equality, another organization of the steering committee for the ENDA campaign, agreed. "LGBT people need both ENDA and the Executive Order, and we really believe we will get both. Our goal is to be smart and hardworking and get both done as fast as possible," she said.
Freedom to Work, a group not included in the steering committee of the ENDA campaign, has pushed aggressively for action from Obama on the executive order.
Tico Almeida, the group's president, complimented HRC president Chad Griffin's advocacy on the executive order front, telling BuzzFeed, "It is my understanding that Chad Griffin has been phoning Valerie Jarrett and insisting that President Obama keep his promise to sign that order, but Ms. Jarrett keeps telling Chad no. I remain confident that HRC will continue its excellent and aggressive advocacy in favor of the executive order. Chad is a really good leader on these issues."
As for McTighe, however, Almeida noted, "I have never met Mr. McTighe, and I have no comment on what he said. Whenever he and I are able to coordinate our two busy schedules, I look forward to speaking with him about the importance of the executive order in addition to ENDA."