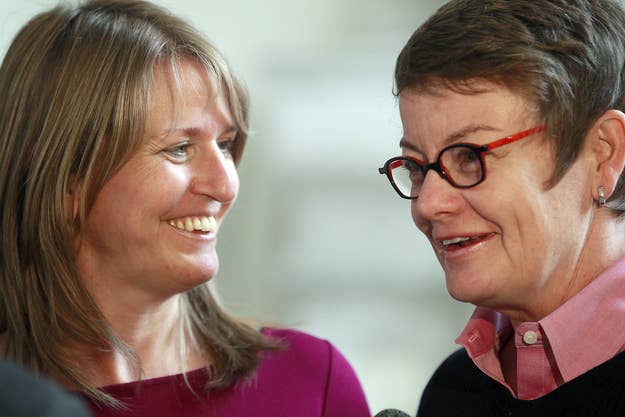 WASHINGTON — Nearly four years after filing the case, Ted Olson and David Boies told the Supreme Court Thursday that the Constitution "does not tolerate the permanent exclusion of gay men and lesbians from the most important relation in life" — marriage.
As part of the challenge to California's Proposition 8 that the two lawyers have brought on behalf of two same-sex couples unable to marry in the state, Olson and Boies argue both broadly for a constitutional right to marry that should include same-sex couples and more narrowly that the vote in November 2008 to end same-sex couples' right to marry in California was unconstitutional.
"The unmistakable purpose and effect of Proposition 8 is to stigmatize gay men and lesbians—and them alone—and enshrine in California's Constitution that they are 'unequal to everyone else,'" they write.
They argue:
Proposition 8 is an arbitrary, irrational, and discriminatory measure that denies gay men and lesbians their fundamental right to marry in violation of the Due Process and Equal Protection Clauses. The judgment below should be affirmed.
After arguing that the proponents of Proposition 8 have no authority to bring the appeal since the state defendants charged with enforcing the law did not appeal the decisions below striking down Proposition 8, the lawyers address the question of the amendment's constitutionality.
"This Court has recognized on more than a dozen occasions that the right to marry is 'one of the liberties protected by the Due Process Clause,'" the lawyers write, and "Eliminating the final discriminatory feature of California's marriage law—its prohibition on marriage by individuals of the same sex—thus would not require the recognition of a new right, but would instead afford gay men and lesbians access to the fundamental right to marry guaranteed to all persons."
They also argue that Proposition 8 violates constitutional guarantee of equal protection of the laws, writing, "Although Proponents [put forth] several state interests that may have been furthered by the existence of the institution of marriage in the first place and for granting heterosexual couples access to it, they fail to identify a single legitimate state interest that supports excluding gay men and lesbians from that institution."
A broad ruling on those fronts from the justices could mean that all state marriage bans are unconstitutional. The Supreme Court is schedule to hear the arguments in the case on March 26, and a decision is expected by late June.