Ohio Officials Poised To Recognize A Same-Sex Couple's Marriage
Following a federal court's order Tuesday, the Cincinnati Health Department is expected to issue a death certificate recognizing the marriage of William Herbert Ives, who died at 54, and his surviving spouse, David Michener.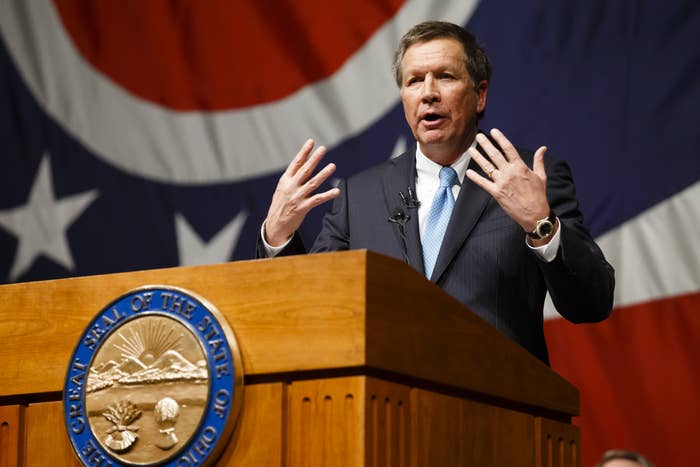 WASHINGTON — Ohio, despite a constitutional amendment to the contrary, is poised to recognize a same-sex couple's marriage for the first time, following a judge's order Tuesday in a lawsuit that specifically aims to "set a precedent that will lead to relief for other same-sex couples."
The recognition will be bittersweet for David Michener, however, as the marriage will be noted on the death certificate of his husband, William Herbert Ives, who died unexpectedly at 54 on Aug. 27. According to an obituary, Ives leaves three children he and Michener are raising.
United States District Court Judge Timothy Black issued a temporary restraining order Tuesday that requires the registrar of the Office of Vital Records in Cincinnati's Health Department and state officials to recognize Ives' and Michener's marriage. The order echoed one he previously issued in the case as to another same-sex couple who married in Maryland.
Black held previously and again Tuesday that the plaintiffs are likely to succeed in their lawsuit claiming that Ohio's constitutional and statutory bans on recognizing same-sex couples' marriages violate the U.S. Constitution.
The original complaint was brought by James Obergefell and John Arthur to enable Arthur, who is in hospice care, to be listed as married and Obergefell to be listed as his surviving spouse on Arthur's death certificate when he dies. As both men remain alive, the court order has not led Ohio officials to take any specific action recognizing the Obergefell–Arthur marriage.
By amending the complaint on Tuesday to include Michener's claim, however, Ives' death certificate — listing him as married — likely will be issued in the coming day, as the complaint states that "[a] death certificate is needed now in order to proceed with a cremation of Mr. Ives on September 4, 2013."
Although Ohio Gov. John Kasich and Ohio Attorney General Mike DeWine, also named in the lawsuit, continue to defend Ohio's bans on recognizing same-sex couples' marriages, neither opposed the request to amend the complaint to include Michener's request. Cincinnati's registrar, Dr. Camille Jones, meanwhile, has notified the court that she "will not defend Ohio's discriminatory ban on same-sex marriages."
As Judge Black already had issued the order as to Obergefell and Arthur, there was little doubt as to whether he would reach the same result as to Michener.
DeWine's office, meanwhile, does not appear to see a means of opposing the ruling at this time. Following Black's decision on the temporary restraining order Tuesday, a spokesman for the Ohio Attorney General's Office, Dan Tierney, simply told BuzzFeed, "Temporary restraining orders generally are not appealable."
Prior to the Tuesday decision to amend the complaint, the temporary restraining order regarding the Obergefell–Arthur marriage was extended on Aug. 13 "until December 31, 2013, or to the date of decision on the merits," with a hearing on a permanent injunction set for 10 a.m. Dec. 18. It was not immediately clear if the Tuesday amendments to the complaint would lead to changes in that timeline.