Obama Makes LGBT Rights His Legacy, But Work Remains
With the campaign over and the speech done, LGBT advocates will expect tangible action from the White House.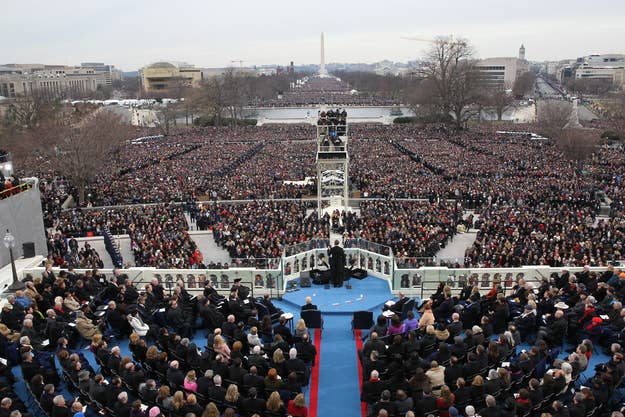 WASHINGTON — President Barack Obama's second inaugural address was the clearest example the nation has ever seen of a national leader tying his legacy to the achievement of LGBT rights.
Although other politicians of a lower stature have been steadfast supporters of LGBT issues, never before have people across the country been represented by a leader who would place the rights of "our gay brothers and sisters" in one of the two or three biggest speeches of his career.
By saying that "the love we commit to one another must be equal" — as Supreme Court justices sat a few feet away from where he stood — Obama reiterated his view that the law must treat gay and lesbian couples equal to straight couples, a question that the justices will be considering in March.
With the president's campaign over — indeed, with all his campaigns over — Monday's inaugural address was no longer one made by the partisan warrior staking out the Democratic Party's ground. He now was working to set the tone of the national discussion and shape his political legacy.
An out gay Latino poet wrote and read the inaugural poem, and the closing prayer came from an Episcopal pastor who spoke at length about ending prejudice.
But as Obama knows well from his first term, moving LGBT rights forward will take work.
It will take work to deal with a Republican Party that opposes many of the initiatives that he and advocates argue are necessary to stopping discrimination against LGBT people. It will take state-level work when federal intransigence is holding back LGBT people and state action is possible. It will take grassroots and community work as well, as cities from New Orleans to Washington have had to address questions about the way they treat LGBT people — particularly, trans people — in their cities.
It also will, advocates say, take more resolve from Obama. They see the action Obama will need to push forward from within the executive branch if he wants to ensure that his broad aims for equal treatment of LGBT people are to be realized.
Most notable, advocates are calling on Obama to ensure the Pentagon protects the rights of servicemembers' same-sex spouses. Over the past months, stories of same-sex spouses in the military being denied basic support from their service base communities have been highlighted throughout the media. Within the Pentagon, advocates also are going to be pushing the military to re-examine rules prohibiting transgender people from serving.
There is also the proposed executive order explicitly banning federal contractors from discriminating against LGBT employees, an order Obama has thus far declined to sign. With the House Republican leadership having opposed the federal legislation to address anti-discrimination more broadly, Obama will be expected to address this issue as soon as possible within the executive branch — whether through an executive order, or through support for action from the Equal Employment Opportunity Commission.
Finally, regarding marriage, there remains the question — which Obama may have answered in his inaugural address — of whether his administration is going to weigh in on the Supreme Court battle over California's Proposition 8 marriage amendment. Although Obama has said the federal Defense of Marriage Act, which bans the federal government from recognizing same-sex couples' marriage, is unconstitutional, he has not stated whether he believes state laws banning same-sex couples from marrying are, themselves, unconstitutional. He appeared to come close in Monday's address, but it remains to be seen whether the administration will formally take a position in the case.
In a December interview in conjunction with being named Time's Person of the Year, Obama said, "One of the things that I'm very proud of during my first four years is I think I've helped to solidify this incredibly rapid transformation in people's attitudes around LGBT issues."
In his his second inaugural address, Obama expanded on that and asked the country to make it part of his legacy.
All that remains is the work.