Obama Allies Press Ryan To Skip Values Voter Summit
Groups hosting the annual conference are dedicated "to the eradication of gay people from the mainstream," Human Rights Campaign spokesman says. Rep. Paul Ryan is a confirmed speaker.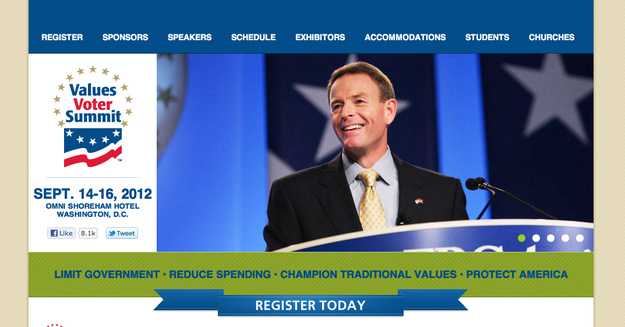 Several left-leaning organizations — including the Human Rights Campaign, which has endorsed President Obama's re-election — are calling on public officials, including the Republicans' vice-presidential candidate, Wisconsin Rep. Paul Ryan, not to speak at the Values Voters Summit, hosted by the Family Research Council and scheduled to take place this weekend in Washington, D.C.
HRC's vice president for communications, Fred Sainz, said his organization, along with the Southern Poverty Law Center and the Gay & Lesbian Alliance Against Defamation, were encouraging all politicians to decline participating in the summit because some organizations behind the event are listed as hate groups by the Southern Poverty Law Center. He added that, of the politicians they are focused on asking to stay away, Ryan and House Republican Majority Leader Eric Cantor of Virginia are "two individuals at the top of our list."
Explaining the reason for their effort, to be formally unveiled on a conference call on Tuesday, Sainz said, "It's just not appropriate for individuals, for people in authority to appear at a forum being hosted by an organization designated a hate group and which is co-hosted by the American Family Association."
"These are fringe organizations that are preaching hate. It's a false balance to contrast these groups with policy organizations. The sponsors of this conference should not be confused with serious policy advocates," Sainz added. "They are not dedicated to civil discourse, nor are they dedicated to policy disagreements. These are groups dedicated, in part, to the eradication of gay people from the mainstream, attempting to banish us to the outskirts of society."
Mainstream Republican politicians have long spoken at gatherings of the socially conservative group, but the timing of the event means another day spent talking about social issues in an election that both sides had said would be focused on the economy and jobs.
Following a shooting at the Family Research Council's headquarters in August, Tony Perkins, the group's head, called on SPLC to stop listing it as a hate group because, he said, SPLC's actions "gave license" to the shooter, who had volunteered at an LGBT community center in D.C.