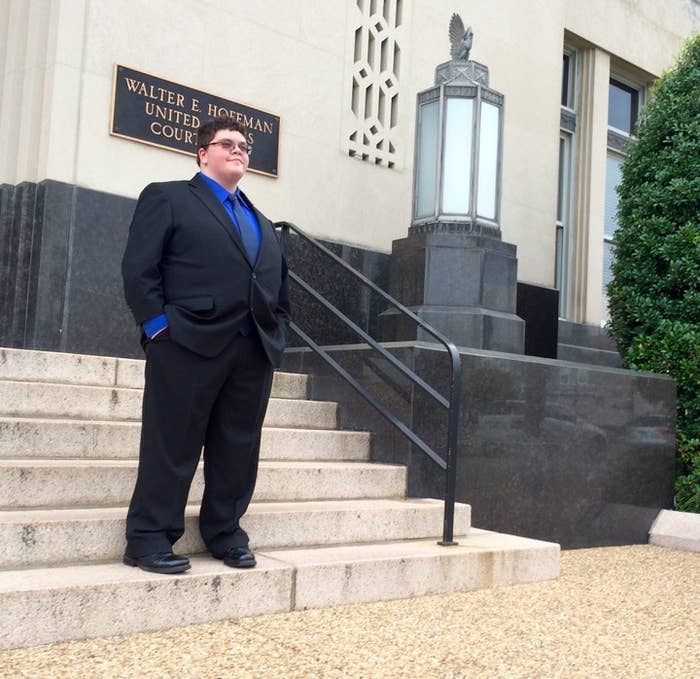 WASHINGTON — The Obama administration filed a groundbreaking legal brief in a federal appeals court on Wednesday evening, supporting a transgender student's challenge to his school's policy banning him from using the restroom that corresponds with his gender identity.
The move at the 4th Circuit Court of Appeals in Gavin Grimm's case is the strongest step yet from the Obama administration to advance its position supporting the right of transgender people to seek legal protections under current civil rights laws.

"Prohibiting a transgender male student from using boys' restrooms, when other non-transgender male students face no such restriction, deprives him not only of equal educational opportunity but also "of equal status, respect, and dignity,'" lawyers from the Justice and Education departments wrote in the brief.
Grimm, a transgender male, has sued his school district, Gloucester County School District in Virginia, alleging that the district's policy violates the ban on sex discrimination in education under Title IX of the Education Act of 1972.
After the federal district court judge rejected his request for an injunction keeping the school from enforcing its policy barring him from using the male restrooms at the school, he appealed to the 4th Circuit.
The Obama administration, following the analysis in a 2012 ruling from the Equal Employment Opportunity Commission, has found that the ban on sex discrimination in existing civil rights laws includes a ban on discrimination against transgender people.
Wednesday night's filing, however, is the first time the administration has weighed in on the issue in an appeals court. That is an important distinction because a decision in the case would apply to all federal cases filed within the circuit — not just to this student's case.
"Treating a student adversely because the sex assigned to him at birth does not match his gender identity is literally discrimination 'on the basis of sex,'" the administration lawyers wrote in the brief.