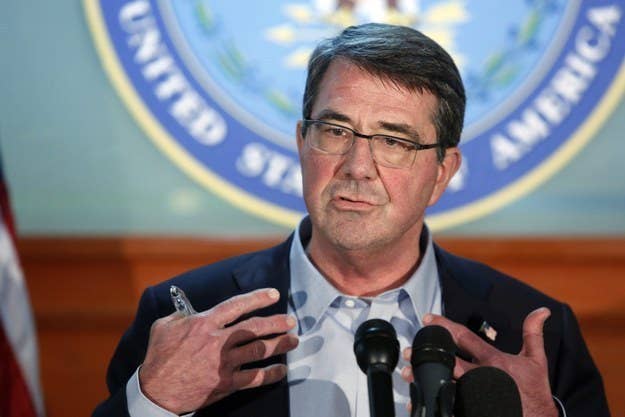 WASHINGTON — Over the course of 24 hours, the administration line on out transgender military service went from silence to an outright proclamation that transgender people should not be barred from serving in the military.
"I don't think anything but their suitability for service should preclude them," newly confirmed Defense Secretary Ash Carter said on Sunday in Afghanistan.
Hours later, at the White House press briefing on Monday, the Obama administration backed Carter.
"The president agrees with the sentiment that all Americans who are qualified to serve should be able to serve," White House press secretary Josh Earnest said. "And for that reason, we here at the White House welcome the comments from the secretary of defense. But in terms of — of additional steps that the Department of Defense will take to address this matter, I'd refer you to the secretary's office."
Asked about those next steps, Pentagon spokesperson Nate Christensen told BuzzFeed News, "We'll let the Secretary's comments stand for themselves."
He also pointed to earlier comments that "no specific review of the Department's transgender policy" is happening but that a "routine[] review" of medical standards that include the transgender service ban had begun in early February.
Currently, military policies bar transgender service. Unlike the "don't ask, don't tell" law, which barred out gay, lesbian, or bisexual service, the transgender service policy is not law — meaning no congressional action is needed to allow out transgender service.
The issues were raised when Carter held a troop event in Kandahar, Afghanistan, where Navy Lt. Cmdr. Jesse Ehrenfeld asked Carter, "What are your thoughts on transgender service members serving in an austere environment like this here in Kandahar?"
Although Carter acknowledged that this issue is "not something I've studied a lot since I became secretary of defense, he said that the "fundamental starting point ... is that we want to make our conditions and experience of service as attractive as possible to our best people in our country."
Saying that people's "personal lives and proclivities" are not his focus, Carter said the question is, "Are they going to be excellent service members?"
And, as for transgender service members, he said, "I don't think anything but their suitability for service should preclude them."
Ehrenfeld told BuzzFeed News that he was "pleased" by the comments — but is looking for action.
"Everyday the ban on transgender service continues, my shipmates colleagues are forced to serve alongside me in silence. I was pleased at Sec Carter's response and am optimistic that soon this disparity in service will end," he wrote. "As a physician caring for transgender soldiers, the ban stands in the way of ensuring these individuals get the care they need."
American Military Partners Association President Ashley Broadway-Mack noted the fact that transgender people are serving currently is a reason why her group is pushing for action on the issue.
"Thousands of transgender service members ARE currently doing the job, and doing it well, but are forced to do so in silence — forced to lie about something as fundamental as who they are in order to continue to serve. While we applaud Secretary Carter for being 'open-minded' on this issue, we urge him to take action that will lead to ending this ban that continues to harm our transgender service members and their families," she said in a statement.
While advocates had been planning a push for service — SPARTA's Allyson Robinson talked with BuzzFeed News this past week about work her group was doing — a USA Today report, later corrected, kick-started the discussion with its claim that the Army had changed its policies to require that an assistant secretary of the Army make decisions about discharging transgender soldiers.
BuzzFeed News reported at the time that such a change was under consideration but had not yet been issued.
This report has been updated with comment from a Pentagon spokesperson.