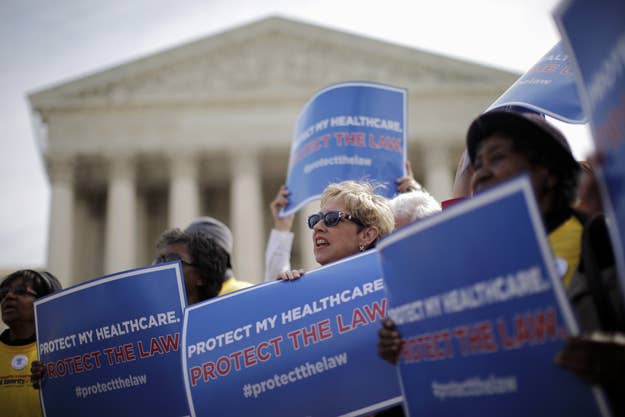 The Supreme Court did not announce any action today on whether it would hear an appeal of the challenge to California's Proposition 8, which has banned gay couples in the state from marrying since 2008.
Today, the court announced the outcome of its Sept. 24 conference, at which the Proposition 8 challenge originally was scheduled to be considered. Six cases were taken up by the court, as SCOTUSblog reported, but Proposition 8 was not among them — an expected absence. On Sept. 21, BuzzFeed reported that the court was not expected to consider the Proposition 8 challenge at the Sept. 24 conference, putting it off to a later date.
If, as many expect, the court is waiting to consider the request to hear the Proposition 8 challenge at the same conference as the cases challenging the Defense of Marriage Act (as well as a case involving same-sex domestic-partner benefits for Arizona employees), then the justices will not decide whether they are going to take the case until at least Nov. 20. That is the earliest conference at which all the DOMA challenges are expected to be ready to be considered by the justices.
SCOTUSblog today echoed BuzzFeed's Sept. 21 report, tweeting early this morning before the Supreme Court's actions today:
For the DOMA challenges, the end result of this delay is not likely significant because the court is widely expected to take at least one of the DOMA challenges and the court likely will take its time crafting opinions in the important case. As such, regardless of whether the court hears the case in January or April, its decision in the challenge won't likely be released until late June — the end of the court's term.
For the Proposition 8 challenge, however, the delay could be significant, at least for same-sex couples in California. If the court were to take the case, then it would be a similar situation, in terms of timing, as DOMA. But many scholars from the left and right are predicting that the court will not take the case, because the narrow appeals court ruling implicated only California's law. If the Supreme Court does not take the case — which, again, may it may not decide until late November — then the Ninth Circuit's ruling striking down Proposition 8 as unconstitutional will stand and same-sex couples' marriages will be able to resume shortly thereafter in California.