New York's Metropolitan Opera Season Opens With Gay Protest
"SUPPORT RUSSIAN GAYS!" the sign outside the high-society event declared, as Queer Nation NY and others protested — inside and outside — over the Met's refusal to dedicate Monday night's event to Russia's LGBT population. One more front in the fight against Russia's anti-LGBT laws.
In advance of tonight's Metropolitan Opera Gala, featuring Russian conductor Valery Gergiev and soprano Anna Netrebko in the performance of gay Russian composer Peter Tchaikovsky's Eugene Onegin, supporters of LGBT people in Russia staged a protest.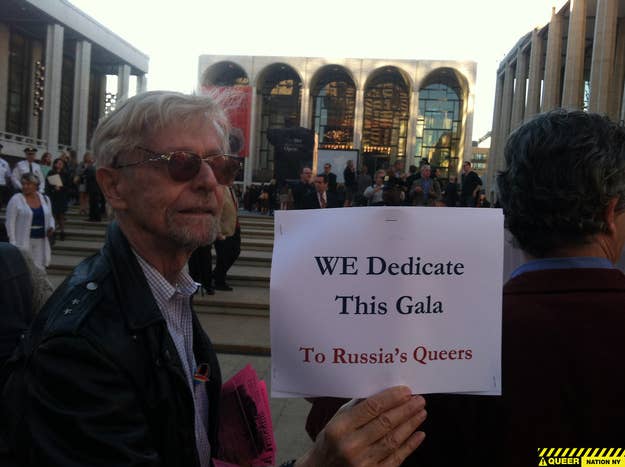 Queer Nation NY, which led the protest, described the conductor and soprano as "longtime and vocal supporters of Vladimir Putin." Another composer, Andrew Rudin, had started a petition asking the Met to dedicate tonight's Gala to LGBT people in Russia.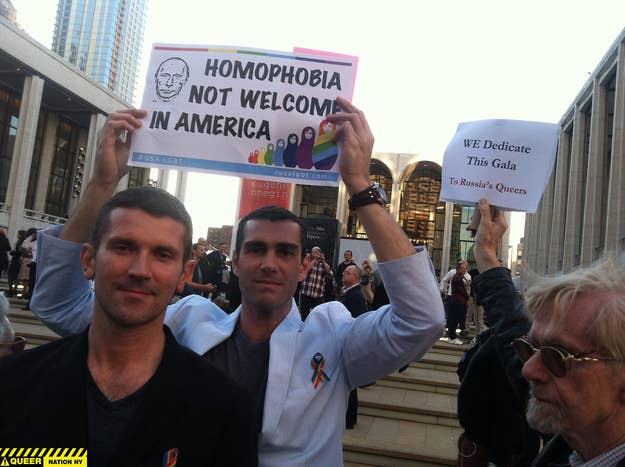 Peter Gelb, the general manager of the Metropolitan Opera, announced Sunday that he would not do so, writing at Bloomberg:
The activists argue that since Tchaikovsky was gay and our performance features several Russian artists who have been associated with Vladimir Putin, the Met must turn our performance into a public rebuke of Russia and, by association, the Russian performers on our stage.

While I'm confident that many members of our company join me in personally deploring the tyranny of Russia's new anti-gay laws, we're also opposed to the laws of the 76 countries that go even further than Russia in the outright criminalization of homosexuality.

We stand against the significant human rights abuses that take place every day in many countries. But as an arts institution, the Met is not the appropriate vehicle for waging nightly battles against the social injustices of the world.

Throughout its distinguished 129-year history, the Met has never dedicated a single performance to a political or social cause, no matter how important or just. Our messaging has always been through art.
Gelb added, however:
We leave it to our artists to integrate their own ideas about society and politics into the work they create for our stage.

We respect the right of activists to picket our opening night and we realize that we've provided them with a platform to further raise awareness about serious human rights issues abroad.

As they watch our performance on the giant screen on the facade of the opera house, we hope that they will be moved by Tchaikovsky's soaring melodies and telling drama.

Although Russia may officially be in denial about Tchaikovsky's sexuality, we're not. The Met is proud to present Russia's great gay composer. That is a message, in itself.
In response, the protest went forward, and Queer Nation briefly delayed the start of the show tonight when four activists unfurled a rainbow flag and shouted before being escorted from the opera house.
According to a news release, the activists unfurled a rainbow flag and chanted "Putin, stop, end your war on Russian gays!" and "Anna, your silence is killing Russian gays! Valery, your silence is killing Russian gays!" Outside, Queer Nation was joined by RUSA LGBT, a group for Russian-Speaking American LGBTQ community, among others.
As The New York Times reported it:
After the lights dimmed for the Metropolitan Opera's Russian-themed opening night gala on Monday evening, the first solo voice that rang out in the house was not of a tenor or soprano, but of a protester criticizing the recent antigay laws signed by that President Vladimir V. Putin of Russia. ...

Some members of the audience tried to shush the protester, as security guards walked into the house. After a pause, the opera began.

Four protesters in the Family Circle were asked to leave and did, opera officials said.
Of the reason the protest went forward, Queer Nation member Andrew Miller said in a statement, "We want more than platitudes from Gelb. Russian gay men and lesbians need unambiguous, unequivocal denunciations of Vladimir Putin's anti-LGBT laws, and they need high-profile Russian artists like Netrebko and Gergiev to use their influence to overturn those laws."
Despite the decision not to dedicate Monday's Gala to Russia's LGBT people, the Met did note the protest on its Instagram account, captioning this photo: "LGBT rights supporters hand out flyers ahead of #meton"