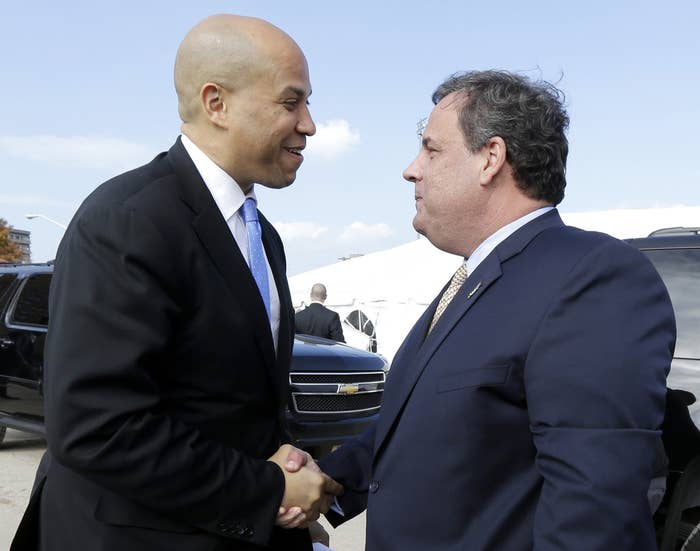 WASHINGTON — The New Jersey Supreme Court on Friday denied Gov. Chris Christie's request to put a marriage equality ruling on hold while the state high court considers the appeal of a lower-court ruling in support of marriage equality.
The unanimous decision denying the Christie administration's request for a stay means same-sex couples can begin marrying in the Garden State on October 21.
Senator-elect and Newark Mayor Cory Booker is among those local officials planning to officiate same-sex couples' weddings at 12:01 a.m. Monday.
The decision does not end the matter in the state, as the state Supreme Court previously announced it will be hearing a full appeal of the merits of the case, in which trial Judge Mary Jacobson found that New Jersey could not deny same-sex couples marriage licenses, in January 2014.
In the meantime, however, the court is allowing Jacobson's ruling to go into effect, in part, because "the state has not shown a reasonable probability or likelihood of success on the merits," Chief Justice Stuart Rabner wrote for the court.
The case was brought in 2011 by Garden State Equality and several same-sex couples with legal representation by Lambda Legal. It argues that, following on federal recognition of same-sex couples' marriages, the civil unions started in New Jersey after the state Supreme Court ruled in 2006 that same-sex couples be given the same rights and benefits as opposite-sex married couples are no longer sufficient at meeting the court's order.
In deciding whether to issue a stay, courts look to the likelihood that an appeal will succeed, along with whether the party seeking the stay will face "irreparable harm" if a stay is not granted, whether balancing the hardship to parties whether a stay is issued or not weighs in favor of granting a stay and whether the public interest weighs in favor of a stay.
The court held that Christie administration failed to show it would prevail on any of those factors and, as such, "the trial court's order dated September 27, 2013 remains in full force and effect."
Because allowing same-sex couples to marry in New Jersey only to take the right away after it hears the appeal would be particularly jarring to couples, the court likely only would refuse a stay if it considered the final outcome of the case to be a foregone conclusion. The opinion Friday comes close to saying as much.
"The state has advanced a number of arguments, but none of them overcome this reality: same-sex couples who cannot marry are not treated equally under the law today. The harm to them is real, not abstract or speculative," Raber wrote.
Read the main conclusion of the state Supreme Court's denial of a stay: