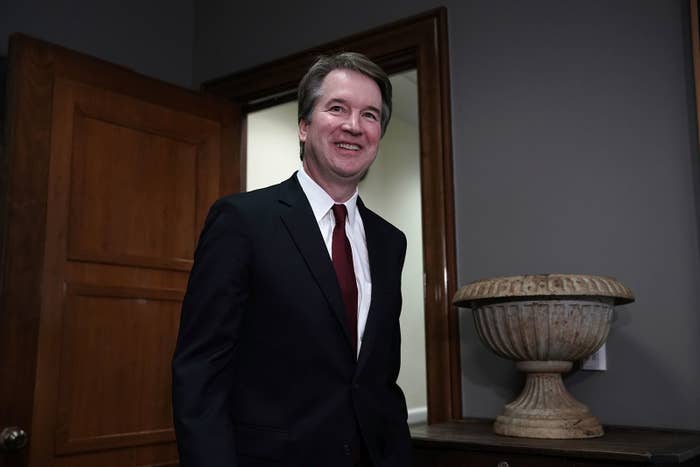 In the midst of a growing fight over what documents senators will see from Supreme Court nominee Brett Kavanaugh's five years in the George W. Bush White House, a narrow glance into three months of Kavanaugh's communications with just one office at the Justice Department shows that he worked on key questions involving the president's power to keep documents from Congress and the public, as well as important legislation in the aftermath of the Sept. 11 attacks.

The documents, though heavily redacted, provide some of the first public evidence into Kavanaugh's communications while he was at the White House. From 2001 to 2003, Kavanaugh worked as a lawyer in the White House Counsel's Office. And in June 2003, he became Bush's staff secretary — a role he stayed in through 2006, when he was confirmed to a seat on the US Court of Appeals for the DC Circuit. Articles he's written and speeches he's given since then have drawn attention to his views on executive power.
The documents, obtained by BuzzFeed News via a Freedom of Information Act request, come from the Department of Justice's Office of Legal Counsel, a DOJ office that the White House and executive agencies consult about potentially complex legal questions that arise.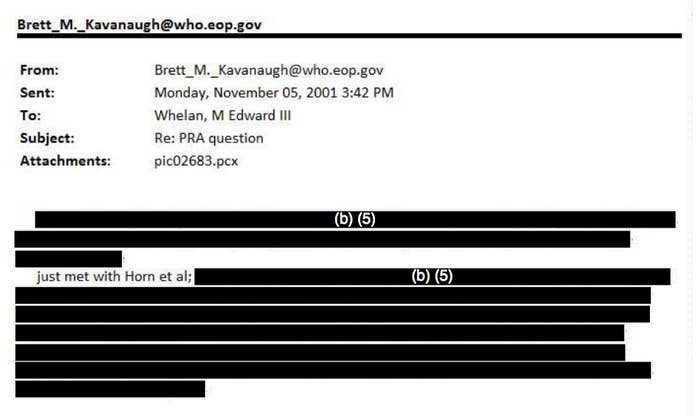 The documents — although heavily redacted — show three key issues Kavanaugh worked on with OLC in a three-month period in late 2001 when he was 36 years old:
- Executive privilege, specifically Bush's first decision to invoke executive privilege, on Dec. 13, 2001, in response to a congressional subpoena seeking documents regarding the FBI's handling of mob informants in Boston. The issue led to ongoing hearings and a subpoena from the House Government Reform Committee, chaired then by Republican Rep. Dan Burton. Invoking executive privilege, Bush rejected the subpoena. The emails make clear that Kavanaugh played a significant role in the internal Bush administration discussions in the period leading up to the decision. The emails also show that Kavanaugh would continue to play a key role in the aftermath of that decision, with him listed as one of two White House people slated to attend a follow-up meeting at DOJ the next week.
- Presidential records, including questions about whether an executive order signed by Bush about the treatment of presidential records conflicted with the Presidential Records Act, and congressional hearings and communications addressing those concerns. In one email later forwarded to Kavanaugh, Faith Burton, a lawyer in DOJ's legislative affairs office, lays out those concerns.
- The "Airline Board," an apparent reference to the Air Transportation Stabilization Board set up under the Air Transportation Safety and System Stabilization Act, which was signed into law on Sept. 22, 2001 and was commonly known as the airline bailout for the $15 billion it approved for use in the wake of the Sept. 11 attacks. Other, related issues also are discussed in the emails, including the Victim Compensation Fund and aviation security issues.
In total, OLC provided BuzzFeed News with 230 pages of emails on Friday regarding Kavanaugh's communications with the head of OLC or his deputy. The office processed 404 pages of responsive records, but withheld 174 of them completely. DOJ cited the attorney-client, deliberative process, and presidential communications privileges to justify the withholding of vast swaths of information from the emails. Despite the inclusion of emails about the Airline Board and other post–September 11 issues, notably absent from the released documents are any communications regarding the passage of the Patriot Act, which Bush signed into law on Oct. 26, 2001.
Most of the emails contained in the 230 pages involve communications between Kavanaugh and Ed Whelan, the principal deputy in OLC at the time. Several emails also come from or are directed to Paul Colborn, a longtime OLC lawyer. (Colborn still works at OLC and signed the letter releasing these documents to BuzzFeed News on Friday.)


Among the other topics discussed in the documents are a "Hatch Act question" that was, per Whelan, "proving more complicated than expected." The law prohibits many executive branch employees from engaging in certain political activities. It was not clear, due to redactions, what was at issue.
On Nov. 2, 2001, in a brief email with the subject line simply of "Addington," Kavanaugh writes to Whelan, "Addington was," followed by a nearly one-line-long redaction and then a request: "you should call him if you can explain; thanks." "Addington" would appear most likely to be a reference to David Addington, Vice President Dick Cheney's legal counsel at the time.
On Nov. 9, Whelan sent Kavanaugh an article, "Ex-President Clinton Resigns From Supreme Court Bar," about former president Bill Clinton's decision to resign from the Supreme Court bar rather than face the possibility of disbarment, with the note, "Just in case you haven't already seen it." There is no response included in the documents turned over Friday.
In late November, Colborn wrote to Kavanaugh that he'd be "happy to draft the letter you requested." The subject line is "Letter to Congress explaining why Gov. Ridge won't testify." In October, Bush had named Ridge director of the newly created Office of Homeland Security. Ridge would eventually become the secretary of the Department of Homeland Security, which Congress created the next year. Until then, however, the Bush White House insisted that Ridge, as an adviser to the president, could not be called before Congress.
At one point in December, Whelan asked Kavanaugh to speak with him at his convenience regarding an "OLC applicant," per the subject line. The name is redacted.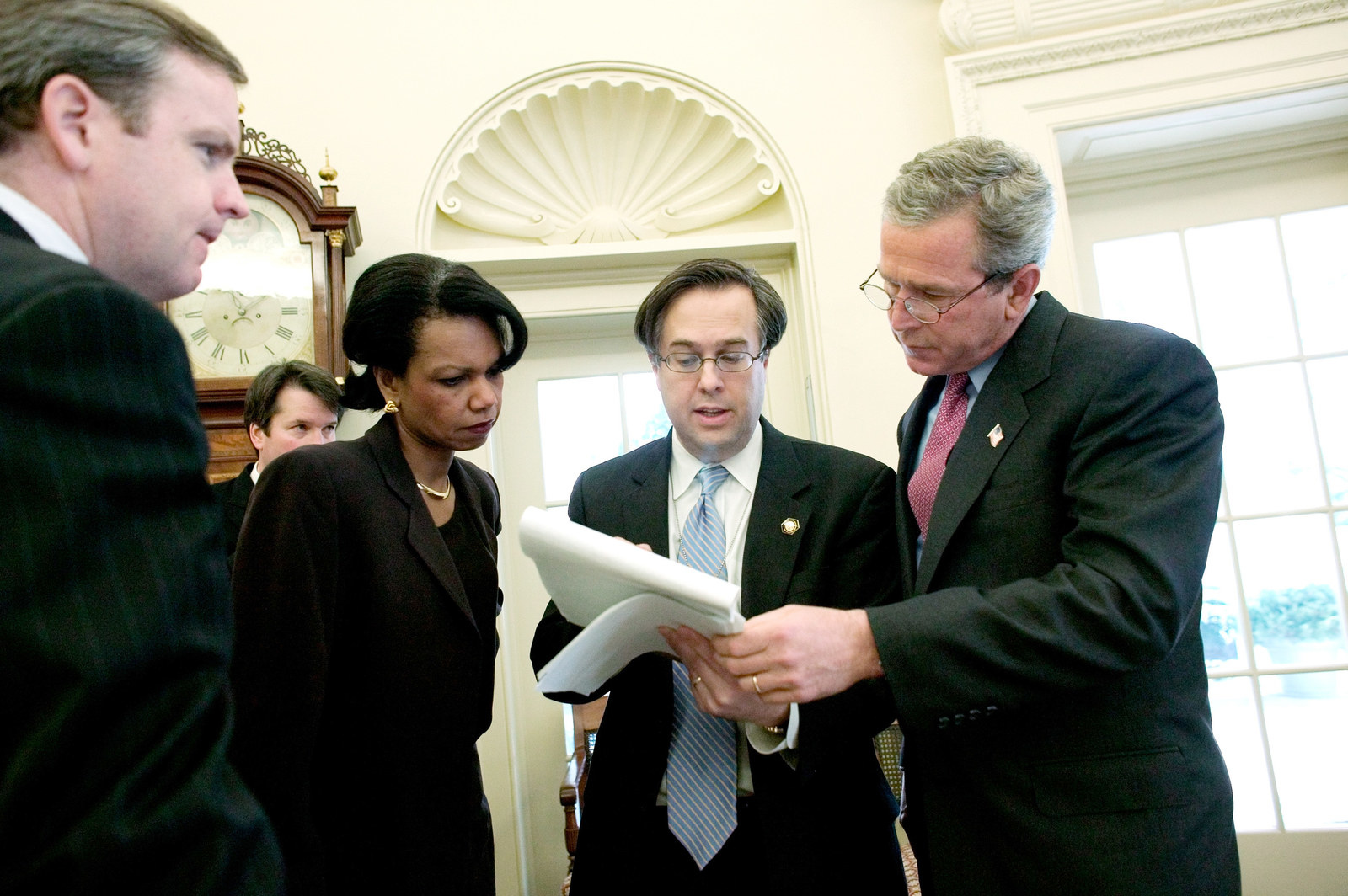 The documents turned over Friday under FOIA appear to be documents that would be included in those that have been requested by Senate Judiciary Committee Chair Chuck Grassley. However, Grassley's request — made directly to the George W. Bush Presidential Library — only includes documents from Kavanaugh's time in the White House Counsel's Office, not his time, beginning in 2003, when he became staff secretary to Bush. OLC has not yet processed documents from that period in response to BuzzFeed News' FOIA request. Democrats had requested some 3 million pages of Kavanaugh's communications from the National Archives, but the National Archives rejected that request, and said that only the chair of the committee — in this case Grassley — could make such a request.
BuzzFeed News' full FOIA request is for Kavanaugh's communications with the head of OLC or his deputy from Bush's inauguration in 2001 until May 30, 2006 — when Kavanaugh took his seat on the US Court of Appeals for the DC Circuit. Friday's documents represent the first batch of responsive documents and include materials from only a three-month period: Sept. 20, 2001, through Dec. 20, 2001.