National Organization For Marriage Spends More Than $100K In North Carolina Senate Race
North Carolina House Speaker Thom Tillis is aiming to unseat Sen. Kay Hagan. [Update: NOM released a new TV ad for Tillis on Tuesday.]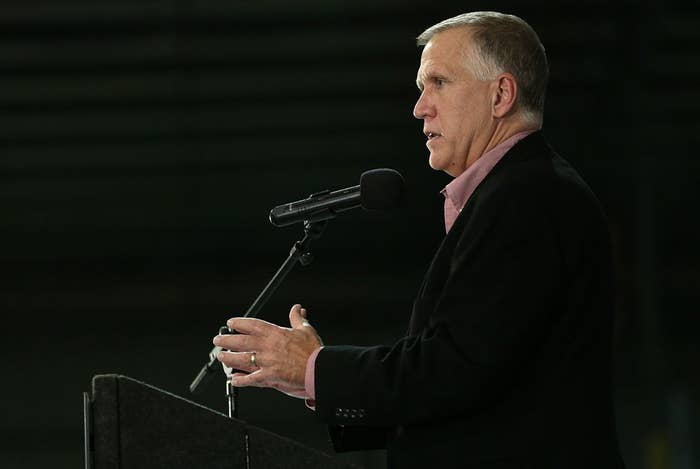 WASHINGTON — The National Organization for Marriage is dropping more than $100,000 into the heated North Carolina Senate race in its final days.
The group, which opposes same-sex couples' marriage rights, spent $117,000 in postcard mailers distributed on Monday in support of Republican North Carolina House Speaker Thom Tillis or in opposition to Democratic Sen. Kay Hagan. The information was reported in a filing with the Federal Election Commission.
Tillis, in his role as speaker, has attempted to fight lawsuits that resulted in bringing marriage equality to North Carolina earlier this month.
Additionally, NOM will be running a television ad in support of "traditional marriage" during the 6 p.m. news broadcast in Charlotte, North Carolina. The ad will run three times, at a cost of $8,400. The agreement form for the ad states that it is not communicating "a message relating to any political matter of national importance," does not list any candidates referenced in the ad, and is signed by Frank Schubert — the man behind ads supporting California's Proposition 8 and similar measures elsewhere.
In a message to supporters posted on Monday afternoon, NOM's president, Brian Brown, mentioned the North Carolina activity, as well as some action the group is taking in other states.
"Television ads have been purchased and will be on the air this week in North Carolina and Arkansas. Automated phone calls have been made in California, Massachusetts, and Oregon. Mailers have been sent out in North Carolina and are being sent out in California," he wrote.
The group earlier announced its opposition to the two out gay Republican congressional candidates, Carl DeMaio and Richard Tisei. On Oct. 25, the group spent $4,000 on calls opposing DeMaio and $2,000 on calls opposing Tisei.
The new television ad, released Tuesday, expressly calls for Tillis' election and Hagan's defeat.
As NOM noted earlier on Monday, they also have an ad for Arkansas, which they also debuted Tuesday. The ad supports Tom Cotton, who is running to unseat Sen. Mark Pryor.
Information on NOM's North Carolina mailer: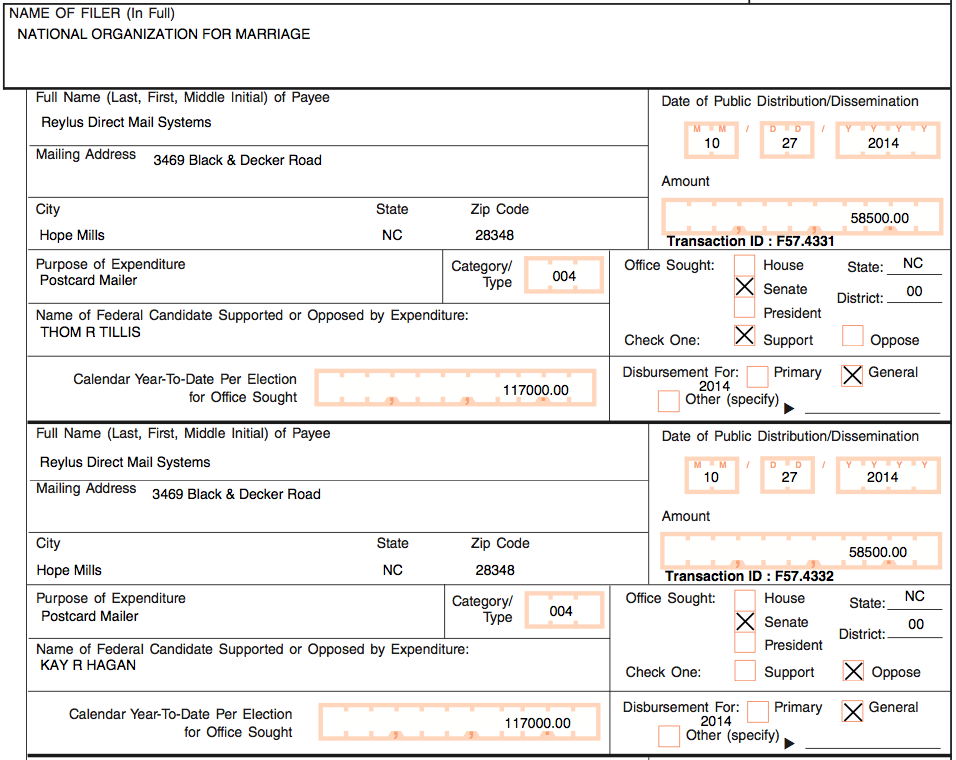 Information on NOM's television buy in Charlotte, North Carolina: