State, National LGBT Groups Call For End To Government Displays Of Confederate Flag
"[I]t does not belong on state or federal property, and it should not be flown in a place of honor as a part of any state flag," the 29 LGBT groups say in a joint statement. A BuzzFeed News exclusive.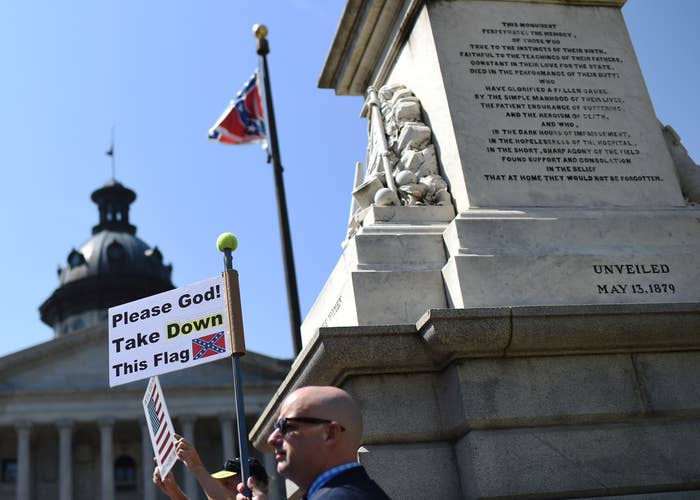 WASHINGTON — The Confederate battle flag should not be displayed on the South Carolina capitol grounds or as part of any state flag, 29 LGBT groups across the country said Tuesday.
"We support efforts to remove the Confederate flag as a contemporary symbol in the public square, beginning in South Carolina," the groups, including the Human Rights Campaign and several national legal LGBT groups, said in a letter provided to BuzzFeed News. Among the state groups signing on to the statement were three South Carolina groups: ACLU of South Carolina, SC Equality, and South Carolina Black Pride.
The groups joined a chorus of calls for the removal of the flag from the South Carolina statehouse grounds in the wake of last week's shooting deaths of nine black people in Charleston, South Carolina's Emanuel African Methodist Episcopal Church on June 17.
Going further than many statements this week, the groups also said the Confederate battle flag and "versions of the same ... should not be flown in a place of honor as a part of any state flag" — a call that would implicate Georgia and Mississippi's flags, as well as potentially other states' flags as well.
The groups go on to state that they "also recognize that our work isn't done with the state's disavowal of a racist symbol." Specifically, they state, "[W]e also stand committed to addressing the hard truths that divide us, to finding solutions for the inequities facing people of color, and to ensuring access to fairness and to justice for all."
The full letter:
The Confederate battle flag and versions of the same do not stand for heritage. It is, as South Carolina Governor Nikki Haley said, "a deeply offensive symbol of a brutally racist past." In the America of 2015, it does not belong on state or federal property, and it should not be flown in a place of honor as a part of any state flag.

In South Carolina, these words take on particular resonance, as calls for the removal of the Confederate flag from the grounds of the state capitol come just days after a white supremacist opened fire on a Bible study in a historically black church, killing nine black Americans, including a state senator. It is no wonder Republicans and Democrats are crossing the aisle to join in support of taking down the flag from the front of the State House.

As organizations that stand for equality and justice for all people, we are united in our opposition to the usage of such offensive and violent symbols. We support efforts to remove the Confederate flag as a contemporary symbol in the public square, beginning in South Carolina. But we also recognize that our work isn't done with the state's disavowal of a racist symbol.

Even as we stand side-by-side with those who wish to see the confederate flag removed from South Carolina— and in all public spaces across the nation—we also stand committed to addressing the hard truths that divide us, to finding solutions for the inequities facing people of color, and to ensuring access to fairness and to justice for all.

ACLU of South Carolina
Center For Black Equity
CenterLink: The Community of LGBT Centers
COLAGE
Consortium of Higher Education LGBT Resource Professionals
Family Equality Council
Freedom to Marry
Gay & Lesbian Advocates & Defenders (GLAD)
Gay and Lesbian Victory Fund & Institute
Gay Men's Health Crisis (GMHC)
Gay, Lesbian & Straight Education Network (GLSEN)
GLAAD
Human Rights Campaign
Lambda Legal
Los Angeles LGBT Center
Marriage Equality USA
National Black Justice Coalition
National Center for Lesbian Rights
National Center for Transgender Equality
National LGBTQ Task Force
New York City Anti-Violence Project
Out & Equal Workplace Advocates
PFLAG National
Pride at Work
SC Equality
Services and Advocacy for GLBT Elders (SAGE)
South Carolina Black Pride
The Pride Network
Trevor Project