Montana Supreme Court Rejects Broad Equal Benefits Claim By Gay Couples
The court, however, has allowed the same-sex couples who brought the case to refile their case by identifying the specific benefits sought.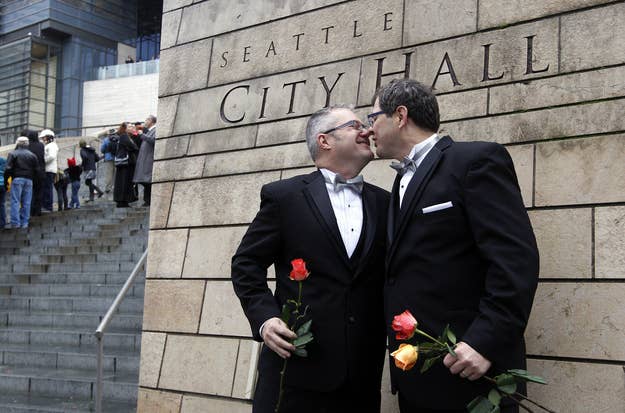 Same-sex couples in Montana—which has a constitutional amendment prohibiting them from marrying—were denied a request for equal benefits by the state's supreme court on Monday, although the court left open the possibility of a future ruling that could grant at least some of the sought benefits.
The Montana Supreme Court, in a 4-3 decision, rejected a request by six same-sex couples to be given equal benefits to married opposite-sex couples in the state because the couples' argument that the state's entire "statutory scheme" should be found unconstitutional was too broad of a request.
Instead, Chief Justice Mike McGrath wrote, "It is this Court's opinion that Plaintiffs should be given the opportunity, if they choose to take it, to amend the complaint and to refine and specify the general constitutional challenges they have proffered."
This is so, McGrath wrote, because "[b]roadly determining the constitutionality of a 'statutory scheme' that may, according to Plaintiffs, involve hundreds of separate statutes, is contrary to established jurisprudence," in a decision issued Monday. "These are important issues and should be decided only after the statutes involved are specifically identified and specifically analyzed in district court proceedings."
Three justices disagreed with the decision, with one—Justice James C. Nelson—strongly voicing his objections in a lengthy dissenting opinion.
Invoking what he called the "notorious" Supreme Court decisions of Dred Scott v. Sandford and Plessy v. Ferguson, Nelson stated, "While I have not always agreed with this Court's decisions—in fact, I have strenuously disagreed with my colleagues on occasion—I have never disagreed more strongly with the Court as I do in this case. With due respect, I believe today's decision, like those mentioned above, wrongly deprives an abused minority of their civil rights."
The two other justices who dissented from the court's opinion, Justices Patricia O. Cotter and Michael E. Wheat did not go as far in their view of the majority's decision as did Justice Nelson. Cotter wrote that she "would not liken the Court's approach here to cases sanctioning slavery and racial segregation" and added that she "do[es] not believe [the court's majority] is acting in bad faith." Wheat joined her opinion.
One of the three justices joining McGrath's opinion for the court would have gone further than McGrath, however, with Justice Jim Rice writing that the state's constitutional amendment rendered same-sex couples constitutionally unequal to opposite-sex couples.
Referring to the amendment, Rice wrote, "With its passage, the law's historical designation of marriage as between a man and a woman—and the exclusive treatment premised thereon—became an expressly constitutional classification."
As such, Rice continued, "Under the law, discussed below, marriage between a man and woman is a unique relationship, dissimilar to all other relationships and alone essential to the nation's foundation and survival, and the State errs neither by recognizing it as such nor by giving it exclusive treatment. In sum, it is not discrimination to treat uniquely that which is unique."
The case was brought on behalf of the six couples by the American Civil Liberties Union.
Montana Supreme Court's Donaldson Decision