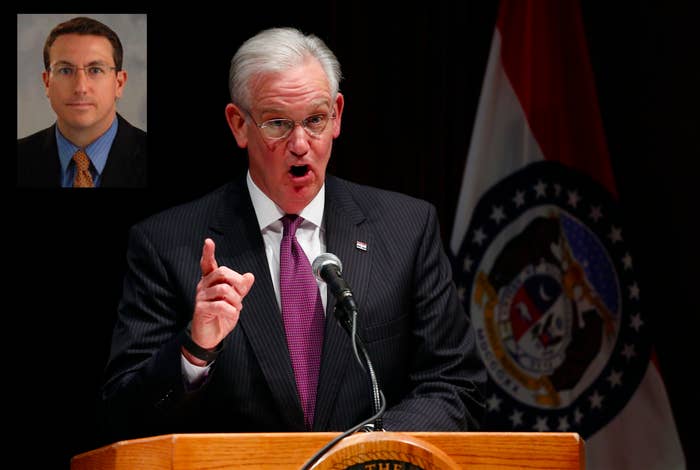 WASHINGTON — Facing a significant shortage of attorneys, a slashed budget, and a public criminal defense system that ranks 49th in the nation, the head of the Missouri State Public Defender's office took a dramatic step this week.
On Tuesday, he used a rarely invoked state statute and sent a letter to Missouri Gov. Jay Nixon that appointed Nixon — as a practicing attorney in the state — to serve as the lawyer for a criminal defendant who cannot afford an attorney.
On Wednesday, the letter began circulating on social media and the director of the Missouri State Public Defender's office, Michael Barrett, was eager and ready to defend his unusual action.
"The government funds a lot of things. We're one of the few things that you have to fund," Barrett told BuzzFeed News in a phone interview on Wednesday night. "You've got to pay so that people can get their constitutional rights. Before someone gets incarcerated after being prosecuted by the state, they deserve a lawyer. And that's the state's obligation."
"We're the instrumentality," he said of the Public Defender's office, "but it's the state's obligation."

In the Tuesday letter, Barrett pointed to a series of actions taken by Nixon and the legislature limiting and reducing the funding for the Public Defender's office in the face of other information showing that it is dramatically underfunded.
The actions, by Barrett's telling, began with Nixon's veto of a bill seven years ago that was aimed at providing relief to the overburdened office and ended with Nixon using state budgetary authority to withhold significant amounts of money — nearly $3.5 million in 2015 — from the Public Defender's office budget. That final action led the Public Defender's office and the Public Defender's Commission (the office's governing board) to sue Nixon in July.
In a statement, Nixon's spokesperson, Scott Holste, contested Barrett's portrayal of the situation, telling BuzzFeed News, "Gov. Nixon has always supported indigent criminal defendants having legal representation. That is why under his administration the state public defender has seen a 15 percent increase in funding at the same time that other state agencies have had to tighten their belts and full-time state employment has been reduced by 5,100."
Barrett said he has authority under state law to appoint private attorneys to fill the gap if his office cannot provide all of the required indigent representation, but he has avoided doing so, as he says, "because members of the private bar did not create this problem."
But, in Barrett's view, Nixon — at least in part — did.
"The governor, being an attorney in good standing ... continues to enjoy all the rights and privileges of being an attorney. I think he should also be burdened with the obligations placed on attorneys in the state," Barrett said. "And one of those burdens is to be ready to be appointed as counsel either by the judge or by me, pursuant to this section of law."
Holste disagreed with Barrett's interpretation of the law, saying that "it is well established that the public defender does not have the legal authority to appoint private counsel."
The statute in question states that the director of the public defender's office may "[d]elegate the legal representation of any person to any member of the state bar of Missouri."
Although Barrett would not release specific details of the case assigned to Nixon, he did say that the individual is not in jail currently. "There's nothing too exceptional with his case, and he's not being held in jail so he's not at risk of spending time in jail because of this," he added. "He's out on bond."
A spokesperson for Nixon did not respond to a request for comment Wednesday night.
So, what's going to happen next?
"Who knows?" Barrett said. "I think he's got to go to court."
"If he's gonna say, 'Look, I can't take this case because I'm in the executive branch of government and I oversee the police department,' [then] I simply say this: 'We're in the judiciary branch of government, and you — in a violation of separation of powers — reached over and used the lack of revenues to try and weaken a coequal branch of government designed to keep the executive in check."
"What's good for the goose is good for the gander. If you can weaken us, then I can certainly appoint a member of the executive branch. He has no actual conflict because he had no involvement in this case. He's not monitoring the police department who made this arrest," Barrett said.
If Nixon challenges the appointment or otherwise does not show to represent the individual, Barrett said nothing negative would happen to the defendant. His court date would just be rescheduled for a later date, Barrett said — something that he said is common already given his available attorneys' workloads.
This isn't, Barrett said, just some political fight between him and the governor.
Because of the amount that his staff is overworked due to the lack of attorneys and budget, however, Barrett said of the state, "Our prison population, as a result, is artificially inflated."

"If we don't have the resources to have the time on the cases to help ... in our adversarial system to differentiate the guilty from the innocent — or, even amongst the guilty, those that need to go to prison at great taxpayer expense from those who don't — it's going to artificially inflate the state prison population, which is what has happened in Missouri," he said.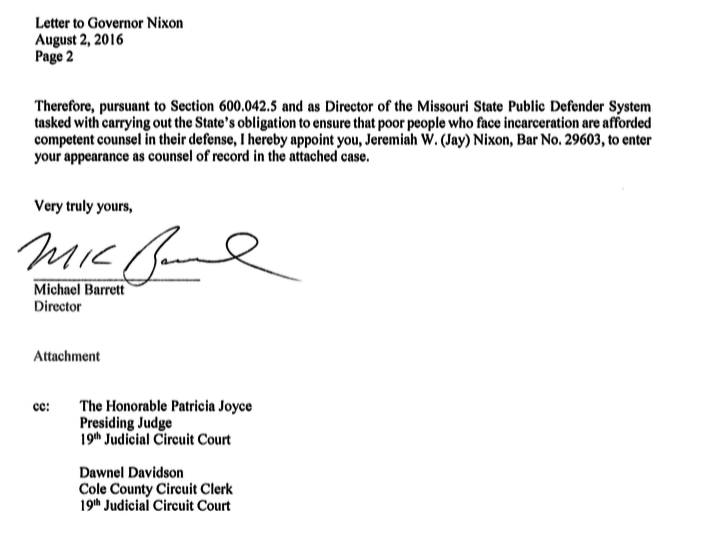 UPDATE
This report has been updated to include comment from the governor's office.