Paul Goodwin Executed In Missouri, After Supreme Court Denies Stay
Paul Goodwin was set to be executed at 12:01 a.m. CT Wednesday, but state officials held off on the execution while awaiting word from the Supreme Court and governor. Update: Goodwin was executed at 1:25 a.m. CT Wednesday.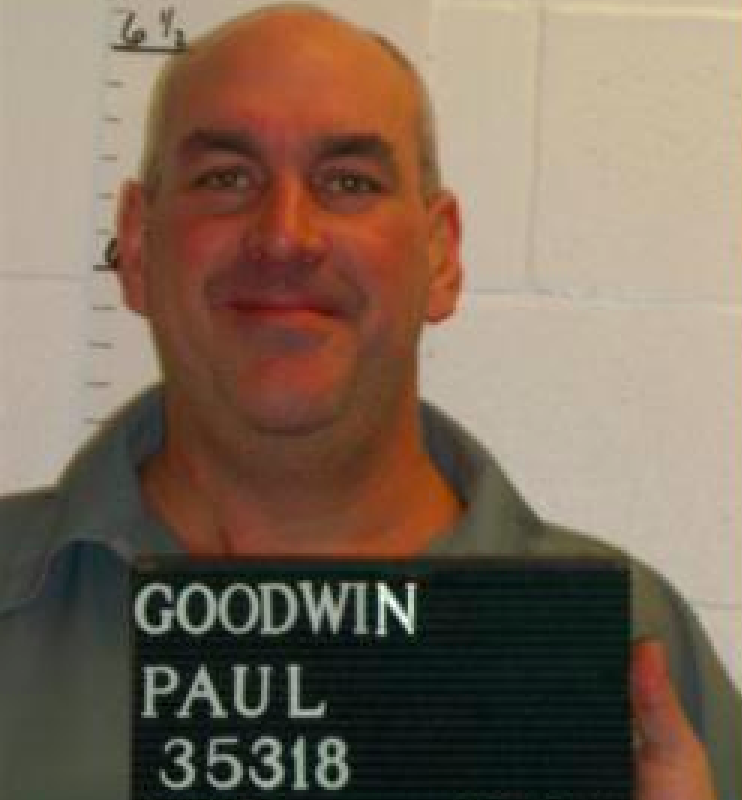 Update at 2:29 a.m. ET: Paul Goodwin has been executed.
Paul Goodwin was executed by the state of Missouri, pronounced dead at 1:25 a.m. CT.
Attorney General Chris Koster made the following statement following the execution of Paul Goodwin:
"Paul Goodwin invaded the home of Joan Crotts, a widow, and brutally killed her. While her family's feelings of loss will never end, at least they know her killer has paid the price for his actions."
Update at 1:27 a.m. ET: Clemency for Paul Goodwin is denied as well, meaning his execution likely will proceed:

Update at 1:24 am. ET: The Supreme Court denied all pending stay requests and petitions: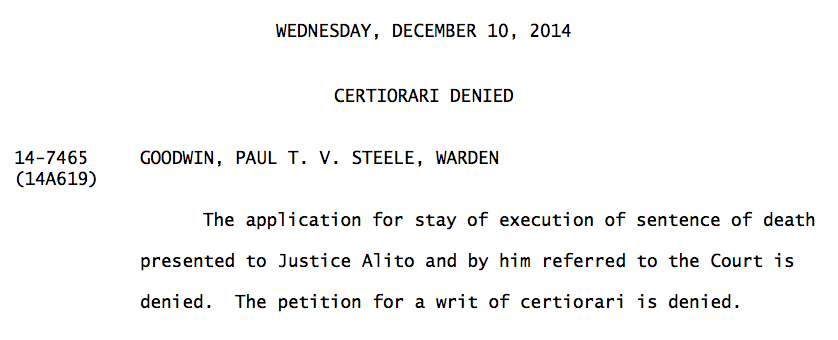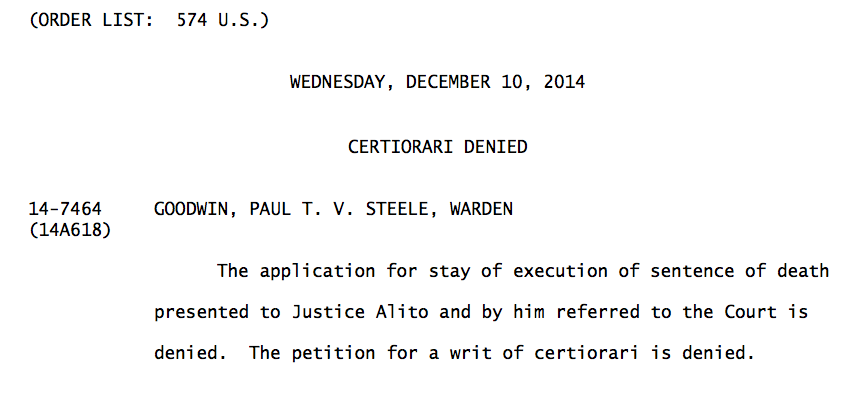 Update at 1:05 a.m. ET: In light of pending Supreme Court petitions and an outstanding clemency request, the execution is temporarily delayed, KMOX reports:
WASHINGTON — At 12:01 a.m. CT Wednesday, Missouri is set to execute Paul Goodwin — unless the Supreme Court or the state's governor steps in to stop it.
Goodwin was convicted in the 1998 murder of Joan Crott, a neighbor who he pushed down a flight of stairs and beat in the head with a hammer after attempting to force her to perform oral sex on him. She later died in a hospital as a result of the head trauma.
At midnight on the East Coast, an hour before the scheduled execution, two petitions were pending at the Supreme Court — both of which relate to Goodwin's claim that he is intellectually disabled to the point that his is execution should be found to be unconstitutional. With both petition, Goodwin's lawyers also are seeking a stay of execution.
Earlier Tuesday, the court had denied two other petitions and related requests for a stay of execution. Four justices — Justices Ruth Bader Ginsburg, Stephen Breyer, Sonia Sotomayor, and Elena Kagan — noted that they would have granted a stay of execution in Goodwin's claim relating to an ongoing challenge to the state's secrecy surrounding its execution protocol that is before the 8th Circuit Court of Appeals and has been brought by multiple Missouri death-row inmates.